I'm someone who knows how to make money from digital real estate and in this post will be sharing exactly what you need to do in order to see results.
What you'll learn in this post on digital real estate: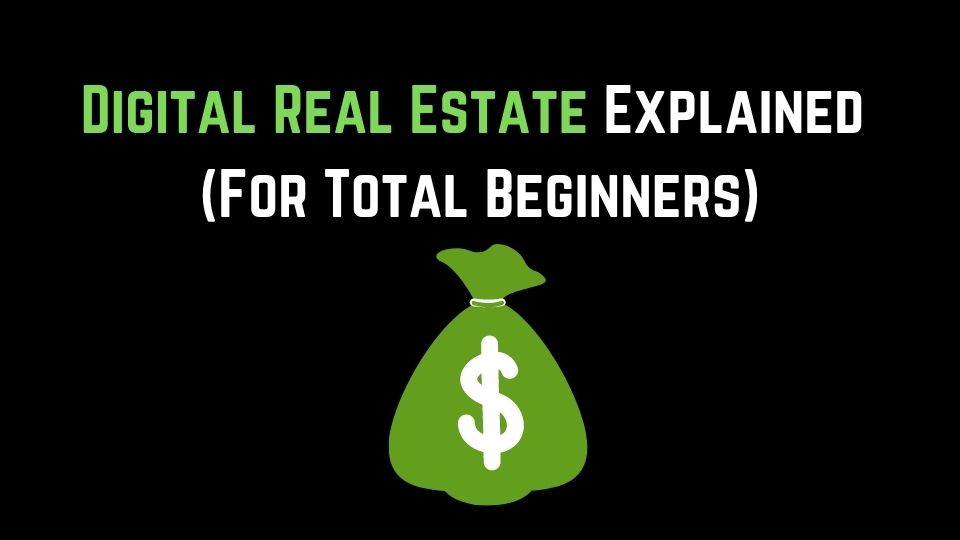 What digital real estate actually is.
How much you can make money from it.
Real digital real estate examples.
How to make money from digital real estate.
How to get started with it if you're totally new (the best digital real estate program which you can actually try risk free).
And of course anything else you have a question about regarding it, you can ask me below!
I've combined everything you need to know in both a video tutorial I created as well as this entire blog post that adds to it and we'll start with the video:
Here's a video explaining what digital real estate is for beginners:
What is a digital real estate? The simple answer:
It's basically you owning any sort of online property that earns money and there are several different categories of this.
Here are several digital real estate examples (most common):
A website that gets daily visitors and earns good income every month (most common example that I'll focus on).
A social media page (like on Facebook, Instagram or other similar places).
Even cryptocurrency related stuff (I personally do not deal with this because of the massive ups and downs).
When you own one or more of these types of things, you essentially have an online property that has real value and can be bought (if you don't own it) or sold (if you own it and wish to sell it) and there is an actual marketplace where this happens (Flippa.com for example helps you sell websites for whatever value or auction price you wish).
My personal history and experience with digital real estate comes from owning and running multiple/profitable websites including this very one you are on right now. I also personally know more than a few people that have and continue to engage in digital real estate and make an insane amount of money from it (examples coming up very soon).
Digital real estate vs traditional real estate (what's the difference?):
Digital real estate is really all about buying/selling digital properties (websites, social media channels, ect…).
Traditional real estate involves buying and selling physical properties (houses, apartments, ect…).
5 reasons why digital real estate has more benefits than traditional real estate: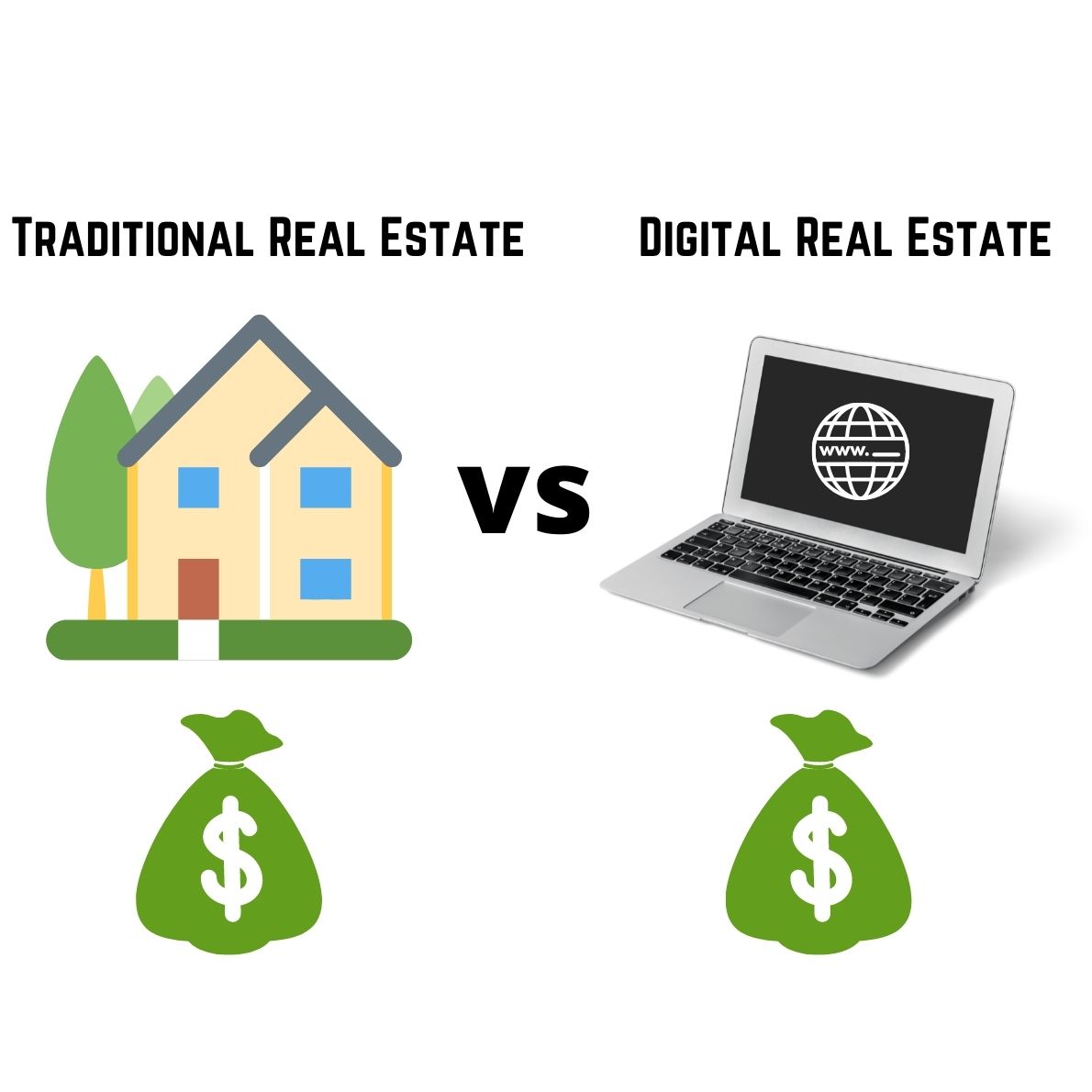 1) First:
With digital real estate, you can get started for very little money (literally dollars).
Traditional real estate can cost A LOT of money.
2) Second:
Digital real estate can make you money while you own the property.
Traditional real estate only earns you money if you have a buyer.
3) Third:
You can build a potentially profitable digital real estate property from scratch for very little.
With traditional real estate, you have to spend a lot (fixing the property, red tape, ect…).
4) Fourth:
Digital real estate has way less red tape.
There is a lot of paperwork and wait times for traditional real estate (credit check, bureaucracy, ect…).
5) Fifth:
Digital real estate is more flexible for people of all income levels.
Traditional real estate is very much for people who have a lot of money to spend/invest.
How much money can you make from digital real estate? Real examples:
I have seen people literally sell their site for $10,000's of dollars.
I have also seen people offered to sell their sites for $200,000+.
I have also seen people offered millions for their website and social media channels.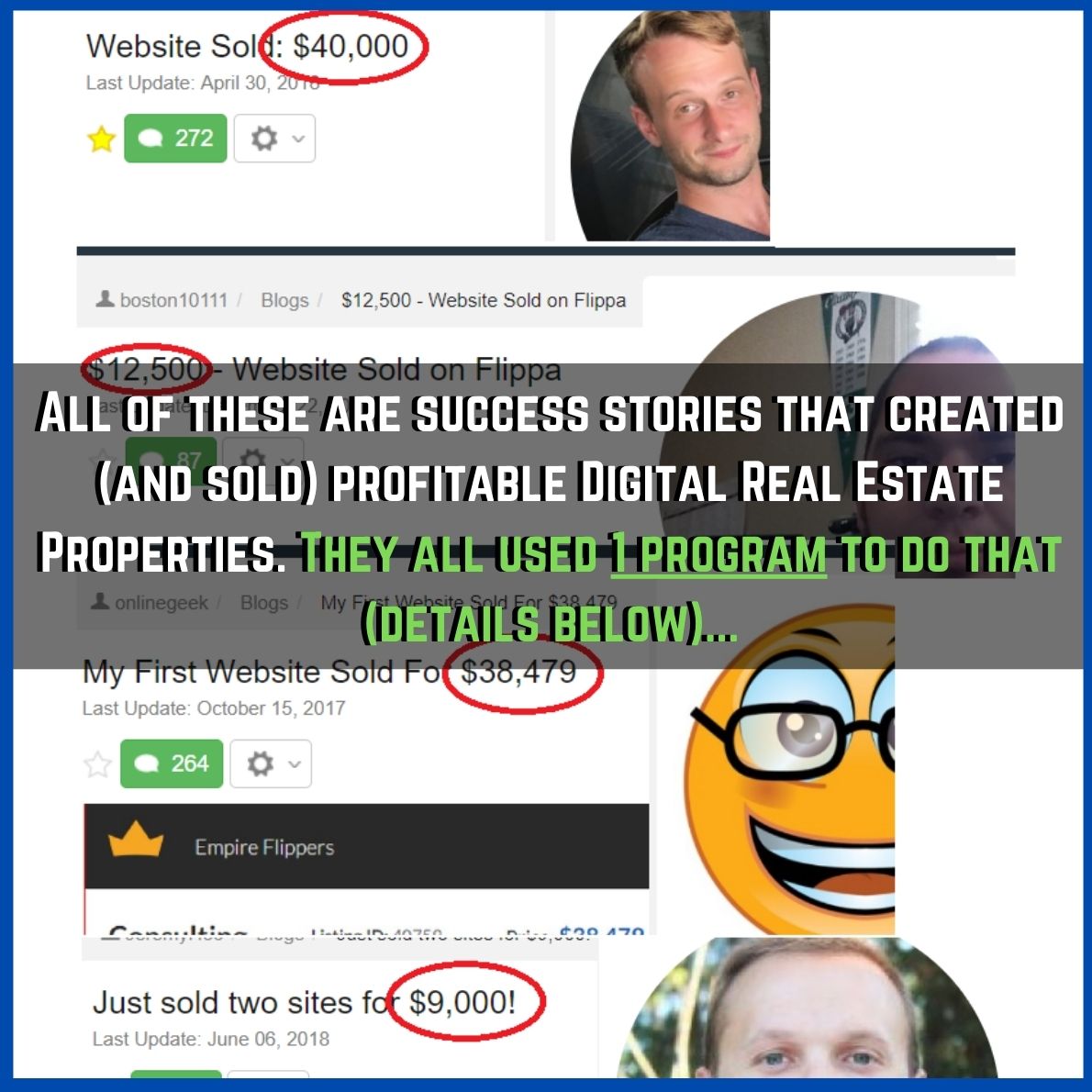 Fun fact: The numbers vary but it's not out of the ordinary that a digital real estate property can make you the same if not more than a traditional real estate property can! And yes, that means a laptop and a proper education on how to make profitable sites can earn you more than a selling a house can.
To show you just how much you can make from digital real estate, let me give you a simple example using a profitable website and a common formula to determine the value of how much it's worth:
Take the monthly earnings of a website and multiply it by 24 months (this example is based off this very site). So:
Let's say a website earns $5,000 a month and the owner wishes to sell it.
He would multiply the $5,000 it's earning every month by 24 months.
This gives the website a value of $120,000 (the value of the website).
This is how much the said person would want to sell the website for and the most common formula used to determine value.
This is a super simple formula, and there are more factors/complexities that determine if the value goes up or down. For example:
1) Is the traffic the website gets organic (from Google or other natural sources or is it paid?). If it's organic, the value goes up. If it's paid traffic, that can be replicated and so the value goes down.
2) Is the traffic to the website consistent (long term) or is it backed up by artificial methods that are doomed to fail (short term)? If it's doomed to fail, the website has no future value worth investing in but if it is growing naturally and the traffic is consistent, you are looking at a profitable property! You will also be asked (if you are selling the website) to show traffic/earning reports for years to prove this.
Here's an example of one of my personal websites that gets 100,000+ visitors (90% organic). A site like this is worth a lot of money if it's ever put on the market:

3) Is the website ONLY getting organic traffic and barely making money? If so, then this cuts down on it's value. If it's making good/consistent money, then the value is in the traffic AND the earnings it's making (arguably the stronger factor).
For instance, let me show you some stats for this website (I would show this to a perspective buyer if I ever wanted to sell my website):
4) How easy is it for the website to be taken over by a new owner? If it's tough, that may make the potential buyer more cautious.
5) How is the website making money? Is it affiliate marketing? Is it display ads like Ezoic? Depending on the method used, it also impacts the value.
These are some of the many important questions buyers ask (and should ask) before they throw down potentially a lot of money on a digital property.
After all, they ARE investing in what is basically a turnkey/done for you online business and something that can potentially make them a lot of money.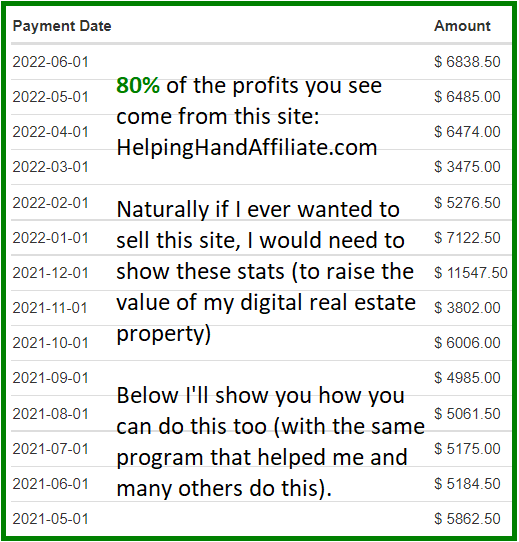 More digital real estate examples:
1) Example 1 (most beginner friendly): Dylan creates a brand new website for about $20. He then builds it up over a years time to get 20,000 visitors a month and it earns $2,000 every month.
Dylan chooses to sell the site for $40,000, then goes on to make new sites and repeats the same process (literal screenshot above shows proof of this).
2) Example 2 (intermediate): John invests in freelance writers to grow a brand new website. The start up costs are: $50 for the new site and $5,000 over a year's time to get the writer to do what John wants (write articles that get ranked on Google and get traffic). John handles the profit end and promotes stuff on the site, and it eventually earns $5,000 a month.
John then turns and sells the site for $120,000 once the $5,000 a month earnings are consistent (month after month), then goes on to repeat the same process with other sites/writers.
3) Example 3 (advanced): Sarah knows how to make profitable digital real estate properties (profitable websites) from nothing and chooses to help OTHERS make their own profitable digital real estate sites. She makes money charging them for the work: Consulting, freelance writing, setting up the site properly for SEO and so forth.
4) Example 4 (beginner friendly): Some people choose to make a profitable website/digital real estate property and keep it (no selling) because it's theirs, they have a sentimental attachment to it and it also makes them a passive income every single month too! They choose to keep this website/property and/or rinse and repeat and make more of the same to add to their digital real estate empire.
This last example is where I am at personally.
You don't necessarily have to buy and sell digital real estate to be successful online (especially if you are new and have no money to even buy it). The very knowledge (and action) of making profitable online businesses/digital real estate is itself a key factor in success.
How to get into digital real estate (if you're new or don't have much to invest):
In my experience, the best option is the 4th example above which is creating a brand NEW digital property (a website in this case) and growing it's value from the bottom up. This takes time and work, but it can grow and become a profitable and passive income earner for you and just as well, something you can sell down the line if you so choose.
How exactly does this work? Well let me explain how I've been doing it for years (4 steps):
1) First, you have to choose a topic for the website (preferably choose a topic you like).
2) Second, you need to make the website itself (this can be done easily with the right programs).
3) Third (the hardest part), you need to put in the time and work to create content on the website, and this will allow it to get visitors from search engines and subsequently grow it's value.
4) Fourth, you make money on the site via multiple methods including: Affiliate marketing, display ads, selling courses, or whatever else. This adds the bulk of value to the site.
An example of how this works:
1) John chooses a topic he loves in life: Bird watching.
2) John makes a website on bird watching.
3) John creates content/writes articles on bird watching (reviews binoculars, gear, talks about the hobby, ect…). John's site gets picked up by search engines, ranks on Google and other places and attracts fellow bird watching enthusiasts to his site. He gets 10,000 visitors on a monthly basis.
4) John sells/promotes products on his site (through affiliate marketing) all related to bird watching and earns $5,000 a month, every month from this. John now possesses a profitable digital real estate property.
5) Optional: John decides to sell the site down the line for $100,000+ and because it earns enough every month to justify that, he easily finds a buyer and earns himself a nice income! He can also choose to keep the site and continue earning that way.
Want to get started with a digital real estate program? Why Wealthy Affiliate is the best place to start:
Everything I know about digital real estate and actually creating my own profitable properties, as well as many of the examples I gave you in this article all have come from using the training found in Wealthy Affiliate.
What is it? It's an educational website that teaches online business and basically creating profitable digital real estate properties, most notably websites and here are success stories of people doing it: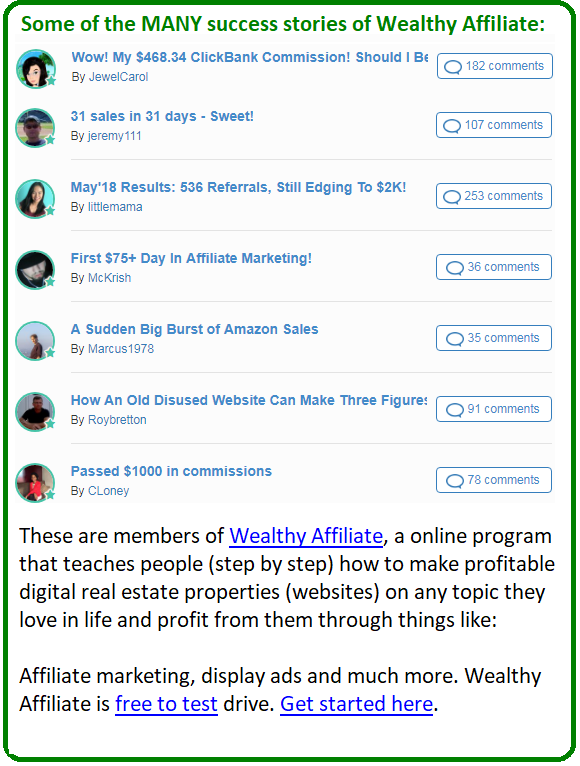 Remember that same 4 step process I just showed you?
That's what they teach and it's great for beginners with little money.
You can create a digital real estate/online business property, which is a website on any topic you love from the ground up and to a level where it's making good money and potentially worth a lot of money on the market if you wish to sell it.
Above all else, they arm you with the education, tools, support and basically everything needed to make it happen.
You can use this information for multiple purposes:
To create profitable digital real estate properties (websites) from scratch (and then sell it or profit from it every month).
To help others do it and get paid for the consultation/help.
At the end of the day, the knowledge (and taking action of course) is where you can create very profitable digital properties from basically nothing. That's how I started and here's a further thing to note about the program: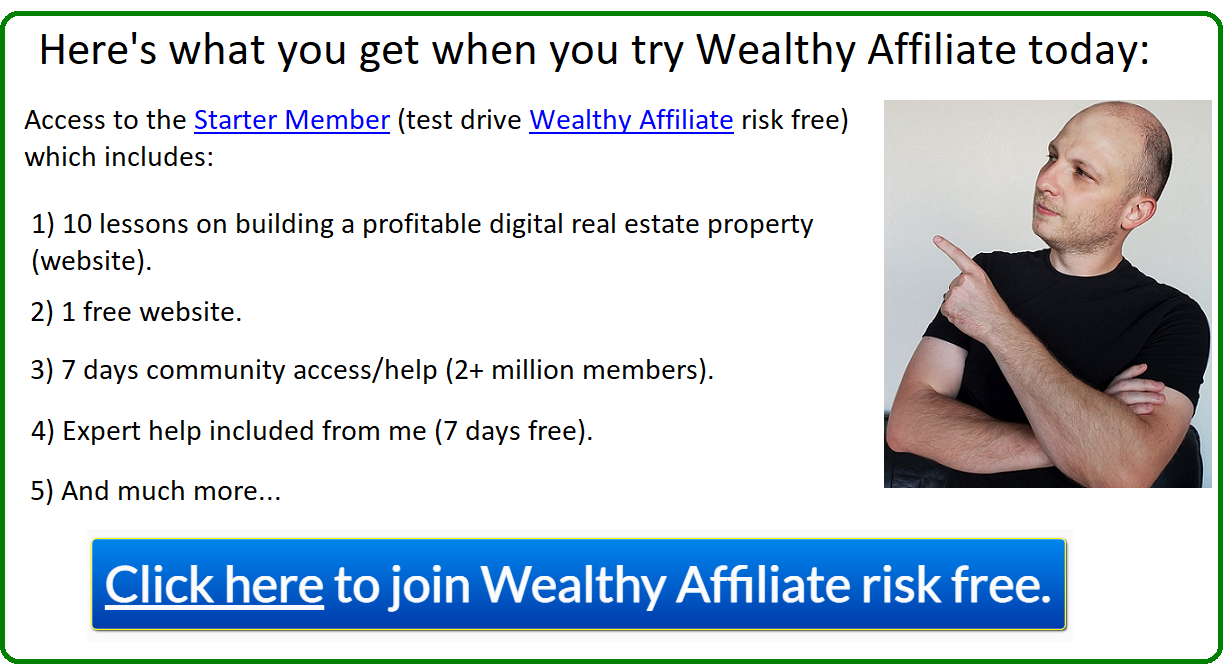 Have more questions on digital real estate? What you may see on that:
What is a digital real estate?
Digital real estate is just another way of saying you own an online property such as website or currency, anything of actual value but located online.
Can you make money on digital real estate?
Yes you can make good money with digital real estate, but you need to understand how it works and which type to get involved with.
What is an example of digital real estate?
A website that makes money and gets valuable visitors is a very simple, yet great example of owning digital real estate.
What is digital real estate for beginners?
For most beginners looking to get into digital real estate, the best option is building a niche website that eventually makes money and accrues value for selling it later.
If you are interested in or serious about digital real estate, I can tell you right away that Wealthy Affiliate is the best place to learn this from and it's risk free to test drive anyway. I'm proof you can do this, as are the tons of success stories that have created their own digital properties using the training there.