The short answer to that question is no, Digistore24 is not a scam (but there are certain issues). However, I am an expert affiliate marketer and I often find that people really miss the elephant in the room on these kinds of topics (whether an affiliate program is legit or not) because they only look at that as the main factor to their success, and totally neglect a much bigger problem determining if they'll ever even succeed in the first place.
And what is that problem? It's that's most people have no clue how to actually do affiliate marketing, making the whole question about is Digistore24 or other affiliate program a scam totally pointless.
Imagine for a moment I give you a list of the "top 10 affiliate programs" to work with and you have very little if not 0 experience in how to do affiliate marketing. What good is that list then? It's useless. You have to know how to affiliate marketing, and then worry about which affiliate network to join, and I'll cover how you can do that in this article.
But despite Digistore24 being legit, there are some issues I have found which I would like to share with you so if you are looking for unbiased info on that, you're in the right spot.
Quick info on the Digistore24 affiliate program: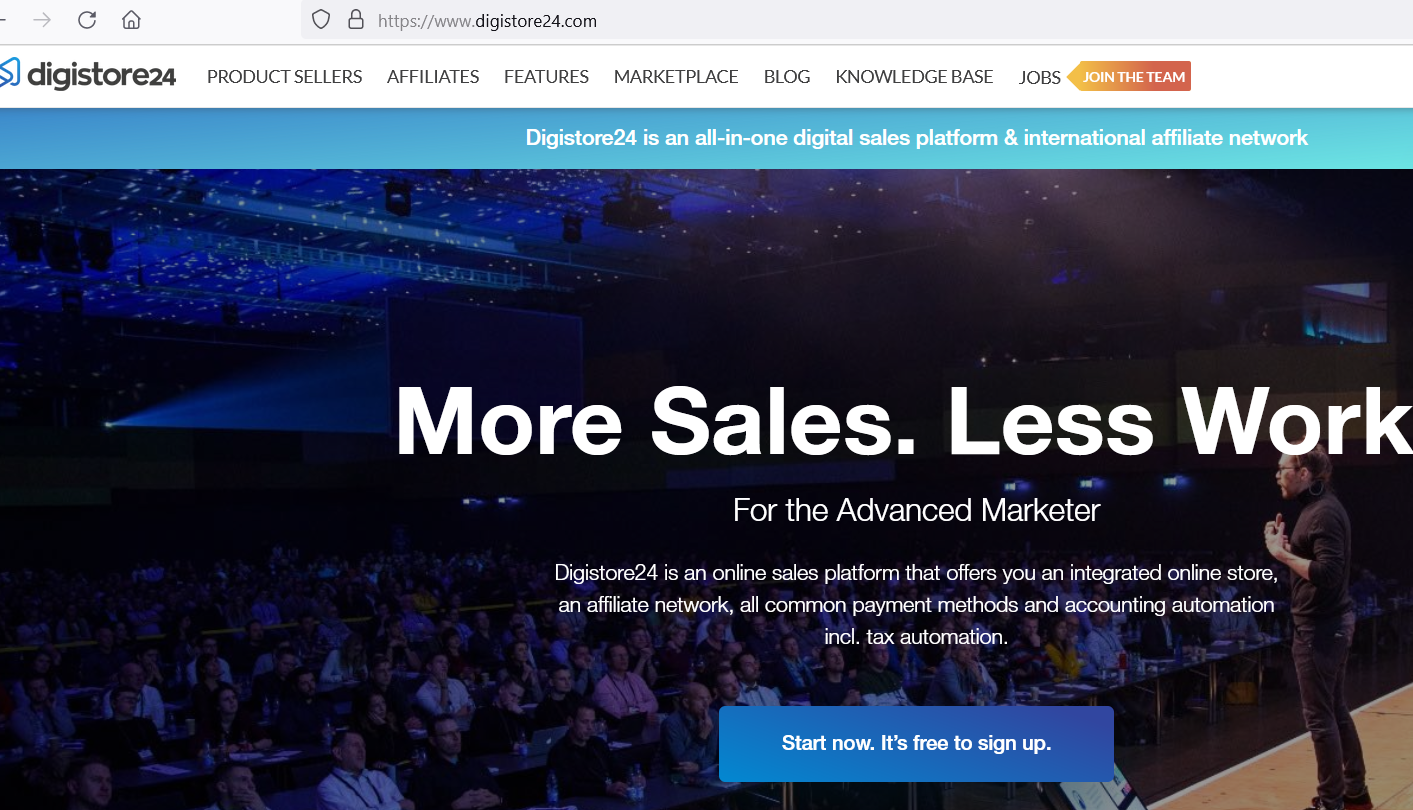 Name: Digistore24.
Price: Free to join (for both affiliates and vendors).
What is it? An affiliate program where vendors can share their products to be promoted by affiliates. You are able to promote (and host) products in many different niches out there (dieting, make money online programs, software programs, fitness programs, ect…).
How high are commissions from Digistore24? Depends on what you promote. If you're an affiliate, it can be anywhere from 1% and up. Some affiliate commissions pay upwards of 50%.
Does Digistore24 charge affiliates/vendors? Yes, if you are a vendor, a fee (7.9% + 1 for every sale for US sales) are deducted, and for affiliates, a percentage fee is charged off gross sales made. You can be a free member, but Digistore24 does take a small cut from vendors and affiliates (this is common for legit affiliate networks).
Which countries does Digistore24 operate in? US, UK, Europe, Canada.
Where was Digistore24 founded? Germany.
Is Digistore24 a scam? No.
Is Digistore better than Clickbank? They are similar but right now, I'd say Clickbank is better.
How are reviews for Digistore24? Not bad, and you can find most of them on Trustpilot.com where the rating is 4.7 out of 1,000s of reviews (very good). Digistore24 does a great job returning messages on that site and that shows a good attention to customer experience.
There are some complaints revolving around people getting refunds or not being paid on time, but they are (at least by Digistore24's responses) addressed.
My rating for Digistore24:

2.9 out of 5 stars
Overall Digistore24 has been around for awhile and allows affiliates and vendors with different skills and products to operate on that network.
Pros:
Digistore24 has been around for quite a few years (and is growing).
Reviews are good.
Commission payout for affiliates is very good too (similar to Clickbank).
I would say Digistore24 is a better alternative to

Warrior Plus

and JVZoo (not Clickbank yet).
They have a customer service that can help customers and business owners/affiliates get help.
Decent reporting provided on products for affiliates to make an educated decision on whether or not to promote it.
Cons:
There are some questionable programs on this network (My Profit Payday is one example).
They need a better filter to weed out bad programs/creators.
The site could certainly load up better (some bugs around).
Product options for promotions are pretty limited (you would find more on Clickbank for example).
Again, it's very easy to find suspicious programs that are low quality on this network (it's not limited to this network). I would be very careful and use high quality standards for choosing which programs/products to promote. Don't be an unethical affiliate marketer.
How does one succeed with Digistore24?
So just to preface, what I am about to suggest right now is just a summary of general ways to promote products online. This is no way a specific step by step guide, and if you are new and need training, then I would absolutely recommend getting started with Wealthy Affiliate, an all in one program for learning how to do ALL of this. Anyway:
Well if you are a vendor, you would need to have a digital product ready to go and submit an application with this program. Upon approval (if you get it), you would then set up the proper sales funnel for your product and then it would be put up on the Digistore24 marketplace.
If you are an affiliate and considering you get approved, my advice would be to seek out promotions on this network that best fit your knowledge and passions in life. For example, if you are into fitness, seek out fitness programs to promote in Digistore24.
Promoting them however is a different story, and this is where we get back to that elephant in the room I was covering earlier. Summarily there are several options you have to promote these (as you would for any other affiliate program):
1) You have blogging (best for beginners and those with hardly any money to start). You would blog about fitness topics and promote the Digistore24 product on the blog (this is a summary and there are far more details to making this work!).
2) You have YouTube video making. You'd make YouTube videos covering fitness topics like getting six back abs, getting rid of stomach fat, growing different muscles and in your descriptions promote the affiliate link to buy it.
3) PPC (pay per click affiliate marketing). You would make ads on the following networks:
I would make a 1 page review type landing page promoting the said Digistore24 product and linking to it off the landing page. For this to work well, you would need to promote products that pay $50 or above in commissions (high ticket affiliate marketing promos included).
A note for getting refunds from Digistore24 (from comments I've gotten):
So I have noticed 2 particular issues popping up regarding Digistore24 in terms of complaints, whether in the comments on this site or in general and they are:
Person buys a product connected to Digistore24, isn't happy with it but is having issues getting a refund.
Person tries to get a refund from Digistore24 but doesn't know how to do it.
My advice if you are seeking a refund is to do this:
Contact Digistor24's customer support email.
If you can't reach them or get your desired request done, then contact whatever company you purchased the product on Digistore24 with (like your credit card for example) and then try to get the refund that way.
As I have said before in this review, it is my opinion that there are too many low quality products on this network and Digistore24 needs to do a better job of pulling away from these programs, otherwise these same products/programs will pull down the reputation of Digistore24 itself and I personally don't want to see that.
One more note: If you bought a make money online type program from Digistore24 and you weren't happy with it, a great alternative is Wealthy Affiliate which I will talk about below in a moment.
Questions about Digistore 24:
How do you get paid on Digistore24?
You have to first sign up with Digistore24, then select a payment method which includes check or via PayPal to get paid by them.
What is Digistore24 used for?
You can use Digistore24 to sell digital products you own or to become an affiliate and promote products in the marketplace there.
How do I become an affiliate with Digistore24?
You have to sign up with the program first. Digistore24 has a page for affiliates to sign up with.
How good is Digistore24?
Digistore24 is a legit affiliate network but in my opinion there are better places to promote products from.
How to become a well rounded (and successful affiliate). Let's address that elephant in the room: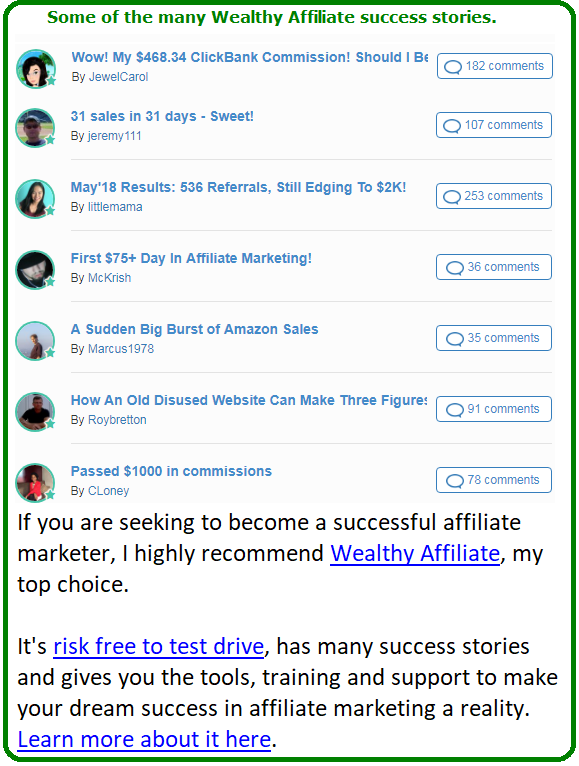 Again, affiliate marketing skills and fundamentals are what truly determine your success with an affiliate program.
Digistore24 has opportunities yes, but if you are clueless or new, it won't how much potential this program has. I have an promote products across many different networks:
Amazon Associates.
Commission Junction.
The reason I am able to make sales with these networks (and any other legit ones I ever plan to use in the future) is because I know how to do affiliate marketing well and received the proper training to do it through Wealthy Affiliate, the same program I'm suggesting you try to do the same.
The skills you need to succeed at affiliate marketing are there and you should also be a flexible affiliate in picking out different programs to promote with, but most importantly that house products and programs you can most relate to, which make the process of promoting the said products and programs way easier.
Thanks for reading my review and thoughts on Digistore24 and if you have any questions, you're welcome to ask!