I joined Digital Prosperity Movement to examine if it was a scam or not and in this review will explain the things I found as well as show you an inside look.
A summary and overview of Digital Prosperity Movement (DPM):

Creator:
Adam Gateley.
Price:
$105 for me (77 pounds) for a lifetime membership to the DPM program. There are also upsells to buy the following things:
Enagic water machine ($1,000's).
Clickfunnels ($297 a month).
Aweber (Up to $60 a month).
I only bought the "lifetime membership".
What is Digital Prosperity Movement?
It's a program that is basically connected to the Enagic water machine "movement". They promote these filters to you once you join, but also offer you the opportunity to be a promoter of theirs by:
First being a member of DPM.
Then buying one of these Enagic water filters too.
There may be miscellaneous upsells like Clickfunnels and Aweber too included (I saw them mentioned).
You are provided with a lot of video content explaining the opportunity to be part of DPM as well as a lot of training on mainly Facebook and running Facebook Ads to promote DPM and the Enagic water filters.
The money making opportunity of Digital Prosperity Movement explained:
By becoming a member of DPM and then buying their other promotion (an Enagic Water System), you can become an affiliate and also promote the same DPM/Enagic water filter system to other people and make high ticket commissions.
You can also be part of a team and earn more for team sales and this is explained in the membership of DPM more thoroughly. In short, you will be making high ticket commissions off each Enagic Water Filter you sell. It could be several $100 for each sale.
Do I recommend DPM? 50/50
I may have recommended Digital Prosperity Movement (DPM) if there were no other options, but I do have other suggestions that I think are better and also because I think it's way too narrowly focused on self promotion and you will likely have to invest a lot of money to get started in it.
But at the same time, there is a decent level of good training you get on the backend from this program (the Facebook marketing content).
Ultimately, I think for the price of DPM, the level of training you get in it and the value overall, there are better options and I will show you which one I think is better than them all in this review too.
My Rating for Digital Prosperity Movement:
2.5 out of 5 stars
It's a 50% type of program for me, which isn't good enough to recommend. There is too much investment necessary to get started and frankly, I don't like promoting or recommending programs like that.
I'll be showing you a more thorough inside look into this program shortly in this review, but if you're wondering about alternatives, yes there better options in my opinion.
Alternatives (Here's the best option in my opinion):
A thorough review into Digital Prosperity Movement (before I bought it):
1) To start:
I first heard about this program on a post I made on CEO Movement (on another site) which in some ways is similar to DPM.
Someone on that review post mentioned to me that they changed names, but after a quick check, I saw they were 2 separate programs. And so this triggered me to look deeper into DPM.
Note: There's new programs like DPM called Build Your Empire University or BYEB.
2) I found a YouTube video of a woman promoting DPM:
Then I clicked through to you affiliate link on YouTube, and that sent me to her email capture page, which send me to the official DPM webinar.
Side note, this type of promotion is commonly found with high ticket programs and affiliate opportunities.
3) I honestly found the webinar to be pretty dull as it talks about stuff I hear very often, which is basically:
Change your life.
Make high ticket sales.
Join our program to see how we do it.
The only good thing I liked here was that I was able to fast forward the webinar and not have to sit through a whole hour. Because I see these webinars so often in my line or work, I can fill in the blanks very quickly and nothing was said here that I didn't already see elsewhere.
But anyway, from this page, I signed up and paid for a lifetime membership into DPM.
At this point in the review, you'll get an inside look into Digital Prosperity Movement:
Once I joined, there were at least 6 modules of "training" available. I attached a screenshot of these modules here: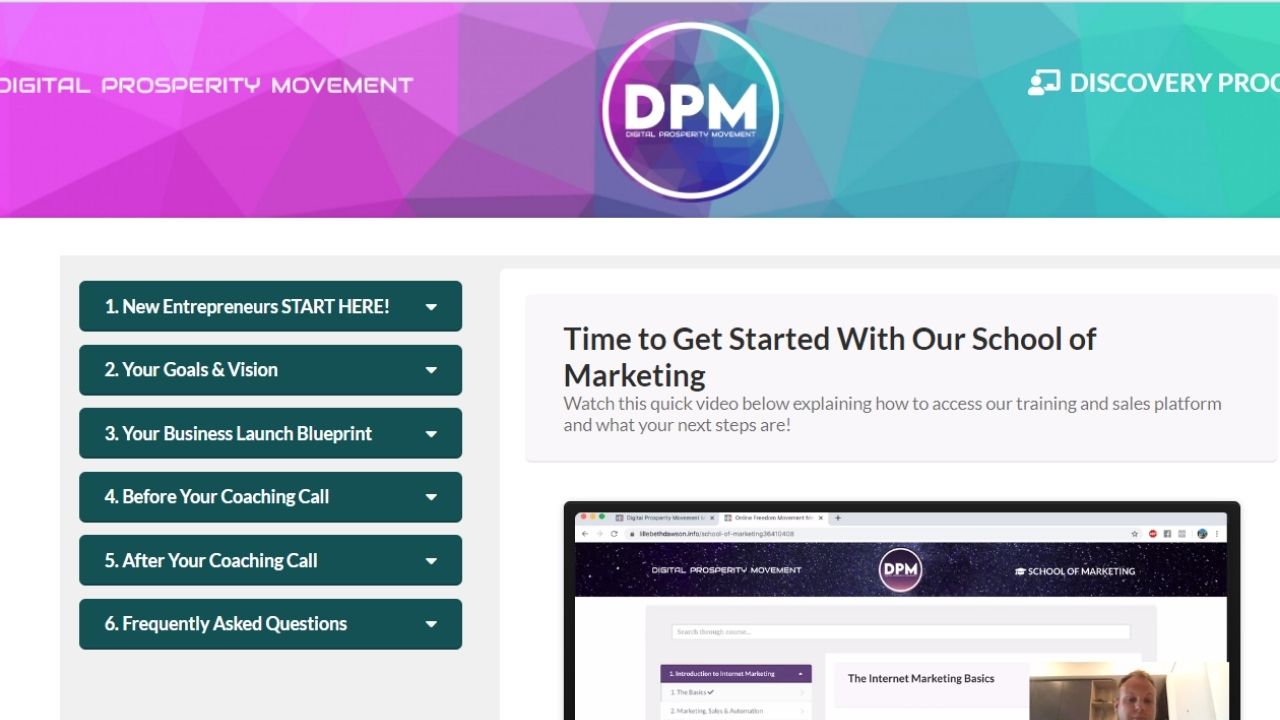 I'm going to summarize these 6 modules for you and here's what you need to know:
1) This starts with a welcome video on how to get started.
2) Most of the content in these 6 modules is hyped up stuff about the opportunity.
3) They pitch a 30 minute coaching call for you to make (you can elect to skip it).
4) One of the 6 modules gets into the promotion of Enagic Water Filter and why they're "awesome". This is also where you learn about the whole high ticket affiliate marketing thing and they explain the compensation plan (how much you'll make as an individual and team member).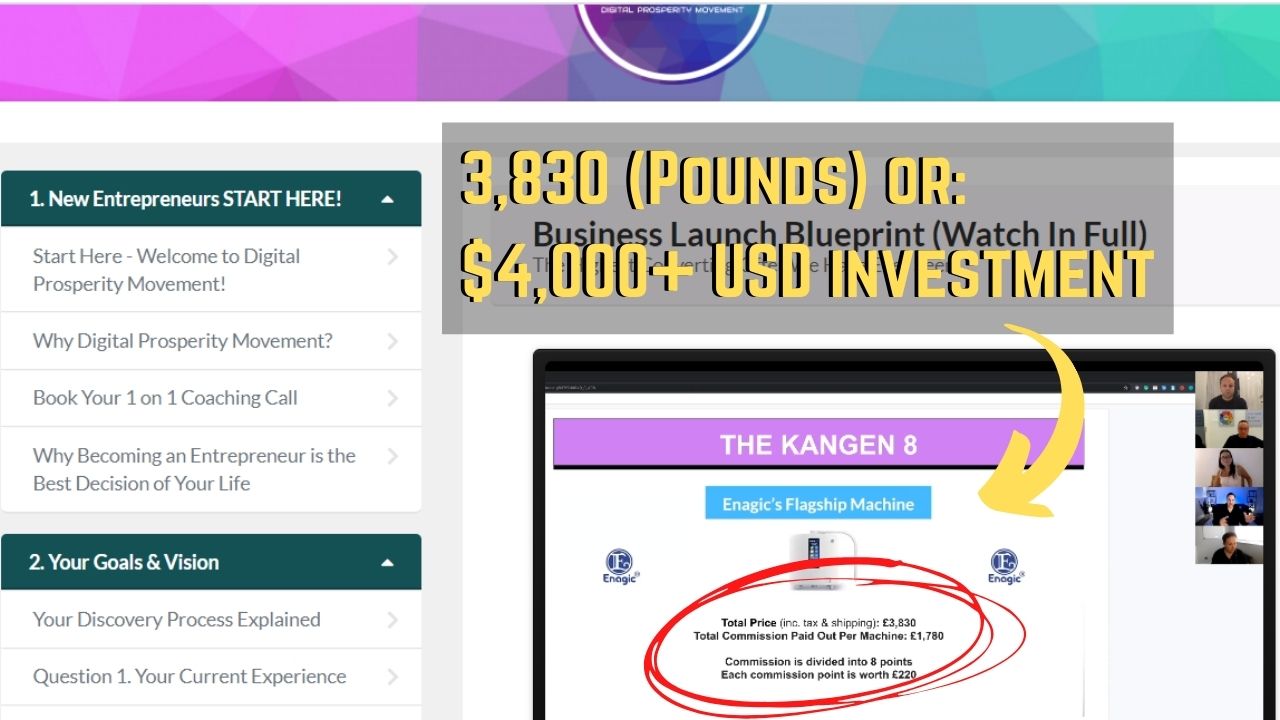 5) They also have a section here about how to finance yourself as a DPM member if you can't afford an Enagic Water Filter and this is one of my problems with the program. I never recommend joining high ticket programs for starters and second, if you don't even have the money to invest (and possibly lose), it's another big reason why you shouldn't join, but that's my opinion.
6) There is a questionnaire you get as part of your membership prior to the coaching call.
7) Overall, there are several hours worth of content in the 6 modules.
8) In short, this whole series of modules warms you up to the idea of being an affiliate for DPM and Enagic water filters.
As far as I know, you need to buy one ($4,000+ USD) before promoting it.
My thoughts on this part of DPM (Not impressed):
I can see why the commenter who originally mentioned this program to me (on the CEO Movement post) thought they were the same because that company (and DPM) do the same thing essentially which is promote these Enagic machines to you.
I was not impressed with this section of the DPM membership, because by this point in time, I felt like I had purchased nothing but a membership into an opportunity, and to buy more really expensive stuff (An Enagic water machine) and without any type of real training or value, I was ready to refund my money and call this a scam.
However, upon finishing these modules, I saw that training was actually available in this program and I'm glad I saw that because it really upped the quality of this program (just not enough to be recommended by me).
The training of Digital Prosperity Movement explained (Not bad at all):
I'm glad that DPM has this section because there is actually a lot of good content here. It mostly centers around the ability to promote DPM through online sales funnels made through Facebook pages and Facebook Ads. Here is a screenshot: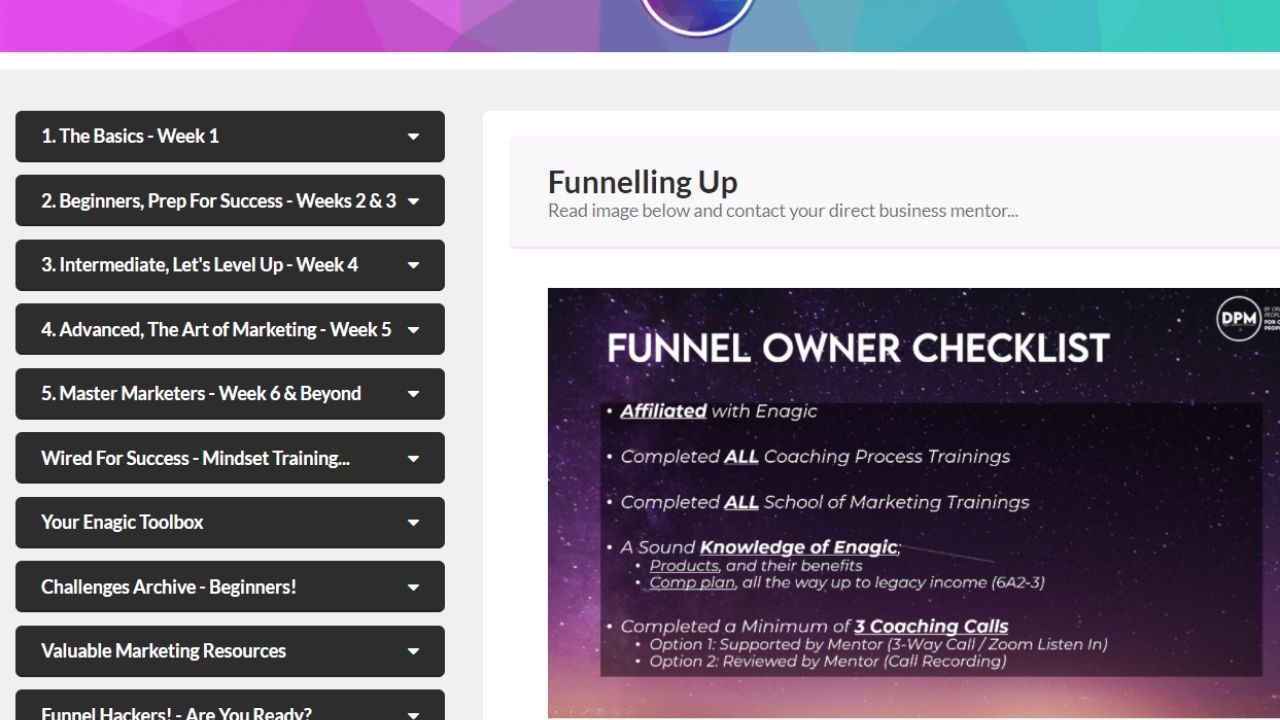 Here is a short summary of this part of DPM:
1) Like I said before, the majority of the training here is on making Facebook ads and pages.
2) There is a 6 week "action plan" available. Each week builds on the previous one before it going from things like planning, to making your first Facebook page/ad to what to say on each ad and so forth.
3) The purpose of this training is to help you promote DPM and once you get people in, then the same funnel you went through once you joined is activated (the people you send in go through the same training, webinar, coaching call and so forth) and if they sign up, this is where your commission is made (and paid out every 15 days out of the month).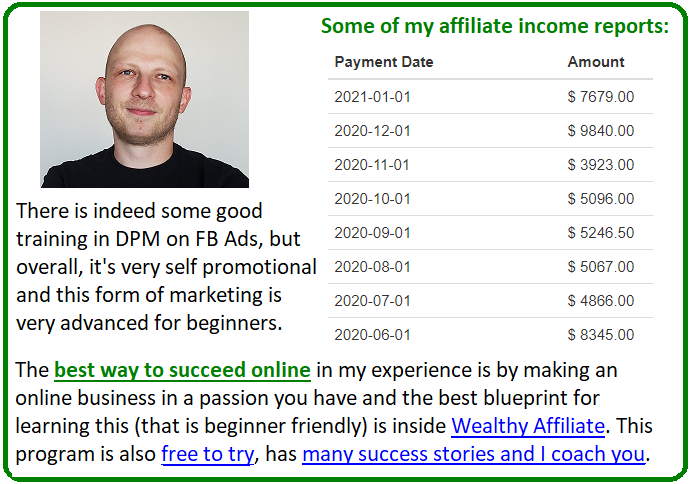 Pros of Digital Prosperity Movement (
2

):

1) The training area of DPM is pretty good.

2) Yes, you can make money with DPM and as an affiliate of theirs an Enagic Water Machines.
Cons (
8

):

1) Massive investment likely necessary to start ($1,000's).

2) Enagic Water Systems are a controversial topic (pyramid schemes, scams, mixed views).

3) DPM is very self promotional and I personally endorse making an online business in niches you love, not be funneled into promote a business you may not necessarily be passionate about or for that matter have money to invest in.

4) I get the whole thing about using their training to promote another business in a different niche, but anyone who understands investments knows that once you invest into big programs like these, you are usually much more bound to promote it and not something else to break even and profit.

5) There are no guarantees in any business, even the most legitimate ones folks and if you have no money to invest into big programs like these, I never advise joining them. In my experience, you should only go into programs when you're ready to lose your investment.

I would also say this about Wealthy Affiliate which I promote on this site (even though they are very affordable in my opinion).

6) It's easy "fall for" programs where you invest so much and potentially get paid big, but I don't like to have that influence my decision. Let me put it this way:
If I asked you to promote something and get $10, you'd probably ignore me.
If I ask you to promote something that paid $1,000, you'd suddenly love that idea and get behind the product.
Money plays a big role in legitimately building an affiliate marketing business.
The money potential is what gets people into programs like this and I don't recommend having that be your deciding factor. I know I'm going to get critics to this review, and I hope you read this part and really think about it before criticizing me.
7) Some pages in the members area are not available (earnings disclaimer, privacy policy). I clicked on these pages only to be taken into the main members area again. Maybe they haven't finished setting up these pages, but this is important and needs transparency.
8) No page (currently) to cancel/refund my membership. I just couldn't find it anywhere on the members area. However:
Here's an update: I had to contact the DPM coach given to me directly and requested it then. The person responded quickly and politely issued a refund, so I have to give credit where it's due. However, I still wish there was some sort of page where I could do this.
Is Digital Prosperity Movement an MLM?
I have mixed views here based on my experiences. At first glance, my thought was that it wasn't, because you get paid for direct sales made for:
Promoting DPM.
Promoting Enagic Water Machines.
However, when the whole team sales thing came into the picture, one could make the MLM argument here, in which case, I'd be even less inclined to go with DPM because I don't like MLM programs in general (affiliate marketing is in my opinion better than MLM).
But either way, whether or not DPM is an MLM doesn't change my conclusion on the program at all.
Is Digital Prosperity Movement a pyramid scheme?
Based on the level of training I saw for the $100+ I paid, I don't think so. But that doesn't mean I recommend it either, so let me explain why:
My conclusions on Digital Prosperity Movement:
DPM is a program which will help you become an affiliate marketing and I've been involved with the business of affiliate marketing for a very long time and have seen the many different ways it can be done. For instance:
And I've made money in all of these fields, reviewed many different programs and know a lot about this business and making it work for you (I coach people inside Wealthy Affiliate).
The method by which DPM works can make you money, but the cost, the risks and the controversy surrounding Enagic water filters and the self promotional aspect of DPM is a big no for me.
I see a lot of problems with making an online business when people aren't taught how to make it in something they are passionate about (it's harder to succeed).
This is where DPM loses me and why I recommend Wealthy Affiliate (top 5 reasons):
1) They'll teach you to make an affiliate marketing business on something you love:
Evergreen niches and profitable niche markets of a wide variety that fit your tastes (and even high ticket niches too). Making a niche related business on something you love greatly increases your odds of success in it.
2) You don't have to pay for any crazy products.
3) The training level in WA is way superior to DPM (I've seen both programs so I can tell you that). You see can that for yourself, for free if you don't believe me.
4) It costs far less to try Wealthy Affiliate so you don't have to go into a big investment to try this.
5) You get better support, help, tools and training in Wealthy Affiliate, bar none.
In my experience, this program has brought the most success to me and while there are no get rich quick scheme, a big part of your success (besides picking niches you love) is not having to invest to much into the opportunity, and this program really has all of that and more to help you succeed (see Wealthy Affiliate's success stories, as well as my own).