I have witnessed just about everything imaginable with Bing Ads: Success, failure, and masses of errors and bugs. Today, the specific subject I want to focus on is why your Bing Ads aren't showing impressions and the 5 ways to fix it.
Here are the 5 most common reasons your Bing Ads get no impressions: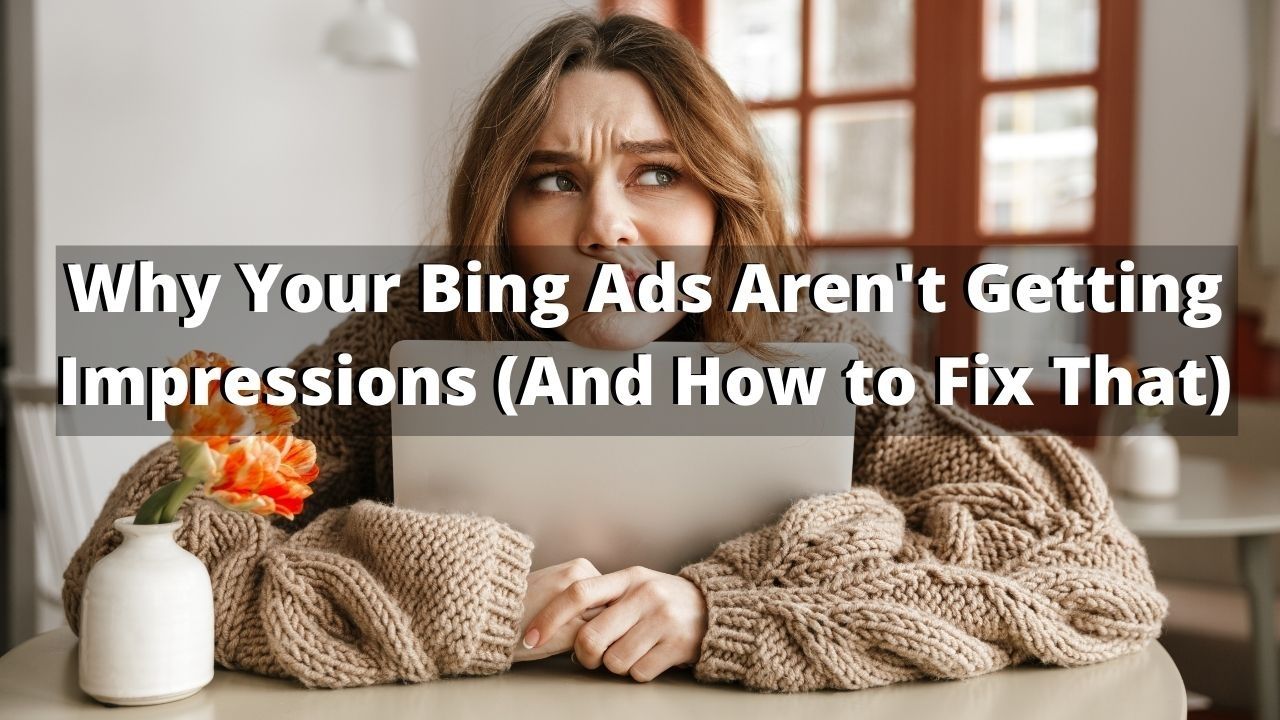 Your bids are too low.
Your targeted keywords don't get enough searches.
Your daily budget is too low.
Your account has a hold on it.
Your ad and account is new and needs more time to show impressions.
I'm going to show you the fixes for each of these problems in a moment, but I do want to say that if you aren't already seeing results with the Bing Ads network, or are new, read up on my Bing Ads affiliate marketing guide so you get a good understanding of how to use it the right way.
You may not be an affiliate like me, but how I use ads on this network is how you should also be using them to get your site and offers traffic. In short, this is how I do it:
I target evergreen niches and micro niches to make ads for.
I also create landing pages for specific products I review as an affiliate.
I'll also segment my ads into different adgroups to raise my quality score.
In short, I only look for the most targeted traffic I can find.
I set my bids to be extremely low despite what Bing Ads tells me to set.
I also target exact and phrase keywords, and never broad ones.
By doing this, I'll typically get very few clicks across my adgroups, but they will always be very targeted and will add up to many clicks overall. And if I ever run ads that should be promising that aren't getting impressions, then I'll run them through one or more of the 5 solutions above.
I want you to note that sometimes the issue with lack of impressions may be due to multiple reasons above and not just one, but to fix it, you'll want to apply one solution at a time, and see if solves the problem. If it does, you'll know what change triggered the solution and if it doesn't, you'll know you need to do more.

Anyway, let me explain something very important before I give you the solutions:
Understanding Bing Ads impressions (what they really are):
Impressions are just the amount of times people on the Bing search engine looked up a keyword that your ad appeared for.
For example:
If I make an ad targeting the keyword "Affiliate marketing Guide", and it gets 1,000 impressions over 7 days, it means that over the course of 7 days, that keyword was searched up 1,000 times (which is a GREAT thing).
What I'll typically do is target very similar keywords in my ad groups and then examine which ones get the most impressions. Then I'll focus most of my energy on converting those keywords with the highest impressions (because they get the most searches and have the most potential).
Here's the ideal place to be with Bing Ads:
Targeting very specific keywords.
Some if not all of those keywords getting a lot of impressions (over 100).
Paying $0.10 or under for each click.
Having your ad in the top 3 positions of Bing.
If you can get to this point with your Bing Ads, you can likely get very profitable results and again, my tutorial above explains how to do this. Here is an example of how this can look (straight from one of my ad accounts on Bing):
But what happens if you're already doing this and not getting any impressions?
Well this is where we start talking about the specific solutions. But I had to give you some important context because I talk to and consult a lot of people who try to use Bing Ads and I see that they make a lot of mistakes, so when you properly understand them, you're less likely to make those mistakes.
Anyway, let's get to the solutions:
The 5 problems and solutions to making sure your Bing Ads get impressions:
Some of them are obvious, but never the less, let's get to them:
1) Your bids are too low:
Now I know I said that ideally you want to spend $0.10 or under for your clicks, but 9 out of 10 people who use Bing Ads typically target very broad keywords which are competitive, BROAD and typically have so many other advertisers bidding them that the costs are jacked up ridiculously.
If you are in a situation where you're targeting very basic keywords like:
"Lose weight now"
"Make money online"
Then you cannot expect to get any good impressions unless you bid $1 or more for these. And if you read my guide to Bing Ads, you'll know I don't even endorse bidding on those types of keywords for the very reasons that they are broad and competitive.
Bid on keywords that are long tail, specific and target specific products, and you can expect to get away with bidding low and getting impressions for that. Here's an example:
"Top detox diet for losing weight fast"
"How to make money online through Facebook Ads"
Both of these keywords are more specific versions of the first 2 examples I used above and I can probably get away with bidding very little on them to get both impressions and clicks for very low costs!
2) Your keywords don't get enough searches: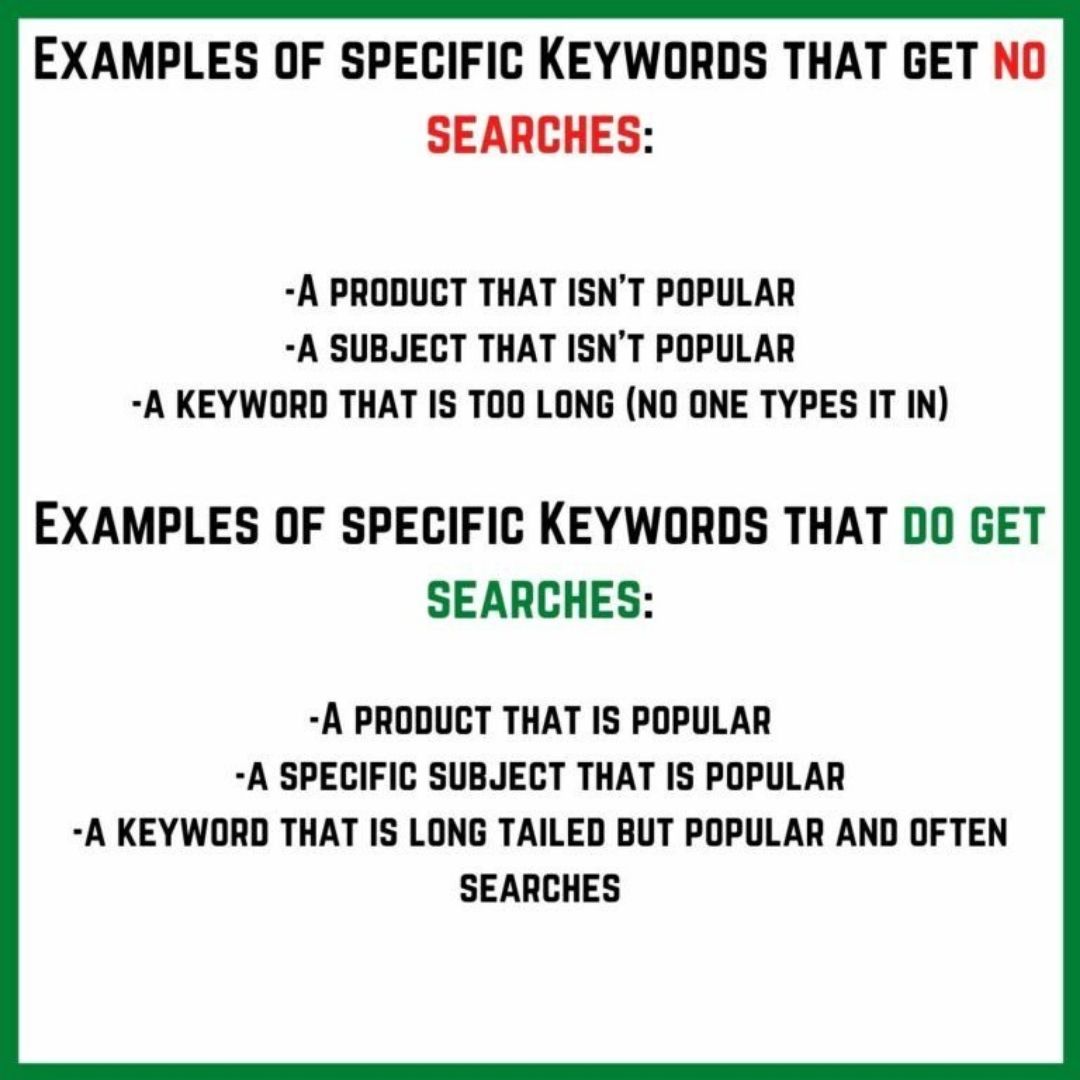 When a keyword isn't even popular enough to be searched, you can also bet that it won't get any impressions.
Before you actually create an ad and find keywords to bid on, research them and see if they're getting any searches at all.
I typically target the same keywords for my blog as I do for my pay per click campaigns (with Bing Ads) and what I typically look for is keywords that are both:
Specific and get searches and the number of searches I look for on keywords is 50 or over a month.
I use the Jaaxy keyword tool to tell me this information.
In short, make sure that whatever you're bidding on is actually getting searched, then it will get impressions (searches).
I've included a few examples in the image to the right for reference. If you have follow up questions on that, let me know below.
3) Your ad on Bing's daily budget is too low:
I get it. Pay per click can be an expensive thing and if you're more on the conservative side and careful about how much you spend with these PPC networks, you're correct in doing so.
But with Bing Ads specifically, there is one major rule I learned about the budget: The higher you set it, the more reach your ad will have, meaning the more impressions it'll get.
I typically set my starting budget on most of my ads to $200 a day and before you freak out and think that's too much, note that if you follow my strategy, you'll never even get close to getting to that amount, but in setting it high enough to show your ads, you'll at least get the impressions.
4) Your Bing Ads account has a hold on it:
Bing Ads can have some serious flaws, one of which is that they can actually put a hold on your account without telling you and unless you specifically ask them to check for it, you'll never know if it's actually there.
Account holds and red flags occur for numerous reasons and if you've ever had the following issues with Bing Ads and are noticing few if any impressions, give them a call, ask for a supervisor and get them to check if there is a hold:
Your ads were disapproved due to TOS violations.
Your card was disapproved.
You've had your account suspended. before.
Your budget was set VERY high and this caused a problem with the algorithm (I have had this happen to me with a 1 page website I ran and it was one of the most dumbest things Bing Ads has ever put me through).
5) Your Bing Ad account is new:
If you're just getting started with Bing Ads and are seeing very little impressions, odds are it's because the age of your account is still too new and typically it'll take up to 7 days to start seeing those impressions show.
If you are in a situation where your account is not new, and you're not getting impressions and have followed my other tips above, give Bing Ads support a call, and ALWAYS ask for a supervisor.
Other important tips regarding Bing Ads impressions:
If you're getting a lot of impressions following my tips but aren't getting clicks, it's because the position of your ads is too low for people to see. In those cases, you'll want to raise your bids to get to those top 3 positions and then you'll start to see way more clicks.
Getting impressions to your Bing Ads is a great sign the ad can get clicks, but the position of the ad is what will make that next step happen and it's something I've noticed a lot of advertisers on Bing do not understand.
Anyway, this summarizes the key reasons why your Bing Ads aren't showing impressions. If you have any questions about this, let me know!