I joined The Invincible Marketer program recently and am going to be sharing an actual inside look at the members area and what this program teaches in this review.
There's many good things to note about this program (and a few cons I noticed) and you're going to get all of that in this post. So let's begin:
A summary and short review of The Invincible Marketer:

Who created Invincible Marketer?
Aaron Chen.
How much does Invincible Marketer cost?
$67 a month.
Lifetime memberships are available: Early bird is $430 and if you sign up later, it's over $1,000.
There's also additional program recommendations inside which vary in costs.
What does Invincible Marketer teach?
The primary training goes over making YouTube videos to funnel people to opt in pages, to collect an email list in particular niches, then send people valuable content to get trust (videos), and then sell an affiliate product down the line.
I'll get into more details on the training below.
Do I recommend The Invincible Marketer?

Yes.
I agree with about 85% of what Aaron Chen teaches in this program. The other 15% are things I would do differently, but overall, this is a very good program, completely legitimate and I do recommend it.
My rating for the Invincible Marketer:
4 out of 5 stars
Alternatives: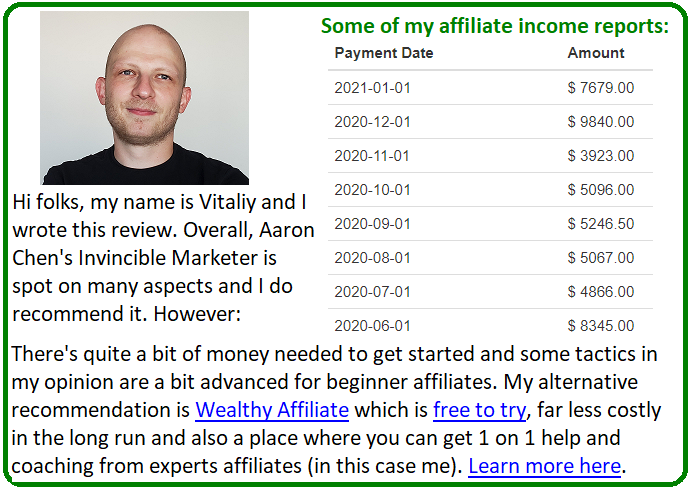 The full review of The Invincible Marketer:
Let me give you this review of The Invincible Marketer in chronological order (I think it'll help explain it better):
Let's start with the beginning:
1) For starters, I found this program recommend on another review site whose recommendations I generally trust.
2) I went ahead to the site (The Invincible Marketer that is), saw Aaron Chen's pitch for the program, really liked it and decided to try at least 1 month of it. I paid the $67 and got access.
3) After signing up, I got taken to an upsell page and in most cases, while I hate upsell pages, in this case, I have to admit, Aaron made a great pitch, which is signing up for a lifetime membership to his program vs paying $67 a month. The deal is good, but for me, I decided not to upgrade. Here is a list of benefits if you do though (it's $430 if you do it instantly):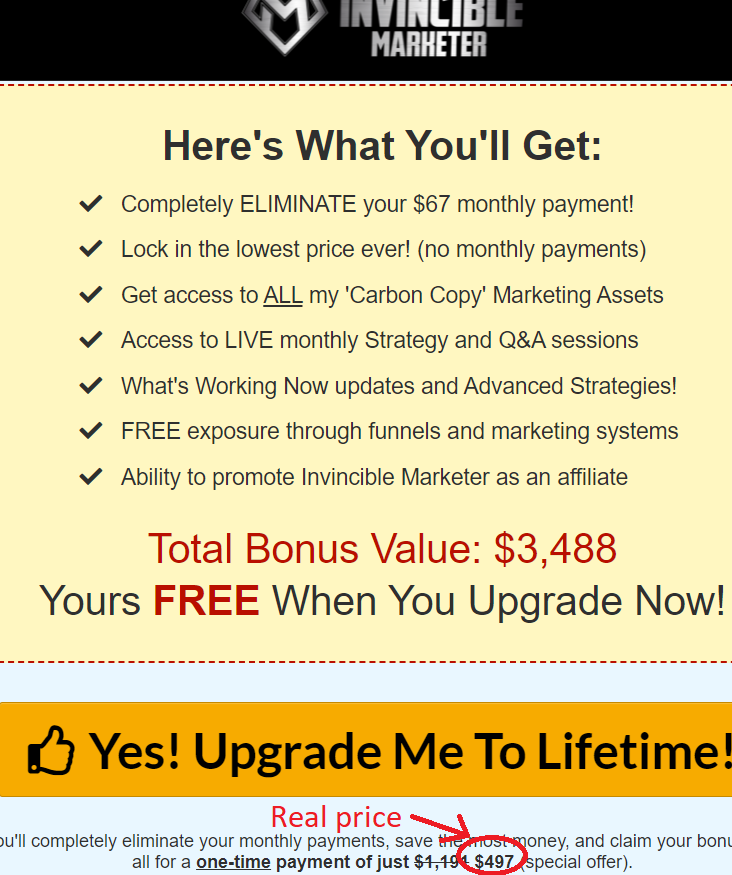 Entering the members area of The Invincible Marketer (first impressions):
My first impressions of this program were actually quite good. Here is a screenshot of it: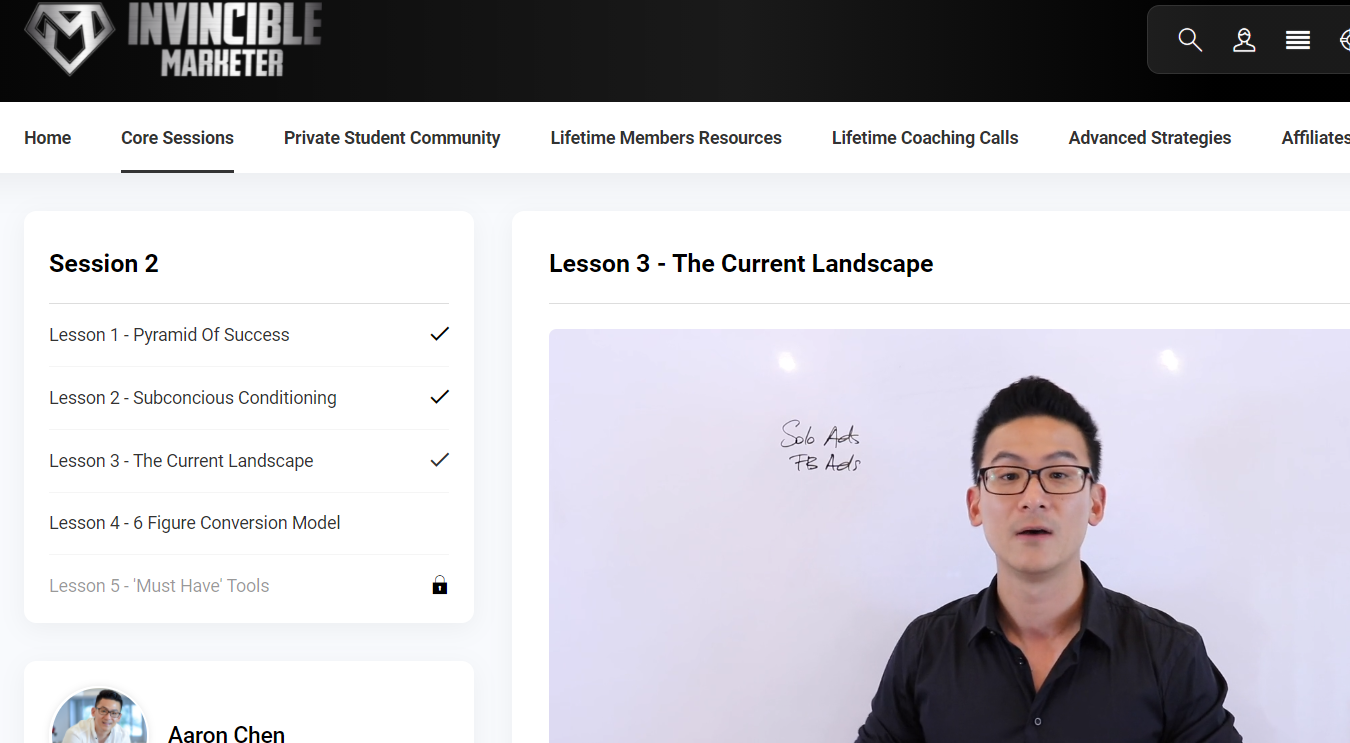 Here is a short summary of the site and what you get:
Once you enter, the place to start at are the "core sessions" area in which you get 17 sessions, each one filled with several lessons.
Overall, you're looking at about 100 lessons in total. You can't unlock the next lesson until finishing a previous one.
How does Invincible Marketer teach you to make money online?
The main method taught is what I explained above but I'll detail it a bit more here:
You target a niche (Aaron teaches you this).
You make YouTube videos to get traffic.
You drive the traffic to an opt in page you set up with Clickfunnels.
You offer a video series to people who opt in.
At the end of the "value series", maybe about 4-5 emails in, you pitch an affiliate offer (like something from Clickbank).
Additionally, Invincible Marketer also offers the following things:
Training on building authority websites.
A lot of mindset and motivational training (maybe about 50% of the lessons are based on this).
Product and program recommendations to supplement your business. Here are just some:
Other programs by Aaron Chen.
Clickfunnels.
Namecheap domains.
And more.
And yes, some of these do cost money.
And there are also some outside programs he gives you examples of that you can sign up to and promote (Some require a lot of money to be spent to join):
I have reviews on these programs in each link above too that you're welcome to check out if you want.
I did go through the lessons and here is proof:
Things I liked about Invincible Marketer:
Aaron Chen is legit. I agree with 85% of what I saw.
A lot of high value training.
Aaron, like me hates solo ads (a big yes here!).
The training in this program is all video, but very well organized.
Aaron's mindset training is pretty good in my opinion.
Aaron's support and help is also offered (for lifetime members I think).
Coaching calls I think are also for lifetime members (I think it's a good investment).
Overall, Invincible Marketer is a high quality program I do recommend.
Things I didn't really like about Invincible Marketer:
Aside from the $67/month membership, more expensive stuff is needed to begin.
I don't really see much value in staying long term in this program (perhaps lifetime is better).
Some stuff like Clickfunnels and email list building in my opinion are too expensive and advanced for a beginner.
Here is a video review of Invincible Marketer as well (further info):
More quick questions answered about Invincible Marketer:
Is Invincible marketing legit?
Yes Aaron Chen's Invincible Marketing program is legitimate. I did check it out and go through the training inside.
Conclusions on Invincible Marketer:
I would absolutely recommend this program and do think it's one of the few affiliate marketing programs I've reviewed that meets many of the strict standards I set for what I label as "recommended".
That being said, I do think the 2 biggest cons to this program are (again):
The extra programs needed to buy to get started (Clickfunnels, an autoresponder and website are $100's on top of the membership).
Second is the advanced level of stuff for using these 2 programs to build an affiliate business. Some might say this is beginner friendly but personally, I will never preach about email marketing or Clickfunnels unless its targeted to a more advanced crowd.
If you wish to join this program, I give it a big thumbs up, but expect to pay more to get started and a bit of a learning curve at that. Other than this, the program is very solid in many respects.
Wealthy Affiliate vs Invincible Marketer (5 reasons why I recommend WA more):
Even with good programs like Invincible Marketer that I do recommend, I still find myself seeing many more benefits to recommending Wealthy Affiliate over it and there's many reasons why this is:
1) Risk free option available:
Wealthy Affiliate has a Starter Membership which is free to check out (see this page for details). Sadly, you can't try Invincible Marketer for free from what I saw.
2) Support is faster:
I would say as good as Aaron is with support (it's through FB messenger), the support in WA is much more plentiful and likely better because you get access to tons of experts, vs one.
A big advantage here for people is that you would get faster support in WA as Aaron is one man here and the more members who join his program and ask questions, the longer it takes to get responses.
Trust me when I say that you won't just have 1 question when you get started, you'll have several at every stage of the learning process and a program like WA will offer you help and answers every step of the way (fast).
3) The training in WA in my opinion is more beginner friendly (and comprehensive):
In WA, you actually learn similar stuff to what Aaron teaches which is about building authority websites in niches you love. However, I would say the training in WA is better geared to beginners due to the fact that it's not focused on list building, and things I find to be advanced.
You'll learn how to build a profitable, and traffic producing website (again get the details here) on any niche you love. Later on is when you YouTube, list building and more advanced methods are taught (no solo ad crap either).
4) More savings in WA because of the included tools you get:
Remember how I said in Invincible Marketer you need to buy extra stuff to get started and that can cost a lot when added up? Well in WA, you get most of what you need included and Clickfunnels and autoresponders are not needed to get started.
In WA, you get domains, hosting and other great tools included when you join. There is an upgraded membership of $49/month which carries this, but it's still less expensive than the $67 a month for Invincible Marketer (which doesn't include these tools by the way).
There are very few necessary things to get like a domain in WA, but that is very cheap, and everything else is pretty much included for you to build your online business without spending anything extra. If you so choose later on, there are optional outside programs you can get to scale your business.
5) Access to experts like Aaron (with very quick responses):
In WA, we have experts like myself in the affiliate marketing world and outside of it, available for help. I do promote Wealthy Affiliate and just so you can see how good the support is (risk free), you are welcome to claim my 7 day free coaching in Wealthy Affiliate if you join.
The bottom line is: Test drive WA before you decide to upgrade (or not).
When all is said and done, Invincible Marketer is good and recommended, but when weighed against the benefits in WA, I personally think WA is better in many respects for beginner affiliate marketers and online business people.