I have an interesting take and start to this review of Commission Academy and it begins like this:
Recently someone on my website commented on this program and asked me if it's legit. I did an initial search on Google to see what the program was about and to my very pleasant surprise, I quickly learned it was designed by someone who I actually know in real life: Dale.
I did some further digging, joined his program (which is absolutely free by the way), and was further impressed by all the work, content and value he delivered.
Now this is a bit of a spoiler to this Commission Academy review, but it is going to be a very positive one and being that I am very selective on which programs I recommend, I can happily tell you that this one belongs there for sure.
There are certain aspects to it I have different viewpoints on but that is what the detailed review will explain and that begins right now:
A short summary and review of Commission Academy:

Who created Commission Academy?
Dale.
How much does Commission Academy cost?
It's absolutely free. There are however certain program recommendations as you go through the training.
One of them, I am totally on board with (Wealthy Affiliate). The other, is a high ticket program called Legendary Marketer that I personally am not a fan of.
What does Commission Academy teach?
There is very beginner friendly training on affiliate marketing, ranging from niche selections, to product promotions, to email marketing, website setups, blogging, keywords and content which in my opinion is some of the most important and necessary for beginners to get started with.
There is a ton of free training within this subject matter and massive value overall.
My rating for Commission Academy:
4.9 out of 5 stars
Do I recommend Commission Academy?

Yes!
It isn't just because Dale recommends the same program I do (Wealthy Affiliate), but it's also because he really put in a ton of time and provides incredible value in his free training (I went over it and will show you an inside look).
This effort to me shows honesty, principals and integrity and being that I do know the guy from previous meetings at the Wealthy Affiliate conference, I can tell you he's a good dude as well.
Alternatives? Well no.
Normally, the alternatives I suggest in just about every circumstance is Wealthy Affiliate in this part of my reviews (if it's warranted and truly a better choice), but in this case, Dale promotes Wealthy Affiliate too, so no alternatives are necessary.
My history with Commission Academy (and Dale) explained:
Before 2021, I had attended a super affiliate conference in Las Vegas for the program known as Wealthy Affiliate.
In the past 2 years of that conference, Dale joined the group and we interacted there a few times. In fact, here's one of the photos of that conference where you can see us both: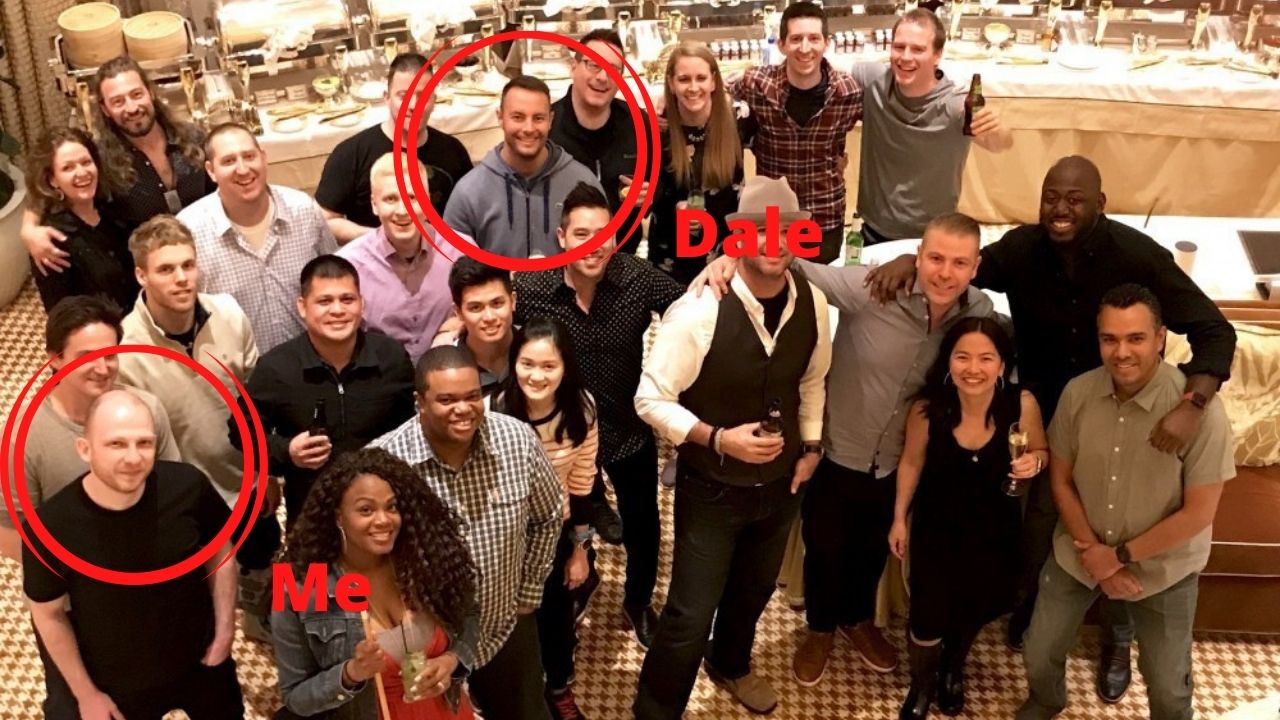 Prior to that, I had no clue who Dale was, what his website was about, let alone his program. And if it weren't for the commenter asking me about it. I doubt I'd ever get to knowing that.
But being that I know Dale and a few other super affiliates, and that we all got our success in Wealthy Affiliate, I know what to expect from these people, and it's really good stuff because the training we got in this program taught us how to make ethical affiliate businesses and help others do it too. It's one of the reasons why we promote Wealthy Affiliate to this day.
In a moment I'll show you an inside look at Commission Academy, but do keep in mind that you can literally see the training and content there for free without any credit card required and I can vouch for Dale being a hard worker, reliable coach and truly successful affiliate marketer.
So if that is enough to convince you to join, do it here (this is not an affiliate link, but it might change in the future).
An inside look into Commission Academy:
The first thing to note is that you don't need much info to sign up to start. Just your first name, an email and password and you're in. From there, you have the following training: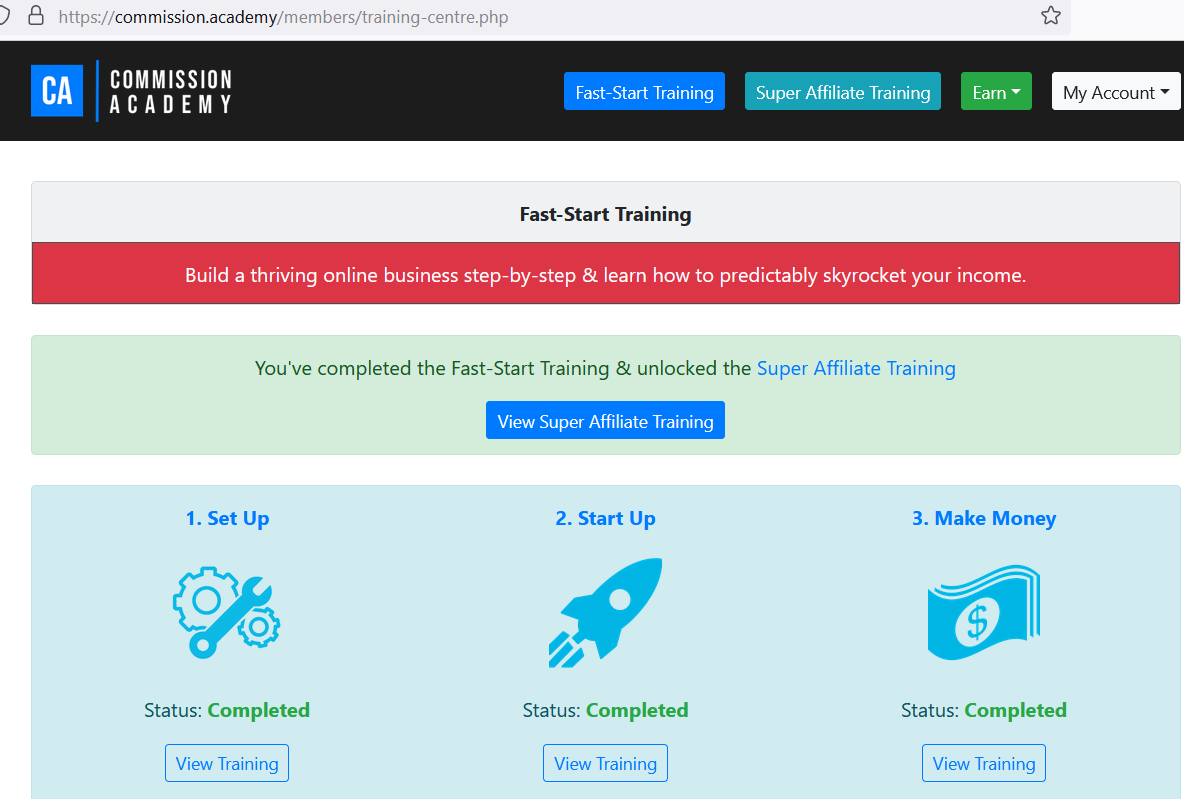 Here is information about the free training at Commission Academy:

1) First you begin with the Set up:
Here you go through several lessons introducing you to affiliate marketing as well as Dale.
2) Start up:
Here Dale introduces you to making websites, keyword tools and helping create the initial assets for your online business.
It is in these parts where if you want to get these tools for free that you would have to join Wealthy Affiliate and honestly, I fully recommend it because you do get access to what I consider the best affiliate marketing program out there (With Dale as your coach included).
3) Make money:
Here you get introduced to keyword targeting, blog content creation, writing affiliate product reviews and entering your affiliate links to help you create a real online business.
In many ways, the content here mimics what you would be getting Wealthy Affiliate anyway, so if you do this training, I would highly suggest joining Wealthy Affiliate (under Dale in this case) to realize your business there.
Conclusions about Commission Academy:
Overall this is a highly recommended program to help you start off with affiliate marketing. The only thing I am not a fan of is Legendary Marketer, but I know people who disagree with me on this and that's totally fine.
If you want to know why I don't recommend Legendary Marketer, you can see my review in that link. But overall, just know that you don't need to join that if you're part of Commission Academy (it's optional).
I'm happily linking to Dale's program throughout this article because he deserves the credit and I will also be recommending Wealthy Affiliate as well. You can also read my Wealthy Affiliate vs Legendary Marketer comparison and see why I prefer WA more.
Whether you wish to join through Dale's affiliate link, or mine is totally up to you, but just know that Wealthy Affiliate is the central promotion on his site and mine, and you can't go wrong with either choice because it leads to the same place anyway.
If you'd like to join Commission Academy (and subsequently Wealthy Affiliate) through Dale, visit this Commission Academy link.
If you'd like to join Wealthy Affiliate and get me as your coach, click here for the details on how that works.
Like I said earlier, whether you join through me or Dale, you're still joining Wealthy Affiliate. The only question is which person you vibe with more and that's totally up to you.
I strongly recommend you go through Dale's training first if you haven't already before you decide that and if you have any questions, you can see my personal coaching page here for details (or just feel free to ask anything about that below).