Stay Home Commissions is also known as Deadbeat Super Affiliate and in this review, I'd like to share what I know about it since I used to be a member of the original program.
Overall, I had a 40 (yes) position and 60 (no) position on it. But that experience happened years ago, when the original program was far less in cost than it is today. So what's changed if anything? Well this review will cover that.
The short summary and review of Stay Home Commissions:
Creator:
Dan Brock and the original name of the program is Deadbeat Super Affiliate.
Price:
When I purchased it years ago, it was only $17 with several up sells. Today, it is far more expensive:
$997 one time.
$399 over 3 payments.
What is it about?
When I first got it (I did not buy the updated program), it was a program on making a niche site, creating content on it through blogs, creating backlinks to them and then making affiliate profits from the traffic coming in.
This new update to the program is a bit different. In some ways it's still the same, but now you learn more things from the program including Facebook Ads, email marketing, making money via being a Clickbank affiliate and more. There is a 6 week intensive course on all of this.
Overall, based on what I've seen the program has improved in content, training and value, just not enough in my opinion to justify paying nearly $1,000 for it though.
My rating for Stay Home Commissions (Deadbeat Super Affiliate):

2.5 out of 5 stars
Do I recommend it? No.
The reason why is because I didn't recommend the original program when I went through it as I had already known about this material back then and while I did like some of Brock's training, I felt a lot of it was teaching things that I thought were risky for starting a niche site.
Today, the program has certainly improved, but to charge the amount it's valued at now is a bit much for me.
I don't doubt Brock is still delivering great information (Let me be clear, his program is not a scam and is legitimate), but as I often say about high ticket programs, they are often overpriced and better alternatives are available if you know where to look (like on this review).
Alternatives: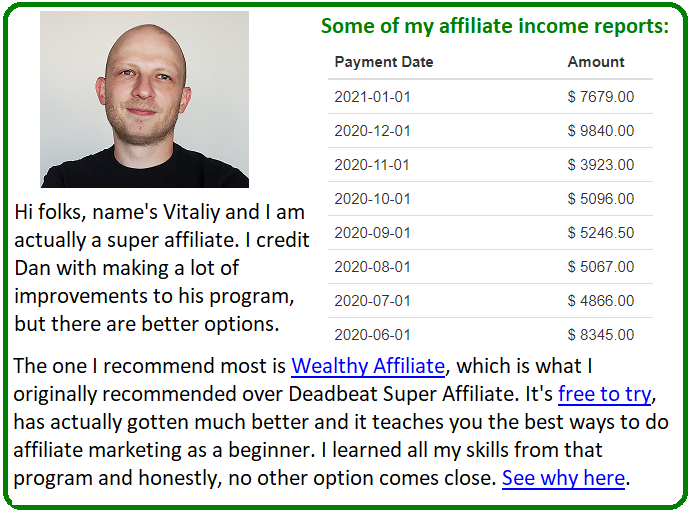 Getting into the details of Stay Home Commissions (A thorough review):
So I'm not sure if Stay Home Commissions is just an affiliate site promoting Deadbeat Super Affiliate or if Dan Brock started a new site to get attention to his original program. Either way, it's the same pitch so the review applies 100%.
As I said earlier, the program is 6 weeks long and here is a summary of each week's training material:
Note: I am also including what I believe to be in the training based on these summaries as I know a lot about these subject too (about me).
Week 1: Teaches you to find popular, trending products to promote and talk about to get traffic.
My assumption here is that Dan shows you ways to do product launch jacking through sites like Muncheye, as well as JVZoo and Clickbank as well as other similar pages to find products to write affiliate reviews for.
It would make sense since these options do provide a lot of opportunities for such things and I speak from experience on this subject.
Week 2: All about buyer keywords supposedly.
In my understanding, Dan shows you ways to find low competition keywords for products and opportunities you find during week 1 here and normally, every product that is hot or is about to be released onto the market will have low competition keywords available for people to utilize, create blog posts on and rank highly for early before the competition catches and makes your affiliate marketing ventures too saturated to profit with.
Week 3: Making affiliate assets.
The summary here is a bit cryptic but I deduce that it has to do with making YouTube videos, pay per click ads and things of that nature to get more exposure to your online sales funnels promoting whatever you decide to promote.
Week 4: All about email marketing supposedly.
Affiliate marketing through email marketing is a legit practice but often advanced in my experience. Either way, you will learn about this art in this week's course.
Week 5: Replicating content to attract buyers beyond just the Google realm.
Here Dan says he'll show you how to take existing content you have and spread it across other networks with other traffic and potential buyers to get more exposure and basically earn more from existing content you created.
Say for example, you wrote an affiliate product review or an ad for it and then reused it to be promoted in other search engines, through ads and so forth. It can gather more traffic and potentially more buyers from the practice.
Week 6: Outsourcing basically.
Here Dan shows you ways to find freelancers to write your content and grow your business so you can scale your online business. Here is a link to Stay Home Commissions site so you can see this for yourself (this is not an affiliate link).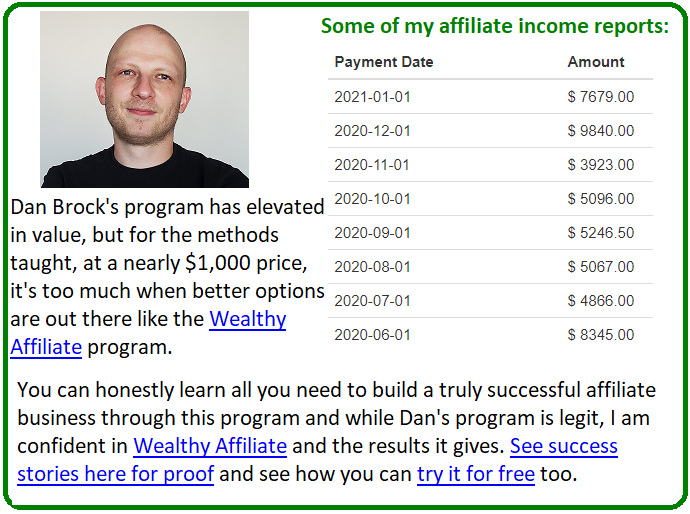 Conclusions on Stay Home Commissions:
Overall, many of the topics covered in this 6 week course bear a lot of resemblance to how I do and teach affiliate marketing.
I do disagree with certain things being taught in the order they're in and think 6 weeks might be a bit too much, too soon, but having seen Dan's earlier version of Deadbeat Super Affiliate, I know he provides generally good content. It's just that in some parts of it, certain methods taught, at least in my experience could lead to issues with SEO and other things.
This is one of the reasons why (including the price) that I do not recommend this program. When I first reviewed Dan's program, I suggested Wealthy Affiliate instead and I still do.
Despite that high increase in price (and granted, value as well), Deadbeat Super Affiliate is in my opinion not the type of program I'd recommend learning the art of affiliate marketing through.
Wealthy Affiliate however is one of those programs that has remained true to it's original price point and has advanced. So even when it was better than the original Deadbeat Super Affiliate in my opinion, today it's far better in quality (as is Deadbeat Super Affiliate), but the price of Wealthy Affiliate is still the same while the other's has risen substantially.
Overall, you get more from Wealthy Affiliate today than you would from Deadbeat Super Affiliate, today or when it was in it's original form.