The short story about this Simple Traffic Blueprint review is that it is not a scam, and that it will teach you legitimate ways to make money online (through YouTube affiliate marketing in this case).
And despite me recommending it, I want to also mention that in my opinion, based on what I saw, there are better and cheaper alternatives to this program which can teach you the same material and more stuff related to making money online.
However, if you decide to get yourself Simple Traffic Blueprint anyway (I'll leave links to it in this post), I would tell you it's the right move. But just read this review fully first so you know what to expect beforehand.
4 disclaimers

about this Simple Traffic Blueprint review:
1) I did not buy the program.
2) The material taught in Simple Traffic Blueprint is one of the main pillars of my existing affiliate business.
3) I make money online and one of the main ways is through YouTube affiliate marketing, so I literally implement a lot of what this program already teaches.
4) I've read reviews on this program that have purchased it (and I will be leaving links as credit to them) and they basically backed up what I already know and do, and prove this program is legitimate.
A summary and short review of Simple Traffic Blueprint:
Who created Simple Traffic Blueprint?
Phillip Borrowman.
How much does Simple Traffic Blueprint cost?
There's a one time $49.99 price to get FULL access to the training.
However, there is one optional upsell afterwards for $70 a month which gives you a bundle package of a website, an email autoresponder and more.
The deal is not bad, but email marketing isn't really what I consider necessary for beginners.
What does Simple Traffic Blueprint teach?
The short answer is YouTube affiliate marketing (through making videos that get organic traffic) and it's taught over a 30 lesson course. You also learn how to do CPA for monetization.
You will learn how to make YouTube videos on niches you like and promote products either directly in that video, and/or send people to your website that Phillip helps you set up to collect their email lists and then market to the list from that.
But all the traffic (Simple Traffic that is) comes from making YouTube videos basically and there is a 7 day challenge people are given when they start to help them get a boost.
My rating for Simple Traffic Blueprint:
3 out of 5 stars
Do I recommend Simple Traffic Blueprint?

Yes.
The program is 100% legitimate based on everything I know about the topic (and make money from), what I saw inside the program and more. However, I am also going to say that:
There's cheaper programs to learn this material from.
There are those which offer training (and for less).
Some of those programs go beyond YouTube affiliate marketing (and it's important to diversify your affiliate business in my opinion).
I'll show you those alternatives in a moment, but like I said above, if you still decide to get Simple Traffic Blueprint, it's a good investment in my opinion and as long as you follow it's guidance, I am confident you will succeed.
Alternatives:
There's 2 recommended programs I have which also teach YouTube affiliate marketing (but for less) and they are:
1) Invincible Marketer ($67 a month and 100 lessons on this same topic).
2) Wealthy Affiliate, and here's why I recommend that above the rest:

What other reviewers are saying about Simple Traffic Blueprint:
So in this section of the Simple Traffic Blueprint review, I want to get into more details about the program. For starters, I have to give you enormous credit to the following sources:
1) This review of Simple Traffic Blueprint. The guy got the program (I know him personally), reviewed it inside and out and deserves credit.
2) This YouTube video review of Simple Traffic Blueprint. Also a good inside look.
3) And finally, this other review of the program from another member.
There are actually more good videos and article reviews out there, but these 3 are the ones which gave me enough insight on the program.
Now if you didn't click on those links, here's the basics of what you need to know:
They are all positive and speak well about this program.
They go over the inside members area of the program.
They all recommend it in some way or another (one of them also has alternatives like me).
How do I know Simple Traffic Blueprint works? Because I literally do the same things:
I said earlier that I do what Phillip teaches in this program and in this part of the review, I want to prove it. Here are some stats:
I run 2 YouTube channels. One of the has gotten nearly 400,000 views.
95% of all the traffic in that near 400k channel is from YouTube organic search.
I've done dozens of YouTube affiliate product reviews on all sorts of niches (and made many sales).
I also do have other affiliate income stats here and details on how I do it.
Over $3,000 earned in YouTube monetization alone (for affiliate sales, it's much more).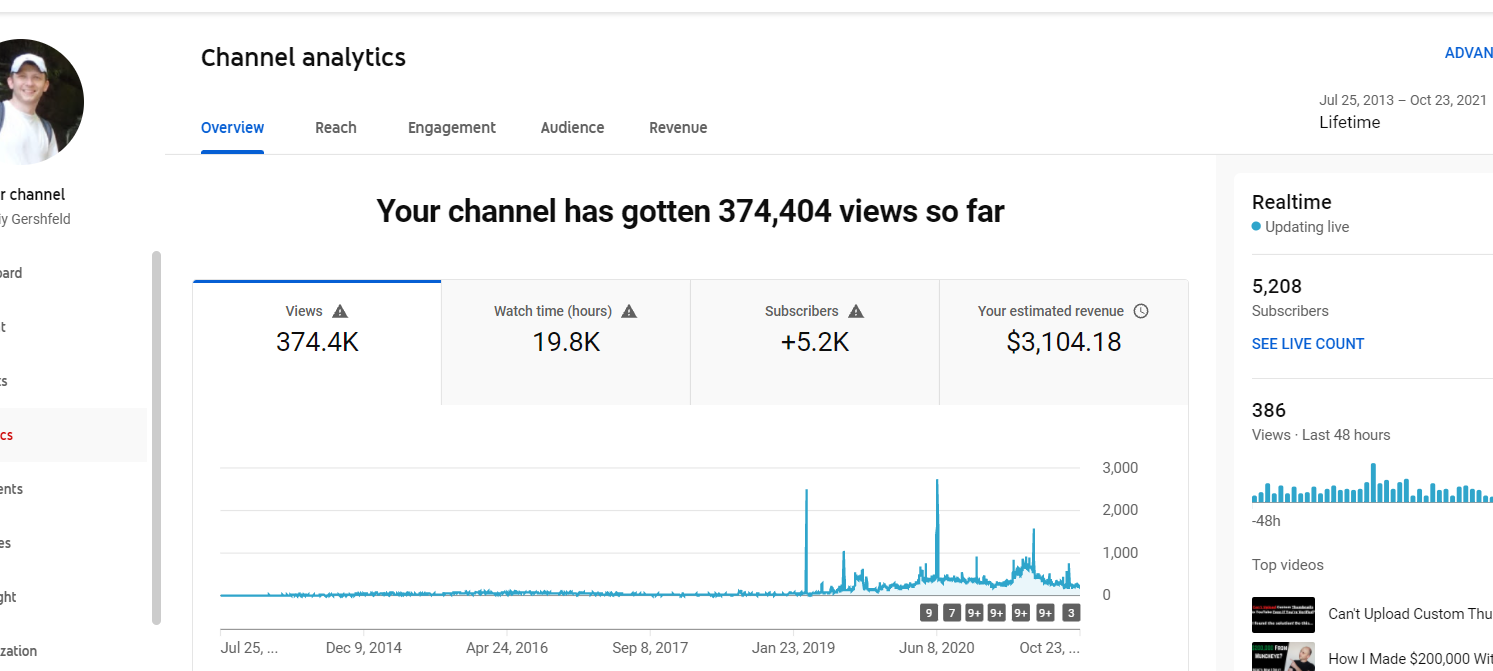 Now I also share a lot of content on what exactly I do on YouTube:
A lot of this stuff is similar to what Phillip teaches you, but you can read/see this for free to draw your own conclusions:
The first link up there is probably the one which will teach and show you the most on how to get started.
What Phillip's Simple Traffic Blueprint program gets right (pros):
His explanation of niches and how to pick them.
This is a beginner friendly program.
That YouTube is a great way to get a lot of organic traffic quickly.
That you can make good money as an affiliate through YouTube.
Very comprehensive training on all things YouTube related.
In my opinion, this program is good/great on this topic.
Speaking from experience, I know what Phillip teaches in his program WORKS.
What I think might be lacking in this program (cons):
Email marketing may be a bit complicated for beginners.
I do think that only focusing on YouTube might be limiting to some affiliate marketers.
I believe you can learn more about making money across other fields in cheaper programs out there.
YouTube affiliate marketing might not be for you, at least not yet (if you're shy for instance).
Conclusions on Simple Traffic Blueprint:
Once again, it's a legit program, no doubt about that and if you need to see further evidence, check out the reviews I linked above. They'll give you the inside look and help you make an informed decision.
That being said. I just know from experience having reviewed many programs like this and in the affiliate marketing field, that there are in my opinion better choices, 2 of which I already recommended above.
Aside from Invincible Marketer which covers basically this same material, the one I am more so recommending is Wealthy Affiliate.
5 reasons I recommend Wealthy Affiliate over Simple Traffic Blueprint:
1) Overall, you just get much more value for less.

The thing to mention first of all is that Wealthy Affiliate is free to try and offers a 10 lesson main course for you to try out. That course shows you how to build a niche website and gives you a lot of free tools to do it.
Later on, if you wish to upgrade, there is a $49/month cost but that opens up all the training, all the tools and more. It's still a lot more value and training vs what Simple Traffic Blueprint offers.
2) There is a lot of YouTube affiliate marketing training:
All of my results with YouTube came from learning it on Wealthy Affiliate.
3) Bar none, there is just way more support and help available:
Simple Traffic Blueprint contains support and help, but in WA, it's easier to get (and faster) and you can move forward quickly.
4) More choices on what type of online business you want to build (flexibility):
While I know YouTube affiliate marketing works, I personally think it's not for everyone (who isn't ready for it). I followed the main Wealthy Affiliate training to build my online business and it starts with establishing a niche website in your passion, and then teaches you to add more layers like a YouTube business on top of that.
I think the more layered and diversified your online business is, the better it'll be for your overall income.
Now to be fair, Simple Traffic Blueprint is multi layered too, in that you use YouTube to build an email list and then make money off that, but in WA, there's just more options available.