This is going to be a 2 sided Perpetual Income 365 review folks.
On one hand, I'm going to be explaining why I don't recommend it and on the other, I'll be showing you a better option.
Here is the first thing I have to say about this Perpetual Income 365 review:
I did purchase a membership into Perpetual Income 365 and sadly, I have my say that my experiences were very negative.
Not in the scam sense, but in the fact that I was so disappointed by what I saw inside, that I just had to leave.
In fact, I can't really point to anything positive I saw about this program other than the opportunity it teaches you to make money online with, which is actually questionable if you consider it. But all of this will be shown to you in this review, so let's begin shall we?
A summary and review of Perpetual Income 365:

Who created Perpetual Income 365?
Shawn Josiah.
How much does Perpetual Income 365 cost?

$9.80 (this was what I paid).
Upsells: 
$197 for "Turbo Charged version"
$297 for an "Email ATM" upgrade.
$127 for "Perpetual Income Multiplier.
Get Response: Free to $99 a month.
Remember these prices and upsells folks because one or more are required for you to actually buy if you want to start using the Perpetual Income 365 program (and that's one of the problems with the program).
What does Perpetual Income 365 teach?
You basically learn to promote the Perpetual Income 365 program to others through email marketing, that is literally the "opportunity" here (if you can call it that). Plus you have to purchase the extra upsells to:
Actually get higher level training to start.
Generate traffic to your promotion of this program so you can get people to your affiliate link/page and make money.
All of this will cost you a lot of extra money.
My rating for Perpetual Income 365:
1 out of 5 stars
Do I recommend Perpetual Income 365?

No!
Make money online programs like these are some of the lowest quality ones I find and advise avoiding because they typically over market themselves to sound like amazing opportunities, revealing some incredible secrets and all.
But after buying it, the truer story is that it's just a program that attempts to get you to pay more and more before you can even start to make that investment back, all of course with no guarantee and my estimation on how much you'll need to spend on this program is $100's of dollars (at the very least).
And I'll get into those details very soon in this review.
Here is a Perpetual Income 365 video review:
If you prefer watching videos of product reviews vs reading, then the following video will show you what I experienced with Perpetual Income 365: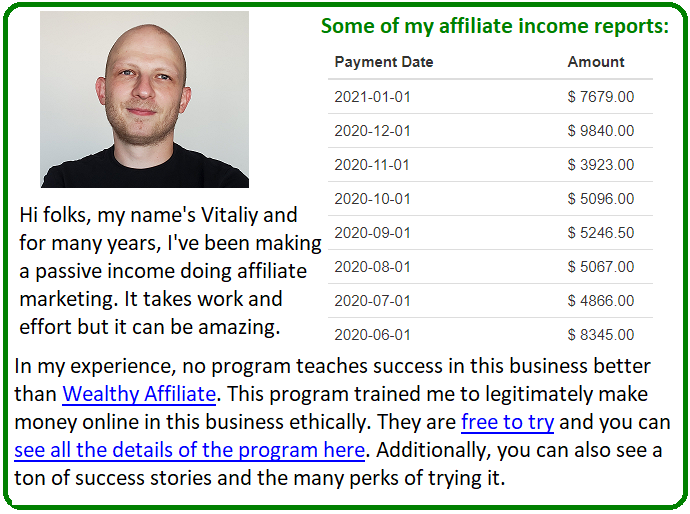 A detailed Perpetual Income 365 review: How the "opportunity" really works explained.
I'm about to give you 2 sides to this program:
The first side is what you see on the sales page and my interpretation of it.
The second side is what you really see once you're inside.
Let's start with the first side (before you buy Perpetual Income 365):
When you first read the sales pitch (or video) of Perpetual Income 365, you're told about some amazing secret to make money leveraging stuff that big tech companies and places like Netflix leverage.
You're also told about finally living the life you love, dropping out of that 9-5 grind, seeing success stories and income charts from happy customers of this program.
What an amazing opportunity (supposedly). But how does it compare to the reality of what you see when you join? Well, let's find out:
The second side after you buy Perpetual Income 365 (

when my disappointments started mounting

):
1) You are pitched 3 different up sells which are upgrades to the program (I declined all 3). In total, they'd cost me $500 extra.
2) You are welcomed to the program by Jason (he's real and that's the only pro I saw) and he talks about making money the same way streaming companies do through an abbreviated term: MCCA which is complicated to understand (Micro Commitment, Consistency, Compounding, Algorithm).
Translation: If you promote Perpetual Income 365, you can get people "through the door" for $9.80 (micro commitment).
Then they pay for a monthly membership and you earn perpetual income from it and they basically do the same thing you did (promote Perpetual Income 365) Round and round we go.
3) Then you get started and you find out that you really can't do much because those same pesky up sells that were pitched before? Well you still need at least one of them to get started. And those costs add up to a lot!
In short, to really get started with Perpetual Income 365, you'll need to spend
$500

(more or less):

1) First, you need to open up a free Clickbank account (if you don't already have it). This will let you promote the program.

2) You then need Get Response, an autoresponder program to collect emails to promote Perpetual Income 365.

3) You then need to buy one or more of the 3 up-sells. They'll "open up" a section of the members are where you can get squeeze pages so you can plug in your Get Response code and then use these pages to get people to sign up.

4) You then need to buy traffic to send people to these pages (because how else are you going to make sales?).

5) Then you find out Jason is actually promoting or selling traffic to you. My guess is that he's engaged in some sort of solo ad promotions or having you buy clicks, and then matching it with his own clicks.
I'll let his own membership page explain this (screenshot):

So basically on top of the regular membership to Perpetual Income 365, you have:
3 up-sells, some of which are required to buy to go further ($500+).
An autoresponder pitch (required). Free to $99 a month.
Clicks to buy to get traffic to your pages to promote Perpetual Income 365. Could be another several $100.
And to top it off, you have a 3 day challenge that encourages you to take action on all of this quickly.
There you go folks. That's how a program that starts at almost $10 gets you to spend $100's more on the back end. And it's one of the major reasons I don't recommend it.
If you're not comfortable with this stuff, I don't blame you (I am too) which is why I recommend Wealthy Affiliate (it doesn't do this and you get legitimate training for free to start out (There is an upgrade later, but you at least get a ton of good stuff before to see the value).
Will spending this kind of money on Perpetual Income 365 actually make you money?
Inside the members area, you do see screenshots of people talking about how happy they are and making money, but I have my own suspicions on this. I don't doubt there's affiliates to this program making money, but you have to understand: This is not guaranteed.
And I take major issues with any program that in my opinion, so sneakily up sells me these things and requires I pay for it.
There is also a fallacy in believing that by spending more, you can make more. It's how the most questionable programs I run into function, especially the high ticket programs.
I do affiliate marketing through many different ways and I can tell you that:
As an affiliate who knows this stuff, I can easily promote this program without having to utilize the upsells and tools provided. For example:
1) I can just promote the basic $9.80 program as a Clickbank affiliate for free.
2) I don't think I need to buy the up-sells to promote them (unless there's some requirement for me to be eligible for commissions to do so).
3) I don't need Get Response.
4) I can blog about this program and promote it that way.
5) I can make pay per click ads about this program.
I can do a whole bunch of other stuff without ever having to spend the extra money from inside Perpetual Income 365, but I'm an expert affiliate marketer so I know of the methods and roundabouts available. However:
One of the other major problems with Perpetual Income 365 is that:
You aren't given these options/training (you're led to the higher investment which is around $500 if not more).
You don't have these second, third, fourth, and fifth avenues to promote this program like I do.
You are led down an online sales funnel to join for little and then spend a whole chunk more to be "given" the opportunity to promote this system.
If this doesn't sound questionable to you, I don't know what does, but it certainly does to me!
Concluding thoughts on Perpetual Income 365 (
4 reasons

I don't recommend it):
1) I take major issue with programs that up sell the living daylights out of you:
And steer you into buying that without offering other options.
2) I also take major issue with the fact that this program is extremely self promotional.
And while you are led to believe that the money making is easy once you spend so much, I've seen this message and assumption played out countless times with similar programs over the years and it's usually never that easy.
3) Overall, while I can promote it (successfully too), I won't and refuse to.
This program in my opinion has some serious issues I consider unethical forms of affiliate marketing and this is just not the way I personally consider to be a good, ethical way to make money online and this is my opinion.
4) The belief that I'll make more when I spend more is also full of holes. 
In my opinion, I feel like I've been deceived when I joined this program. I didn't know I'd have to pay so much more to try this (among other things) and the program is asking me to pay more to get that "real opportunity" that I thought I was going to get when I first purchased it.
Whose to say it won't continue down that track if I keep spending? While I'm not saying this program is a scam, I've seen countless online scams do this.
Now everything I've shared with you in this review is based on my opinions of the program and despite all of my points, you should still try to make your own independent decision.
And I'd like to think I'm pretty unbiased, so if you have questions or need to know which way to go, obviously, I'll tell you that the Wealthy Affiliate program is the way, but I promise you that this business takes work.