On this site I try to avoid writing negative reviews but it's very hard not to do that after I purchased 3 Step Method.
In short, within this review of 3 Step Method, you're going to understand why:
That is the case when you read my experiences with it.
Why I think that 3 Step Method is not a scam but is so low quality, that you don't need it.
Why I refunded the program and what the better alternative option is than this.
I'm going to be honest with you:
I'm not happy to have to write this review, but I need to share my experiences with this program because I found them to be very unsatisfying.
And the subject matter of how 3 Step Method teaches people to make money online is something I understand very well, since I actually make a real living with it so I know how it really works and what this program isn't telling you about that process (I'll get into it shortly).
A summary and overview of 3 Step Method:

Creator:
I literally have no clue. I never saw a name attached to this program.
Price:
$37 for the 3 Step Method basic system (the one I got).
3 upsells:
$97, $147, $47 each for stuff I just didn't trust in because the quality of the program was so low, it didn't earn any trust from me.
What does 3 Step Method teach?
It's basically affiliate marketing. You learn 3 Steps to picking a niche, making a blog website and promoting Clickbank products on it.
My rating for 3 Step Method:
0 out of 5 stars
Do I recommend it?

Absolutely not!
The explanation of how to make money with the 3 Step Method is ridiculously low quality and sugar coated to say the least. It makes you think this whole process is easy and effortless. But in reality:
It is not and I know this because I actually live the affiliate marketing lifestyle. I have made money with it for years, including with Clickbank (been a best selling affiliate for them too at that) and I know how the true process of making this work, actually works (and I will do that in this review).
A legitimate alternative to 3 Step Method that I recommend: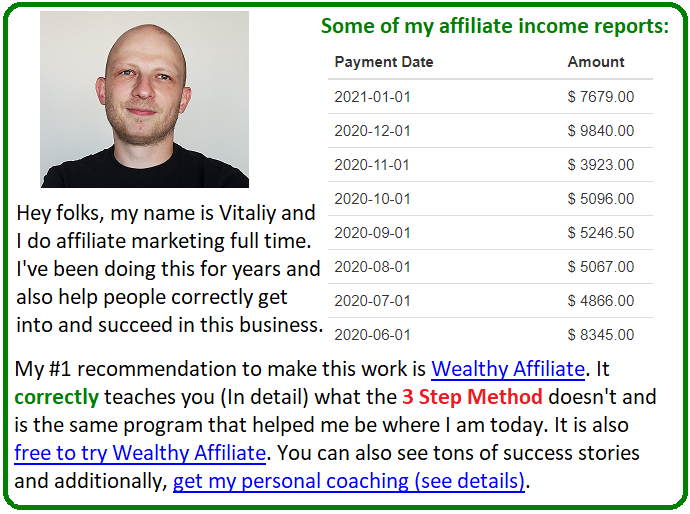 Video review of the 3 Step Method:
A summary of 3 Step Method (how it works):
So 3 Step Method's sales page does a wonderful job of telling you basically nothing about what the 3 steps actually are. It goes into the classic "Sell via emotion" and goes into telling you how easy and wonderful this program is and how you'll make money when you buy it.
And I want to warn people that programs which aren't very transparent about how they work and do this emotion crap are generally speaking, programs you should avoid. But since I did buy the program, I will actually explain what these steps are, so let's go:
Here's what the 3 steps of the 3 Step Method are (summary):
(1) Choose:
This step talks about finding niches you like to build an affiliate business with.
Most programs fail to teach this right and in my opinion, 3 Step Method could have done a much better job in this, so I want to supplement you with free, high quality content on niches, and here are at least 2 resources to help you:
First up is my top 10 affiliate niches in 2021 post, and here is a 5 evergreen niches post to help you truly understand the profit you can make affiliate marketing from niches.
(2) Create:
This step talks about creating a blog website with once you pick a niche. On the blog is where you'll be promoting your affiliate products.
(3) Cash:
This step talks about signing up with Clickbank and promoting a product that's associated with your niche and making money from it by blogging about the product.
How it all connects together:
The whole premise behind 3 Step Method is to make you think that by following these 3 "easy" steps, that you'll create a profitable affiliate website promoting Clickbank products on it and how fast and simple it'll be.
Is this actually true? Do these 3 Steps actually work? The 1 pro of this program:
For starters, the general idea behind the 3 steps is actually legitimate.
In fact, I can personally tell you that my success in affiliate marketing (see my affiliate marketing income reports) has come from following a very similar series of steps, but it has 4, not 3 and here they are:
Choose a niche.
Make a website.
Blog a lot about the niche subject to generate traffic.
Promote affiliate products to make money.
This is the formula I followed inside the recommended alternative which is Wealthy Affiliate to get my results and this sequence is almost identical to what 3 Step Method teaches, so in that sense, they got it right. And this is literally the only reason why I didn't flat out say that 3 Step Method is a scam. And this formula allows you to make a lot of money in the affiliate marketing world.
But that is a small positive. There are far more negatives with this program and they were very easy for me to spot.
Here's where my problems with 3 Step Method really begin (
3 cons

):

1) The content in 3 Step Method is not high quality.
The 3 steps, while in theory talking about the subject of making money with affiliate marketing are correct, are unfortunately written so poorly, that it's almost impossible to take action on it.
You are literally told the most basic approach to affiliate marketing, without it getting into any major details that truly determine if you'll actually be able to make it work.
2) The expectation of success is highly inflated and unrealistic.
The 3 Step Method makes you think success is around the corner if you follow what their directions (if you can even call it that). In reality, it'll take you almost a year to see results, even if you follow it correctly.
And there are so many missing pieces in the explanation of it that it's just impossible in my opinion to take any realistic action based on it, and that's based on my view of it which an experienced view. For example:
They make it sound like blogging is easy. It isn't.
They make sound like you only need a few blogs to succeed. You actually need a lot.
They make it sound like you get fast results. This is nonsense and it really takes a lot of time.
Their own sales page says you don't need experience and it's all easy. This is not true.
On a general level, the 3 steps works. But you need way more details and not a general understanding to make this work in reality and they truly lack on the details part.
3) There are hardly any resources, tools and support to help you take action.
The 3 Step Method is literally a 1 page website with what I consider pretty generic and poorly written content on making money online and it's all on one page with hardly any links to resources to help you get started.
This is going to be very difficult for beginners to take action with. Now consider something like the Wealthy Affiliate program:
You can try it for free.
They have detailed training.
They have necessary tools you need to succeed.
They have a community to help you if you run into questions.
You are provided with all the ingredients to make a successful blog, affiliate business and more.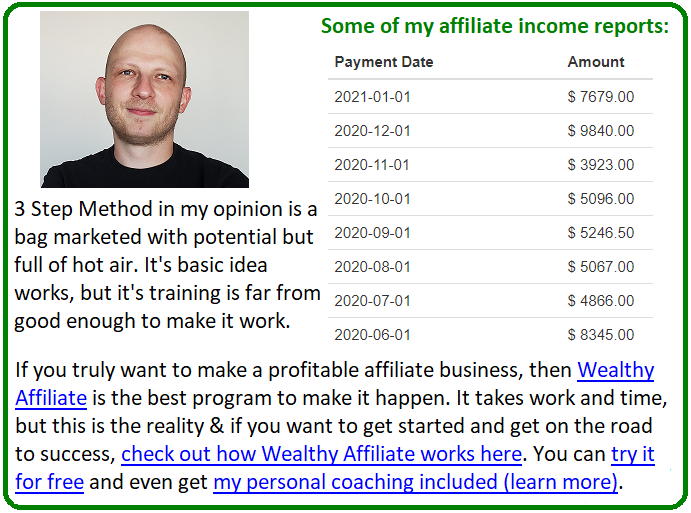 Concluding thoughts on 3 Step Method (why I do not recommend it):
Here's a good analogy to understand why this program is so bad and why I don't recommend it. Imagine the following:
Me giving you some furniture to assemble.
Giving you a few pictures of what it should look like when it's assembled.
But not providing the detailed manual to make it all happen.
That is literally what I feel like 3 Step Method did. They give you the broad explanation of how affiliate marketing should work, with unrealistic expectations of what'll happen if you follow that poor explanation.
And for someone like me who understands this process deeply, I can make it work and assemble the furniture myself, but if you're new, you will not be able to do it. I almost surely guarantee it.
Why Wealthy Affiliate is the better program to learn this material from than 3 Step Method:
1) It is both generalized and detailed so you get high quality info (realistic

expectations

).
You need general info to get the big picture, but you need details in how to make it all work to actually make it work. Wealthy Affiliate provides all of that.
In addition, at Wealthy Affiliate, you are not sold some nonsense about how quick and easy this stuff is. This business takes work and effort but the program helps you reach that success by following it and I promise you that there is no other way to do it.
2) You get support, tools and help.
3 Step Method from my knowledge doesn't offer any type of help resource. Wealthy Affiliate on the other hand is the king of helping people achieve success in:
Affiliate marketing.
Online business as a whole.
Traffic generation and more.
They do it by offering:
A live chat.
Personal forum posting of questions (you get quick answers).
Access to me personally for help (expert affiliate coaching)
3) You get a clear cut blueprint to follow (that won't leave you confused).
A clear action plan is provided in Wealthy Affiliate which is levels of training that follows the 4 steps I laid out above. Each level has lessons and tasks which help you build your affiliate business from the ground up.
4) Very beginner friendly training so you don't get confused.
Wealthy Affiliate's training is easy to understand, and if at any point you get lost, you have the support and help to clarify and push you forward.
5) The cherry on top: My personal help.
Like I said above, I actually do help people and the best way I do that is inside Wealthy Affiliate, if you join, you'll get my coaching included as long as you remain a member.
If I provided you with enough content and proof that I know what I'm talking about, that's because I actually live what Wealthy Affiliate teaches and I can help you in addition to the program get success.
So taking all of this stuff that you get from WA into consideration, it truly overshadows anything 3 Step Method provides and I say this as someone who has seen enough of both programs to know what's really up.
The bottom line of this 3 Step Method review (final words):
3 Step Method in my opinion does not provide anywhere near enough training, help and quality content to make a legitimate affiliate business out of. Wealthy Affiliate does, and that's why I recommend it.
Now if you'll excuse me, I'm going to head off to Clickbank and request a refund for the 3 Step Method. They don't deserve a penny for what they offered me for the $37 I spent.