Let's be honest, every affiliate marketer would prefer to earn a high ticket commission vs a low ticket one. In fact, no one in their right mind would ever say "Sure I prefer a lower commission".
But there are many benefits to focusing on the latter option vs the former one and I want to give you both sides of this argument since I am actively involved in promoting offers in both realms.
I do this business full time, and to date, promoting lower ticket offers has produced a greater income result for me personally in the affiliate marketing realm vs promoting high ticket offers (which I have also made sales for).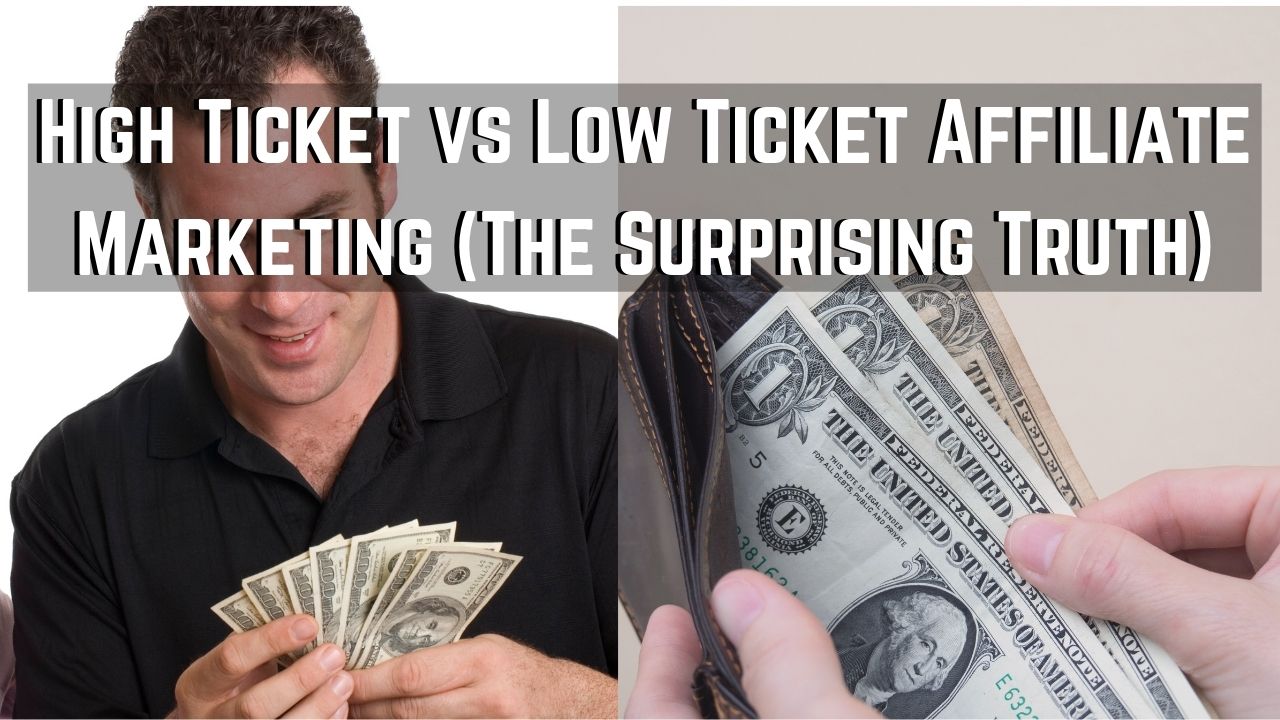 Here's the most important thing to note about high ticket vs low ticket affiliate marketing:
Unless you're a truly advanced affiliate marketer and can promote just about anything in this realm (most of us are not in this category), the most important thing you need to know to succeed in this business is this:
Do not focus on the promotion with your affiliate business, but the niche you love.
The niche is what opens up all the true opportunity and flexibility in promotions across all levels (low ticket to high ticket).
Here is a video breakdown on high ticket vs low ticket affiliate marketing:
Avoid the high ticket affiliate marketing blue pill propaganda:
1) Too often, I find beginner affiliates swallowing the blue pill of this topic that says something like "Just make 5 high ticket sales a month to earn $10,000" and scale that to six figures (or something along those lines).
2) And that also happens to be connected to a high ticket affiliate marketing program that costs $2,000 to buy (Isn't that ironic?).
3) Then it turns out that to make the high ticket sales back, you have to become an active affiliate to promote the same scheme of a program you bought (can someone say pyramid scheme?).
4) Then you spend the big money to access the system, the owner is the one who truly makes the high ticket sales and odds are, you and 99% of other people who bought into this garbage end up broke.
This is sadly how much of today's high ticket affiliate marketing industry works in most cases and it's one of the reasons why I review so many of these programs, expose them and warn people to stay away from it!
It's certainly possible in theory to succeed this way, but realistically speaking, not only is it unethical affiliate marketing practice (in my opinion), but there is a 99% chance of failure and too often, those who go down the high ticket affiliate marketing hole, end up broke and in debt, and all because they took that blue pill.
So now that I've explained this, let me give you realistic takes on each affiliate marketing promotion and where it has advantages over the other:
Where high ticket affiliate marketing beats low ticket (5 areas):
1) Truly, every sale you make with a high ticket offer is substantially more than low ticket ones. A single high ticket sale can earn you $100's vs a low ticket one which could be $2 (average commissions of most products).
2) In rare cases (but it happens), high ticket affiliate marketing can help you create and scale a successful online business quickly.
3) There are numerous and ethical high ticket niches for affiliate marketers to enter into and make money off.
4) Usually, coaching, local marketing agencies and consulting are some of the best broad niches to make high ticket sales from. Just be careful which of them "go too far" with how much they charge. For example, I typically will not endorse a $5,000 online marketing course when places like Wealthy Affiliate offer that type of benefit for $49 a month.
5) There will always be (rare) people who have the money to spend on high ticket promotions.
Where low ticket affiliate marketing beats high ticket (9 areas):
1) It is much easier to make low ticket affiliate sales in larger amounts vs high ticket sales. On a good day, a low ticket promotion can net me a 20% conversion rate (1 in 4 people buying my promotion) whereas with high ticket offers, good luck getting a 0.001% conversion rate (1 in 1,000 people buying my promotion). This means:
2) Long term, it is easier to make consistent (and more) low ticket affiliate sales vs high ticket ones.
3) Long term, it is easier to keep making low ticket sales off the same people vs high ticket ones where people usually spend a lot of money at first, and then either don't have anymore to spend or just don't trust you with their money anymore.
4) It is generally much more difficult to sell a high ticket promotion vs a low ticket one (money talks here and people are just more comfortable buying stuff if it hardly affects their wallet).
5) Low ticket offers can yield better results even if you're doing affiliate marketing during a recession.
6) You generally don't need to resort to sleazy or unethical promotions to sell low ticket products. A lot of high ticket people will really say some truly dishonest things to make that high ticket sale (ridiculous claims).
7) Consider recurring affiliate commissions that are low ticket. People are more likely to remain in membership websites for instance for the long run are a lot more comfortable spending little by little every month vs a giant chunk of their money going away on one product/service, which means:
8) In the long run, you can make a bigger commission off a low ticket offer vs a high ticket one. As an example, the Wealthy Affiliate program I promote has great long term value for people and their online business, so many people stay for many months (or years) and that provides little trickle commissions that add up to big ticket commissions over the months/years they remain in the program.
9) I personally find it much more comfortable (and flexible) to promote low ticket commissions as there is a larger customer base for me to promote to and there are also many more niche choices I have that I can build a profitable online business on. This is also better for beginners in my opinion.
Even if your promotion earns you $2 a sale, if you can make 500 of them in a month (totally possible), then that's a $1,000 for you. And people like to make it seem like you have to do a lot more work for that to happen.
Initially this is true, but then it becomes automated. And for high ticket offers, you will have to gamble more to make that initial commission using things like pay per click ads to get people to the offer.
The main point about high ticket vs low ticket affiliate marketing explained (again):
High ticket affiliate marketing can absolutely be profitable (and ethical) for you, but I find the most successful high ticket marketers (like I said before) have to be extremely advanced to make a convincing sales pitch for their offers.
And if you're not in that spot right now and are just getting started, you have more potential with low ticket affiliate marketing, especially if you start with a niche you love to do that. That is much more rewarding and profitable for you in the short run.
I'm not telling you to avoid high ticket affiliate marketing, but I'm just giving you my experiences in both methods, which I possess a lot of and I'd love to hear your thoughts on this below!