Of all the types of keywords you can rank for on Google, evergreen keywords generally have the most long term potential and if you can hit page 1 of Google for one or more of them, you can expect long term traffic and success to flow from that.
Getting to that point however is not easy, but it is possible and in this post, I want to show you how to rank on page 1 of Google for evergreen keywords. Specifically, I want to show you 4 direct and indirect strategies I personally use to do it.
Now while these strategies work, they won't always guarantee 1st page positions for you. However, by following them, you will be able to put yourself on the road to reaching first page positions overtime and for other keywords which are not evergreen, so at the very least, you will still be growing your website's SEO authority in the process.
Here is an informative video on evergreen keywords:
First, let me cover everything you need to know about evergreen keywords:
1) What are evergreen keywords?
Evergreen keywords are basically always popular keywords people look for on Google that never really lose popularity or interest.
2) What are some examples of an evergreen keyword?
How to lose belly fat.
How to get an ex (someone) back.
Just think about those terms from an ever popular perspective. These were popular keywords that didn't just come into style, but were always popular things people looked for.
3) How do you find evergreen keywords?
Let's take a popular evergreen niche like getting rid of lower back pain.
I think we can all agree that this is a subject that has always been popular. With that in mind, all you have to do is think about the most common keywords people look up on Google for this niche and basically every keyword you can come up is likely to be an evergreen keyword.
Here are a few examples:
Best products for lower back pain.
How to reduce lower back pain.
Lower back pain exercises.
All of these are popular evergreen keywords and with just a little research, you will find that they get searched up often and will always be looked up by people, simply because the niche is evergreen.
4) What is the difference between evergreen keywords and regular or popular keywords?
Evergreen keywords are always going to be popular, period.
Other types of keywords such as product related things will likely come and go in time (lost popularity sooner or later).
5) What are the monetary benefits of getting ranked on page 1 of Google for evergreen keywords?
You can basically count on getting a steady flow of traffic to your site/blog if you can get ranked for these terms. This also presents an opportunity to monetize off these keywords through several means:
1) Affiliate marketing:
Let's say you get ranked on page 1 of Google for "how to reduce back pain". A keyword like that would bring you 100,000 visitors a month to your site and you can promote back pain products to them and make a healthy passive affiliate income from that.
2) Display ads:
If you rank for the same keyword and bring in 100,000 visitors on that alone to your site, sign up with Mediavine, get their ads on your page and you can make a healthy $5,000 a month passively on that alone.
3) Email marketing:
You can amass a large email list of people from evergreen keywords and make money off the list in the long run too. Off 100,000 people visiting your site for 1 major evergreen keyword, if you can collect 20,000 subscribers a month, that can equate to amazing profits long term.
6) How do you get ranked on page 1 of Google for evergreen keywords?
I'll be getting into this shortly, but here are some of the necessary things you need:
A good authority blog/website.
Being able to rank for low competition evergreen keywords to piggyback off and rank for higher competition evergreen keywords.
A nice steady amount of backlinks coming to your site from authority sources.
And good quality content that is able to get you traffic, comments and return visitors.
For most sites, you'll need about a year to get to the point where it's ranking for evergreen keywords.
So with that in mind, let's cover the following topic:
4 ways to get ranked on page 1 of Google for evergreen keywords: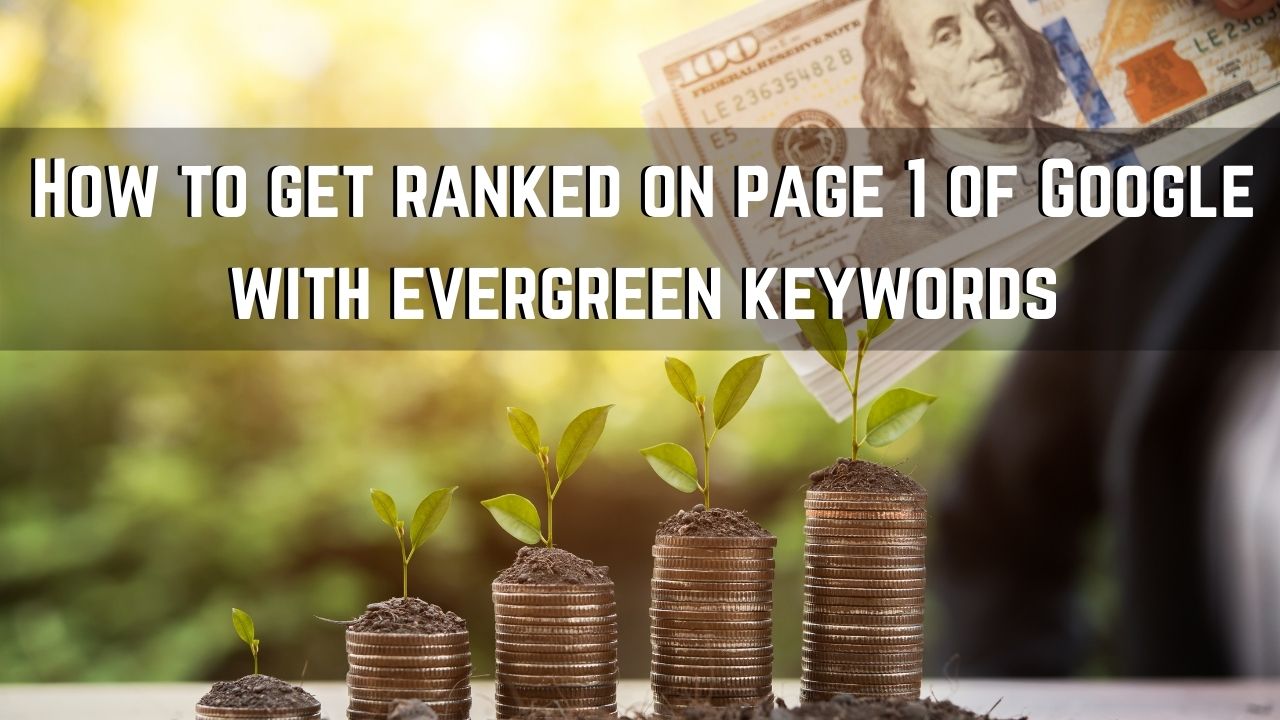 First rank for lower competition keywords (piggyback off that).
Give your site a year to SEO marinate into an authority website.
Start targeting long tailed evergreen keywords before attempting to rank for the higher competition ones.
Make YouTube videos and socially share your site targeting the same evergreen keywords and link them with your site.
Consider these 4 methods integrated together and a type of layer upon layer strategy because in order to get those page 1 rankings in the first place, we need to build an authority website.
Authority websites are what get the best keyword rankings.
1) Start by chasing low competition keywords (they don't need to be evergreen):
Finding low competition keywords for a blog is actually pretty easy and I included a link to a blog post on the strategies I use.
You can also find what are known as buyer keywords for your blog to create content on.
The point with these strategies is this:
You will find low competition keywords that are already easy to get rankings for.
You will get high rankings for them and build up your site authority faster.
You will write as much content as possible off every keyword you discover (aim for 100 blog posts of content for starters).
This will help your site become a contender in the long run to rank for evergreen keywords later on.
2) Give your website at least 1 year to become an authority website (this will help it rank for evergreen terms):
Understand that it takes time to reach that point and you won't be able to get his done within a week or month, but by starting from this strategy, you will be building your website from the ground up on it's authority and setting it up for success later on.
Very often, a site/blog needs about 6 months to overcome a common SEO obstacle known as the Google sandbox. This is a phrase used to describe new sites which need to pass a certain period with Google before ranking well for search terms they are targeting.
Often, a good combination of great blog content (using strategy 1) and letting the site "marinate" which is strategy 2 will help make this possible. Remember, we are going at this from a layer upon layer strategy.
3) Target low competition keywords which are evergreen keywords first:
While I gave you content ideas on what to build up your site on for it's first 100 posts, if during that period (your first year), you can find low competition keywords which happen to be evergreen keywords too, by all means, target them and write content on them.
Your goal will be to do the following things:
You first need to know what your website/blog's niche is.
Afterwards, look up the most popular search terms for the niche.
Find long tailed keywords that are evergreen off those popular search terms.
Those are the ones you'll want to target.
For example, when I began this website, I have and still continue to chase evergreen keywords that have low competition and here are some examples:
Most of the other keywords I have page 1 rankings for on Google come from product reviews I do on this website (they are often easy to rank for, but are not evergreen so I don't rely on them in the long run, but they make for good potential in the short run while they are popular and searched for).
Here's a screenshot of my other site and the evergreen keywords it ranks for:
4) Socially share your site and make YouTube videos chasing the same keywords:
I wasn't always a fan of backlinking, but if done right, it is a powerful way to speed up your website's authority rise and when you first start your website, there's a good chance that no one will want to link back to your site. However overtime, when you have a large site with a lot of good content and fans, it will get backlinks on it's own.
But before that can happen, you'll want to do all the backlinking yourself and there's not many right ways to do it, so let me share what I personally do which delivers results:
1) I make YouTube videos on the same keywords (including evergreen ones) I target on my website very often. In addition to linking back to my website in the video description of the YouTube video, I also embed the same YouTube video on the same blog post (this is great for speeding up SEO).
2) I make Pinterest pins for the same terms I target on my website. I most notably do this on my travel blog as there are many evergreen keywords I rank for on page 1 of Google for that site (it provides a lot of steady traffic as a result).
3) I also recently began using the website Google Keen which is sort of like Pinterest and just sharing images on that site linking back to my blog.
4) Internal linking is also backlinking (do not forget to do this). Internal linking is seriously important for SEO so don't forget to do this too.
Long story short: The more competitive the keyword I'm trying to rank for (particularly evergreen keywords), the more of the above things I'll do to help my site rank for it.
How all of these strategies help you get page 1 rankings for evergreen keywords:
These strategies follow alongside the most proven to work SEO strategies.
They are all based on white hat methods to rank on Google.
They all work together to build up your website authority.
A higher website authority is what will allow your site's content to rank well for evergreen keywords to begin with.
Like I said earlier, these strategies will not guarantee that you will rank well for every single keyword you chase and in some cases, the competition will be too high to even bother with it.
But keeping in mind that there's countless evergreen keywords you can rank for with less competition in any niche, you don't have to dwell if one or more rankings didn't end up the way you wanted and don't forget that for some terms, it will take a long time to see results with.
Don't wait on that moment to happen and use the 4 strategies to rank for more keywords and grow your website's authority further.