I've been digging for info on Affiliate Nation and want to share in this "review" what I have uncovered.
I won't say there is a scam going on, but there are certainly questions that arose when I began looking into this opportunity and in this post, I'll be sharing that with you.
Some short disclaimers about this Affiliate Nation Review:
1) I didn't buy into this opportunity. They say you can buy in for $0 down, but frankly, because this deals with high ticket products and so forth, it's likely the real pricing is very high down the line.
2) I know a bit about both affiliate marketing, high ticket affiliate marketing and frankly, based on all I've seen with Affiliate Nation, I can pretty much see where this is going. If I'm wrong, I'll update this review.
3) Some may not call this a review because I went as far as I could into this program without signing up, but I gathered quite a bit of info from them, who they are connected to (United Travel Club) and will base my findings on that.
Summary and short review of Affiliate Nation (Aka High Ticket Nation):
Who created Affiliate Nation?
Justin Cartwright, Shane Carling, David Trashel and several others.
How much does Affiliate Nation cost to join?
Well the site and webinar provided for this program doesn't really mention that. I have some assumptions about the costs considering the checks people are showing but I'll hold off on that until I know the true prices.
But if you watch their webinar, you're told you can sign up for $0 down, but again, we're dealing with high ticket opportunities, and those almost always end up costing a lot to start with.
I would not be surprised if this opportunity costs several $1,000s and I say this because the people who show off their checks as success stories are showing anywhere from $1,000 and far higher ($9,000 or more) in some cases. To find out the true cost, you have to call a success coach.
What is Affiliate Nation about? What do they teach?
So it's 2 things:
Through them you join a company called Unified Travel Club, which is kind of like a timeshare but for travel organization (I'll explain later on this review what it is).
The second is that you get training, coaching, tools and a "done for you system" from Affiliate Nation to promote this travel club to others once you join (including a 5 year membership into Unified Travel Club).
Do I recommend Affiliate Nation?

I'm hesitant.



Besides the high ticket aspect, everything they mentioned about this amazing opportunity is something I've heard countless times from other sales scripts other promoters pitch me.
I am very careful about any opportunity pitched as a done for you affiliate system which is often not nearly as simple as it sounds.
Secondly, I looked into Unified Travel Club and there is very little info/transparency on this program directly from them as well as Affiliate Nation which just mentions the opportunity to a part of it.
Finally, the fact that we're talking about high ticket promotions makes me believe you will have to eventually spend a lot of money, and with the questions that are raised on both Affiliate Nation and Unified Travel Club, I do not feel comfortable recommending this program to anyone yet.
While I do believe the opportunity pays and there is a legit system in place to help you succeed, the tie in with this travel club and the lack of info on that is something I need to know more about before I can actually suggest it.
Alternatives: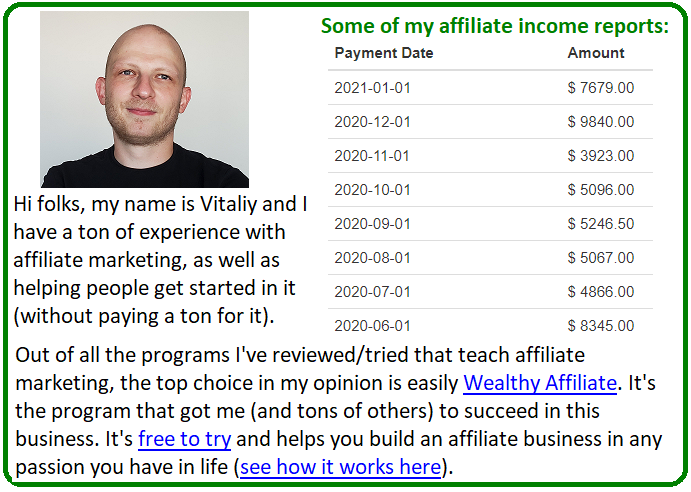 How Affiliate Nation is is pitched to you (the opportunity):
I've seen many ads from YouTube to Instagram promoting this program. I clicked to see what it was all about and the first thing I see is people holding up big checks.
Right away I know this is going to likely be a high ticket affiliate marketing opportunity. But never the less, I decided to see what else was up and so I signed up to see what they would show me.
That ended up being a short webinar which talked about the following things:
1) Buying digital franchises (not much talk about affiliate marketing, despite their literal program name having it).
2) Using the Affiliate Nation's done for you system to make high ticket commissions.
3) A promo for Unified Travel Club and how this is a "discounted" membership program that provides you with massive opportunities to travel for cheap, as well be an affiliate for the company.
4) The goal with this whole promotion seems to be that once you join Affiliate Nation, who are promoting Unified Travel Club, you too will become an affiliate for them and use the tools Affiliate Nation gives you to do it. The tools include ads, online sales funnels, experts who will close customers for you and again, the whole "done for you" emphasis is made a lot in this webinar.
5) They say that the travel industry is set to boom in 2021 and this is an opportunity to take advantage of.
To get started, you have to connect with a rep of theirs who will show you how to get started for $0 down. And that's where it ends.
Now as someone who is highly experienced in affiliate marketing and online business, I can deduce certain things based on all of this, albeit incomplete information and figure out the basic idea based off that.
While I could be wrong (and am open to updating the review if I am), here is what my opinion is:
The concerns I have about Affiliate Nation and Unified Travel Club:
1) Lack of info on Affiliate Nation's pricing:
From Affiliate Nations end, they don't really get into details on what's required to start other than calling the rep to see the real pricing I assume. Opportunities which focus a lot on the money you can make, but lack the details on how much it costs to really get into it make me very hesitant.
I am always a huge fan of any program that is transparent and right up front about it's pricing vs one that circumnavigates this info. This is one of the reasons why out if you look at my list of recommended programs, the top choice is Wealthy Affiliate, and all of the programs there have several things in common, one of which is they are right upfront on the pricing (among other good things).
With regards to Affiliate Nation, I only get clues like this (that tell me it's very pricey):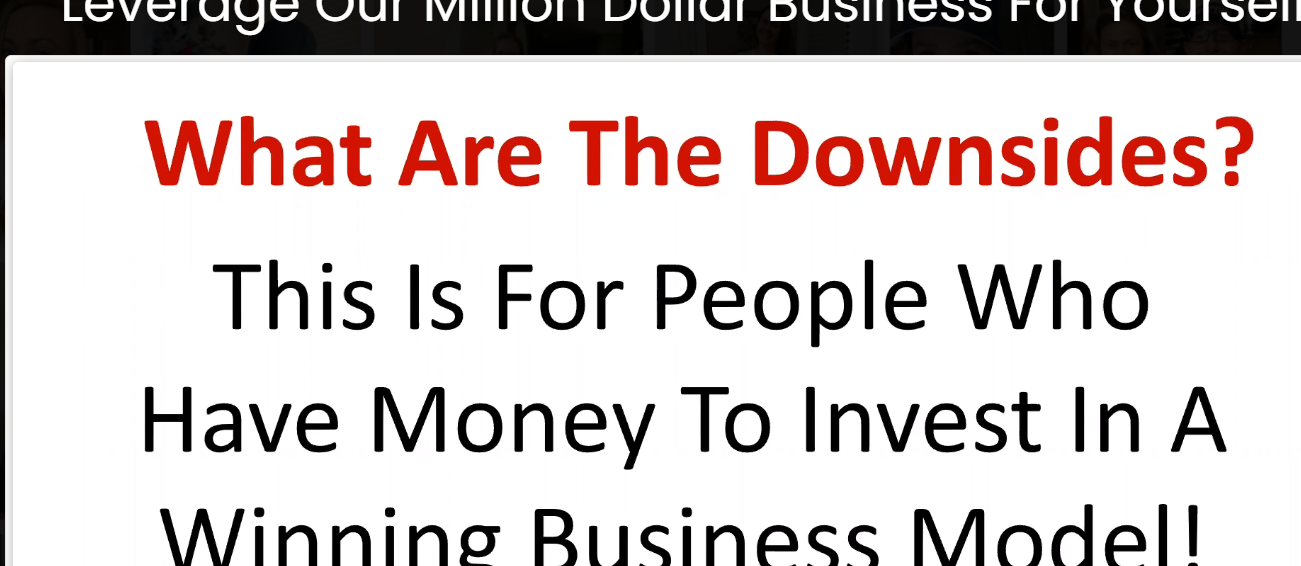 To me, this just spells high ticket costs, but how much is not explained and I personally don't like that kind of stuff.
2) Lack of information for Unified Travel Club:
I visited their site and there is a physical address. The site only has a few pages, very little info on what this company is or how much it costs to join it.
Because I assume I'll have to pay big expenses sooner or later for this opportunity, the fact that I can't get any real info on this program also adds to my reluctance. I also looked for reviews of this company and can't really find anything of merit.
Right now, this seems like a timeshare pitch to me. If you don't believe me, visit their site yourself and try to navigate.
You'll hardly see anything there other than beautiful pictures, an about me page, a sign up form and some little stuff here and there.
If I'm going to become a serious affiliate for a company like this, and likely spend a ton of money on it, I need to see a lot more than this.
3) Regardless of what anyone says "done for you" isn't as simple as it sounds:
I'm writing this as someone who has seen anywhere from dozens to over a 100 sales pitches from done for you affiliate opportunities like this all saying the same type of stuff about this amazing, new and never before so and so system has a done for you thing in place to help you make money online and frankly, I have never seen such a system actually exist in my lifetime doing affiliate marketing.
What I have often seen however is many of these promotions end up giving you tools and stuff to use, but you do have to learn the material, apply it and still do it.
In fact, I am more vary of any program that says it's done for you and hands off vs programs that straight up tell you that there's hard work involved, because in reality the latter is the truth in this and any other business in my experience.
Conclusions: Affiliate marketing is a very real thing, but this approach to it isn't something I agree with:
1) For starters:
High ticket is overrated and is often tied with very expensive startup costs. Here is a good post on high ticket vs low ticket so you understand what I mean.
If you know where to go, you can find info on promoting high ticket affiliate offers without paying so much for them (Wealthy Affiliate is a great place to begin).
2) Secondly:
Even if you love travel, you can actually start an independent travel blog without being connected to any program with high costs to start with either. There are so many outdoor niches and travel topics you can build a profitable website on, without ever having to spend $1,000's to do it and you can even promote expensive, high ticket products on the same site (without even buying it).
For example, I literally run my own travel blog and for proof, it's called TheNatureSeeker.com, which currently gets 500+ visitors a day and makes me money online (the training for which I got from Wealthy Affiliate).
Believe me, when Affiliate Nation talks about online sales funnels, traffic, leads and promoting to people, I already know all about this because of the education at Wealthy Affiliate (I just didn't have to pay anything huge to learn that).
3) Third:
If travel isn't your thing, believe me when I say you shouldn't start an online business on travel.
Instead start it on something you literally love! This will make it much easier to succeed in my experience and whatever subject you choose, I can also tell you once again that Wealthy Affiliate will teach you how to do this the best way.
This program isn't high ticket, but you can literally say their training should cost $1,000's more when it doesn't (free to try).
And that training will help you become a successful affiliate (an independent one too) for any product/niche you choose in life (you can also get my coaching, and you can click here for info).
As for Affiliate Nation, I'll keep monitoring if new stuff comes out and while this program is still new at this time I'm writing this post, like I said earlier, if more info comes out, this blog will be updated.
For now, I am sticking to not recommending it based on what I've seen (and know about the business from doing this for a long time myself).