For more than a year now, I've been actively growing my YouTube channel to add to my main affiliate marketing business and recently, one of my close friends suggested I start using Tubebuddy to compliment it. In this review, I'm going to be sharing my thoughts on this program and if you really need it.
Overall, there's a lot of good things I have to say about Tubebuddy and if you're looking to grow a productive YouTube channel that can get you more subscribers, views and potentially make money too, then this program can help in all of those regards.
The important thing is that you don't get distracted by all the numbers it gives you and focus on that vs creating quality content, but I'll explain that later in this review.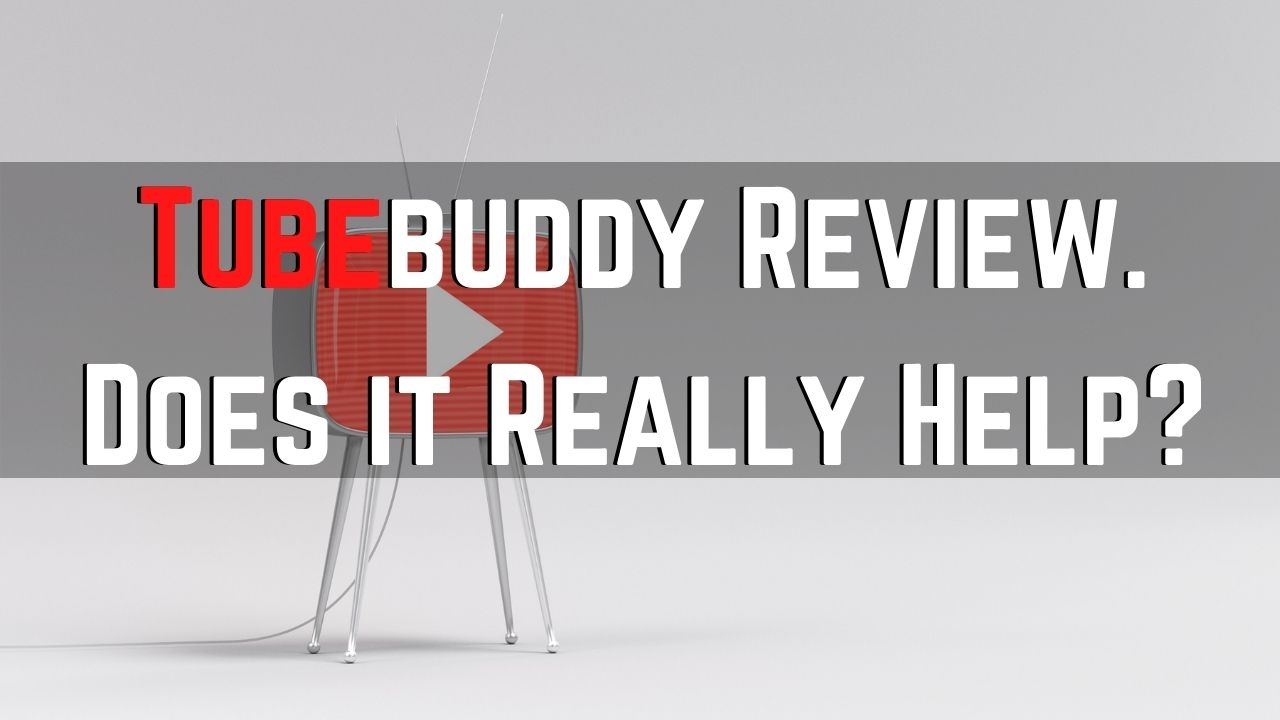 A summary and overview of Tubebuddy:
Price:
There is a free trial with a $9 a month plan after.
What is Tubebuddy?

It's a software program that connects to your Google account and gives you information on your YouTube videos as well as the videos of your competitors.
Using Tubebuddy allows you to make more intelligent decisions with your YouTube videos as well as brainstorm the video content of other YouTube creators, see what they're doing on their videos that's working to add to your videos, and as a result, improve your YouTube video's SEO score, help it get more views, and thus help you grow a more productive channel in the process.
But we'll get into the details of all of these features shortly. For now, let's focus on the basics.
Overall score for Tubebuddy:
4 out of 5 stars.
Overall I like it and I'll be examining the features this tool offers shortly, but I wouldn't recommend relying on it too much as it might cause people to be distracted from building good high quality on their YouTube channel and that will be the main driver of results for your business. We'll get into those details shortly.
Here is a video review of Tubebuddy:
How I found out about Tubebuddy:
My first experience and impressions with Tubebuddy came when an affiliate coach of mine was showing it to me during one of our sessions.
We were examining one of my YouTube videos that I made and how we could make it better. He opened up Tubebuddy from his account, accessed my video and we saw a few interesting things we could add to improve the video's performance on YouTube.
I took some notes on the things that Tubebuddy showed me and made some changes/adjustments to help the video grow. Then I took a deeper look into the program and that's when this review came about.
Getting into the details of Tube Buddy (how it works):
For starters, you can get Tubebuddy directly from the Google store. Once it's installed, you'll be notified to give it permission to access your YouTube account. Once you do, then it's features will become available.
From there, Tubebuddy is going to constantly be available while you're browsing YouTube, whether it be your videos or other people's videos.
From there you can use the features in this program to analyze yours or other people's videos and make conclusions on where you can improve your own content and certain SEO parameters to help your channel grow.
4 ways you can use Tubebuddy to grow your YouTube channel:
I'm not going to say that I'm a full expert on this program, but I do enough SEO both on YouTube and outside of it to understand the main features Tubebuddy offers and how to take advantage of them. With that said, let explain certain ways you utilize this program for your needs:
1) You can see your existing videos and the analytics on them from Tubebuddy:
When you do this, you will be able to see where the "holes" in your YouTube's video are from an SEO point of view and make adjustments in the process.
2) You will get a basic checklist from Tubebuddy on what your video can be improved at:
This is the type of stuff you'll be shown:
Here is an example:
In this particular case, there's a lot of improvements I can make to the following YouTube video of mine and being that I recently uploaded it, I didn't have a chance to do all of that, but this friendly reminder from Tubebuddy does help me do that faster.
3) You can also get this same analytical data from any video on YouTube:
This helps you see what competitors are doing and as a result, you can add what they have to your video to help your YouTube's SEO improve.
A few examples of this is me creating nature videos and then seeing competing YouTube videos on the same exact nature subjects, and seeing what the top videos and their creators are doing.
Tubebuddy would show me the exact same things for their videos as it does for mine and I can compare the reports to see where I could make improvements in my videos to potentially compete with these other creators.
For example: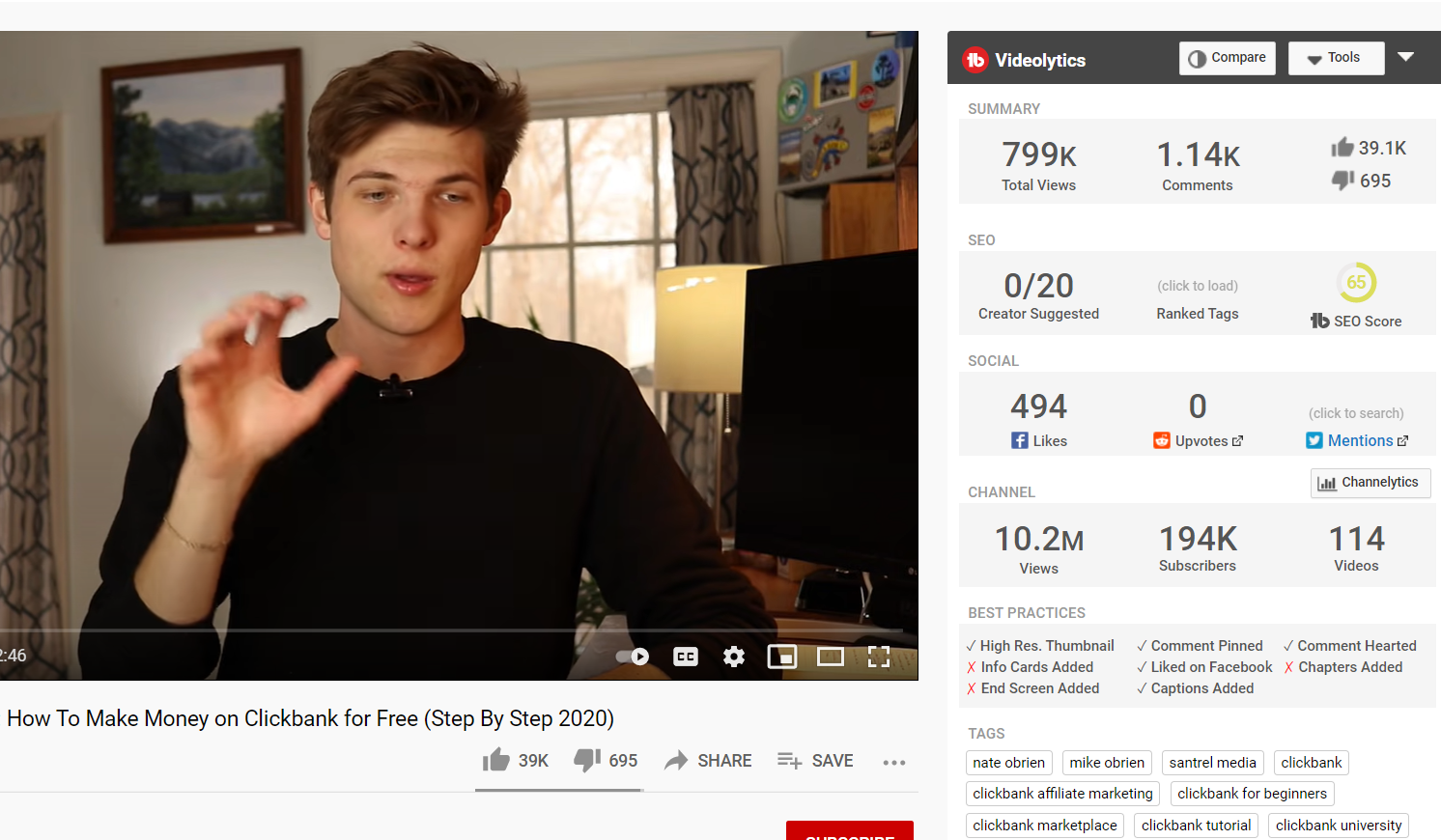 This person's YouTube video is obviously doing better than mine and while its likely because he's been around longer and has a larger subscriber base, I can use the analytical data Tubebuddy gave me on his video to make adjustments to mine. For instance:
I can use better keyword tags in my own video, like the ones he uses.
I can socially share my video.
I can add a pinned comment.
I can include heart comment likes.
I can include the keyword in my description.
And more.
These few additions to my own YouTube video can help it perform better and this is thanks to using Tubebuddy.
4) Tubebuddy also shows me a lot of related keywords and titles I could target for content ideas.
Another cool thing this tool does is it shows you related keywords and searches that relate to yours or other people's videos and this can help you come up with an endless stream of video content ideas.
For example, I was examining a keyword like "how does affiliate marketing work" to make a video on and Tubebuddy showed me a few more variations of this keyword on 3 other subjects and this gave me the idea to make 3 videos instead of 1.
More content means I can get more views to my YouTube channel and while I probably would have thought it up myself, Tubebuddy made it easier for me to see it quickly and save time.
The potential of using Tubebuddy explained:
These 4 things alone can provide me with enough data and ideas to create more content, get more out of my existing videos, get more views to them and potentially have a better performing YouTube channel.
From there, I can monetize the YouTube channel through:
I can indirectly use this for YouTube ads as well.
And other means.
Is Tubebuddy necessary? Not really.
As much as I like this program, I wouldn't say it's imperative to use. Unless you have no clue about YouTube SEO and are just getting started with YouTube with the intent to monetize your videos, then I'd use it.
Most importantly, know that your best performing videos will be the ones where you produce the best content on something you know a lot about.
Tubebuddy won't help you become a better content creator (making high quality videos), but it will help you become a more productive creator (just don't let it come at the expense of making lower quality videos).
Conclusions on Tubebuddy:
I like this add on program and it does have many options when used that can help your videos and YouTube channel get better results. I wouldn't say it's a mandatory program to have especially if you already know the basics of YouTube SEO, but it is a good asset to it nonetheless and so it does get a thumbs up!
For me personally, I will use Tubebuddy sparingly as I already do know a lot about YouTube SEO and succeeding on this network with it in general. I mainly use YouTube to create product reviews and videos on affiliate marketing and helping people get started.
Adding Tubebuddy to my channel did slightly improve the ideas I had and some of my videos did perform better, but overall, most of the stuff it suggested, I already knew about.