I just finished watching Rachel Rofe's webinar on mugs called Low Hanging System and would like to give you my thoughts and review of what I think.
Here's the honest truth about this review of Low Hanging System:
I generally like Rachel Rofe and have some good history with her, but I chose not to buy this program because it is about $1,500 and also because I've become a bit more experienced on the subject of being a mugprenuer as of late.
I have good confidence in Rachel's program, but I'm generally not someone who will ever promote a high cost program like this, so while I do think it's legitimate and I will explain why, it is very expensive and there are other online businesses which you can make with less financial risk involved.
I will link to her site from this review because I do believe Rachel is legit, but this will not be an affiliate link, so you can decide if you want to go with this and/or the program I'll suggest instead. So let's get started:
Here's a short summary of Low Hanging System:

Who created Low Hanging System?
Rachel Rofe.
How much does Low Hanging System cost?
3 payments of $497 (Almost $1,500).
What is Low Hanging System?
A program mainly teaching you to sell mugs (and other clothing type apparel) with customized messages on Amazon and Etsy. I'll get into more details on this in a moment.
My rating for Low Hanging System:
4 out of 5 stars
Do I recommend it? Yes.
I know more than enough on online business and know what works, and quite a bit as of late on selling mugs. Mixing that together with how well I know Rachel Rofe, I do believe in her program and here is a link to it (again, I am not promoting it).
Alternatives: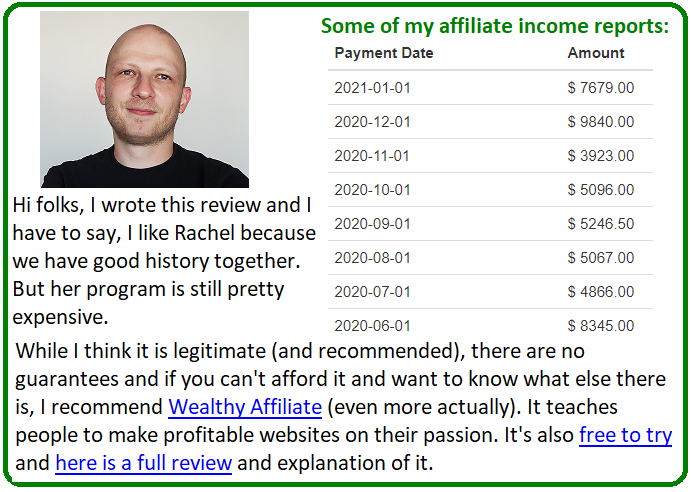 How I discovered Low Hanging System:
Over a month ago, I ran into a program known as Printable Profits. This was the first program to introduce me to selling mugs the same way I would later see from Rachel.
After examining the pros and cons of that program, I decided to dig into this method of being a mugprenuer a bit more and without question, there is a lot of legitimacy and potential behind this business.
Coincidentally, a little over a week after I first learned about this stuff from Printable Profits, an ad on YouTube came up and to my pleasant surprise, it was Rachel Rofe, basically saying the same stuff I had heard from Dave Kettner, the creator of Printable Profits.
This took me to her site, then the webinar promoting Low Hanging System (find it here on Rachel's official site). And so this is where things begin:
Let's get into a detailed review of Low Hanging System (Rachel Rofe's mug program):
Rachel's webinar, much like Dave's gets into the same subject matter of selling mugs, but I have to hand it to Rachel, as good as Dave's webinar was on this matter, Rachel in my opinion provided more value in hers.
Basically, Rachel talks about how she personally sells mugs through a simple system of creating custom messages on her mugs and setting up the product (not physically owning it) on Amazon and Etsy (her store on these sites).
When a buyer places an order from one of those 2 places she runs the store on for one or more of her mugs, she heads of to a specific website (Gearbubble.com) where she pays that third party service to create the custom message on the mug and sends it to the buyer, but charges them a bit extra for it so she keeps a profit.
This is essentially the core operation of not just Low Hanging System, but also being a mugprenuer in general.
But there are obstacles along the way to success.
As good as Rachel is in this business, she does get into details about issues and problems you can face in this business, but the pros overwhelmingly outweigh the cons especially in the investment department because you don't have to make or own any mugs.
You can literally set up the digital store and only have customers pay for the mugs when the order is placed, so you only really have to focus on 2 things (once you get good at this):
Creating a cool looking message on a mug.
Getting people to see the message and buy the mug.
Amazon and Etsy handle the rest, meaning the visitors find your mugs without you advertising to them and there's really no other need to handle anything else.
In fact, this summary of the process is almost exactly what I saw with Dave's Printable Profits presentation so a lot of this felt like a repeat, but also confirmation that at least 2 successful entrepreneurs are making money from this business.
Overall, Low Hanging System (which you can find here) is basically Rachel sharing her tips, tools and techniques to become a successful mug seller on Amazon and Etsy and there are additional bonuses people get who watch her webinars (custom message ideas, templates, ect…), including access to a program she also made called "Spot Niches Software".
Conclusions:
I was on the fence about Printable Profits and still am, but when I saw Rachel was doing this same stuff, it gave me more confidence in recommending her program (because I do trust her). This is one of the reasons why I gave her program 4 stars vs Printable Profits which got 3.5 out of 5.
But I still stand by my position that it is a bit expensive in my opinion and personally, I still believe more so in programs like Wealthy Affiliate as they are good places to also learn online business from without paying so much, and during the times we live in, spending less and seeing results before you spend more is a safer route to go in my opinion.
With Wealthy Affiliate, you can start for free, build up a niche website and then pay very little, month to month. Of course, like any program, no guarantees exist, but I am confident in either Wealthy Affiliate or Rachel's mug program as being good options to consider for an online business.