I honestly believed Fat Stacks Bundle was a scam when I first stumbled on it. However, I was wrong. This program is legitimate and in this review, I'll be discussing why and what you need to know.
So you may be wondering, why did I think this program was a scam in the first place?
Well with all my history reviewing make money online programs, one of the "usual giveaways" are program titles implying easy and big money. In 9 out of 10 cases, it usually ends up being some sort of scam or low quality product. Fat Stacks Bundle however is that 10th exception. And let's get into why:
Fat Stacks Bundle info: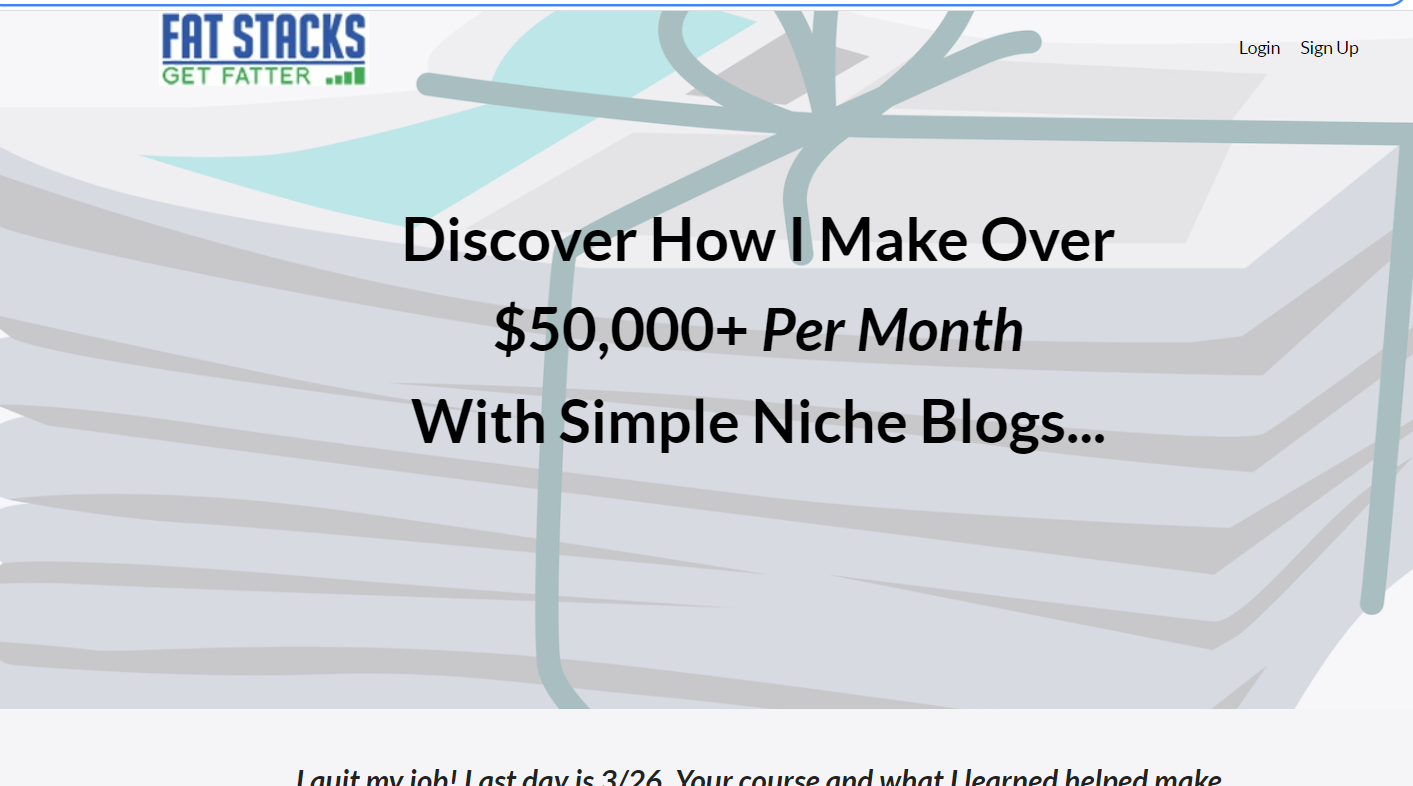 Name: Fat Stacks Bundle.
Owner: Jon Dykstra.
Price: $797 for 1 year, then $47 a year after. Several other upsells post purchase.
What does it teach? 11 modules on making niche sites, and monetizing them with display ads/affiliate marketing.
My Rating for Fat Stacks Bundle: 3.5 out of 5 stars.
Recommended? Yes, to an extent though as there are better alternatives in my opinion.
Some honest disclaimers about this Fat Stacks Bundle review before we proceed:
I did not buy this program.
I actually already do a lot of what Jon teaches in Fat Stacks Bundle across multiple niche sites I run.
I know a ton about the training material inside this program, including personally how and why it works.
I honestly think this program is good, but there's better options for creating niche websites, like this one: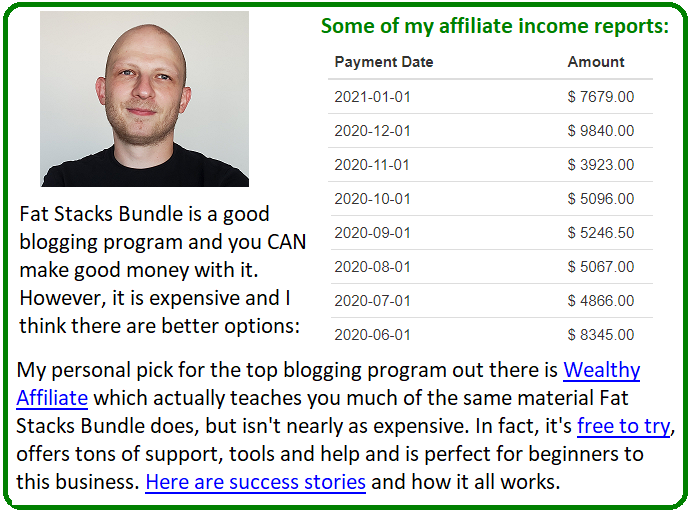 The pros of Fat Stacks Bundle:
Teaches legit ways to make an online income (niche websites).
Teaches legit ways to monetize the websites (ads, affiliate marketing and more).
Much of Jon's training follows similar patterns that I do in my own niche sites.
Success stories exist with Fat Stacks Bundle.
Jon is also pretty honest and transparent with his promises (no guarantees).
Good training course for bloggers.
Also a good training course if you're into Pinterest.
The cons of Fat Stacks Bundle:
Very expensive in my honest opinion.
There could be better training on making rankable content.
Upsells post purchase include buying expensive programs like themes, hosting and SEO programs like Ahrefs.
Understanding how Fat Stacks Bundle works (a deep dive):
So to start, this is an 11 module course teaching you the ins and outs of making niche websites, getting traffic to them through Pinterest, blogging methods and using backlink tactics (white hat) to get your websites to attract a ton of traffic organically. In fact, here is a screenshot of one of Jon's top sites following his strategies: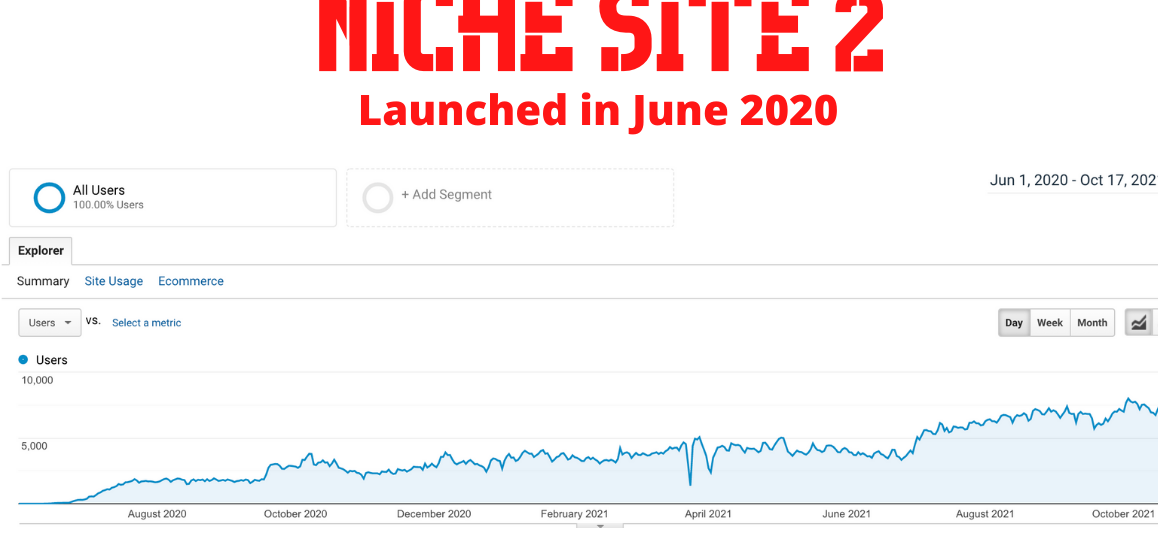 In the process of doing so, the niche website can then earn money through several options, including:
Display ads (Adsense, Ezoic, Mediavine, ect…).
Affiliate marketing (promoting products related to the niche for commissions).
Then the process becomes replicating the niche formula to a new site, scaling your profits using the same methods for the second site and having those profits add up to have you make a passive income online.
Does it work? Yes.
Since I basically do about 80% of what Jon teaches, I can tell you it works, but both Jon and myself would tell you that this is not a "simple model" to implement. It takes time, a lot of hard work, A LOT of writing and more.
People who are not into blogging, and don't see themselves doing this might not be cut out for such a course.
People who are not into making Pinterest Pins are likely also not cut out for this.
And basically, anyone who isn't willing to put in the work and isn't much of a writer might also struggle with making this course work for them.
Having written novels worth of content across all the niche sites I've made in my time, I can tell you that this practice is difficult, but something that gets easier with time, but you should still understand these realities before moving forward with it.
How long does it take to get results with a program like Fat Stacks Bundle?
In my experience, up to a year. There are certain "limitations" for new niche sites to consider like the Google sandbox which take about 6 months to clear away your lack of rankings, but Jon does give you tips through Pinterest, backlinking methods to speed this up.
There are other reviews of Fat Stacks Bundle I would recommend you check out:
Other recommended blogging programs like Fat Stacks Bundle?
Yes. Here are 8 blogging courses I recommend as much as Fat Stacks Bundle and some might be a better fit for you. They all follow the same approach for the most part, but their pricing might be a better fit for you.
Conclusions on Fat Stacks Bundle (and what I recommend doing next):
Once again, I admit to being wrong initially about Jon's program. It is legitimate and I would classify it as a recommended program of mine, even though I don't promote it.
However, certain cons such as lack of enough content on generating great content and the pricing is where this program loses me. Legitimate programs are multifaceted and while this program has a lot of pros, I still think there are better options.
I linked you to my 8 recommended blogging courses above.
But if you're like most people, you probably want to know the best choice for learning this stuff: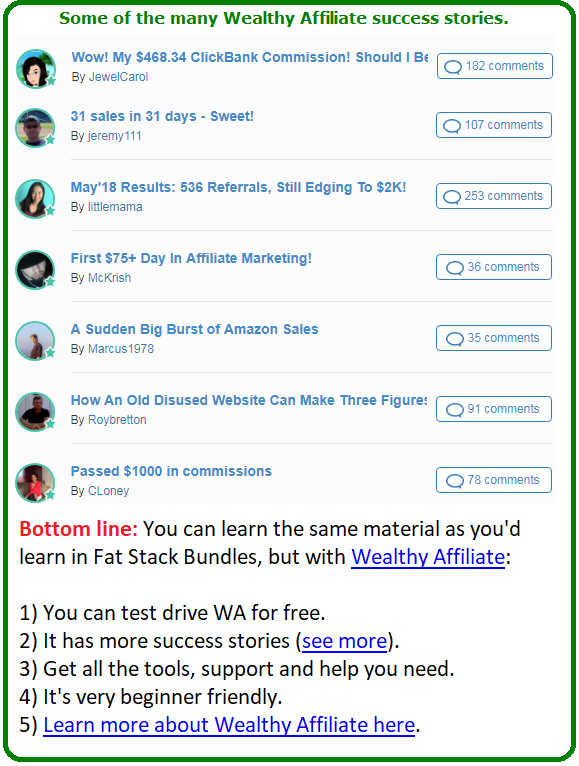 In my opinion, that choice is Wealthy Affiliate because you'll learn much of the same stuff Fat Stacks Bundle teaches and there's a lot more comprehensive training on the stuff I would like to have seen in Fat Stacks Bundle, specifically:
A lot of comprehensive training on making highly rankable, good quality content.
A lot of tools included that save you money (no need to buy expensive upsells).
A lot of training, support and personal help from experts like me.
And much more.
These advantages make Wealthy Affiliate (in my opinion) the top choice for blogging courses and there are countless success stories to add to that list.
If you decide to go with Fat Stacks Bundle and can afford it, cool.
Just know there's more expensive things to buy afterwards.
In Wealthy Affiliate, you'll learn the same material and not need to buy anything remotely expensive to keep moving along and at the same time, you'll learn how to become an expert blogger who makes a passive income (I do it thanks to them).