I have a lot of experience with making successful YouTube ads and one of the key components to that is knowing how to target keywords on the YouTube ad itself and the good news is that it's still available if you know where to go, but the bad news is that it's basically a hidden feature (tougher to find basically).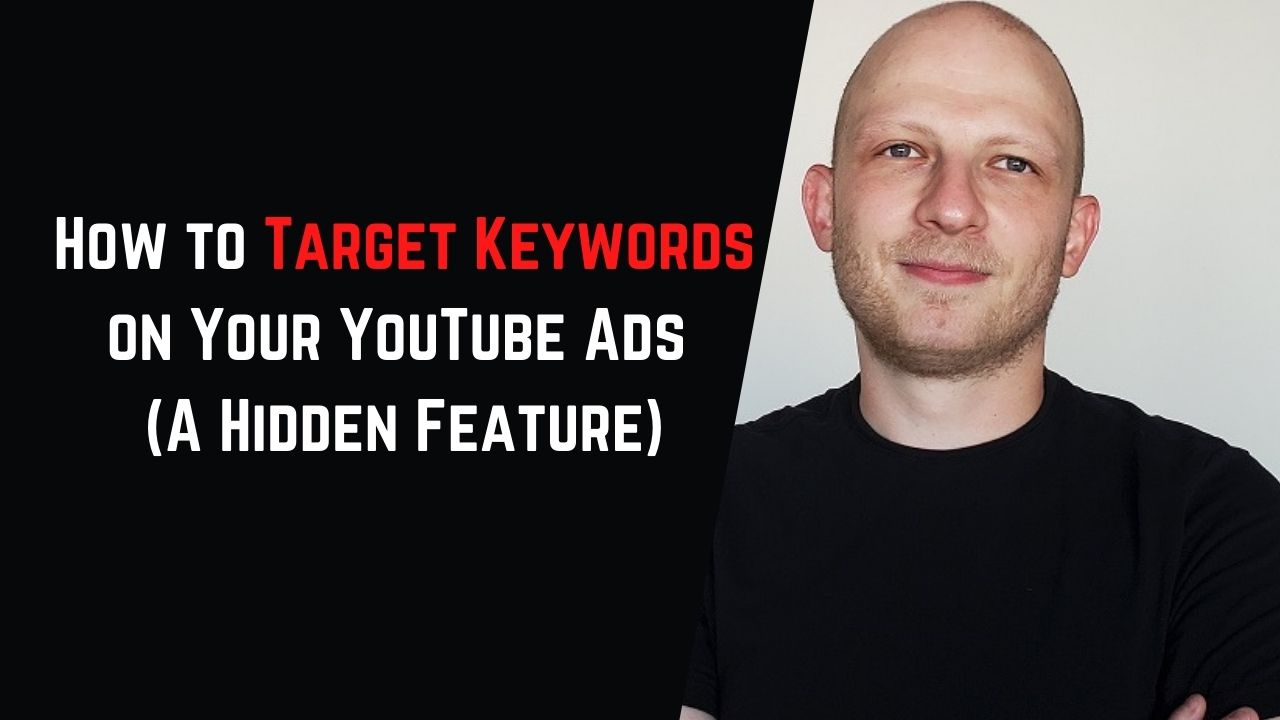 Before I get to explaining how to target keywords on your YouTube ads, I have to share why it's even necessary for you to to do this. In short, by knowing how to properly do this, here's several benefits you may experience:
Your CPV will go down substantially (less costs for you).
You will get far more targeted traffic (better odds of conversions).
You will basically have a far more cost effective, conversion friendly YouTube ads funnel.
I made about $10,000 in revenue from the ads I ran by simply targeting keywords on my YouTube Ads (exact and phrase match).
So how exactly do you do this too? Well here's where we circle back to the original problem:
Sometime in 2021, YouTube ads made it far more difficult to target keywords:
I have no idea why they did this, but sometime in early-mid 2021, the original way of targeting keywords on your YouTube ads basically "vanished" for me. Originally, if you wanted to target keywords, here's how you could do it:
You could head over to YouTube, find one of your videos, hit the promote button and do it there.
Or you could log into Google Ads and make a manual ad for a YouTube video there.
And in each instance, the option to enter in keywords was always available. However, if you try to use any of these options today, here's what will happen:
You will have an option to enter in keywords once you make the ad, but unfortunately, there's just some ridiculous new function where you have to select a campaign and adgroup and for whatever reason, your YouTube ad doesn't show there. Thus you basically can't add keywords anymore using this approach.
Some people have even told me that this function has just completely vanished and that it's impossible to do this nowadays. I thought so until a few weeks ago while doing a coaching session with my affiliate coach, I discovered it again:
We were doing a session and looking to try a new way of marketing my YouTube ads, by basically making them appear within the related videos of specific/viral videos that are relevant to it.
While he was showing me how to do this, I noticed that the keyword function was actually available there and shortly after our session, I made a new ad through the same approach we were using, but instead of targeting the display ad option, I only made targeting based on keywords. After seeing that it really does work, I began replicating some of my older videos that used to get me conversions (but I had to turn off once the new YouTube function came into play) and since then, things have been working pretty well for me.
And so:
Here's how you can still target keywords on your YouTube ads (text details):
Step 1: Head over to Google ads and login there directly.
Step 2: Click campaigns, the plus sign to add a new one, then select "+ New Campaign".
Step 3: Select the window that says "Create a Campaign without a goal's guidance". This is key to the whole process.
Step 4: Select video for the next option (Campaign type).
Step 5: Select custom video campaign, then hit continue.
Step 6: Create a campaign name for your YouTube ad, leave your maximum CPV as the default option. For campaign total, I typically start at $20 (daily). Then select a start/end date (I usually make it at least 1 year). Enter your country targeting (be relevant).
Note: There is a section in between steps 6 and 7 where you can select "Networks" in which your ad will show for. Make sure display partners is unchecked (leave the other options checked).
Step 7: When you finish the above campaign settings, you'll create a new adgroup. Give it a name. Then for the "People section" where you see demographics and audience segments, I leave that on default.
Step 8: Underneath that (people section), you will see "Content". This is where you'll find keywords. Click that and enter in all the keywords you wish your ad to show up for. I strongly recommend being super relevant and ONLY targeting [exact] and "phrase" match keywords.
Step 9: For bidding, I keep it $0.10 and under (you will likely pay very little if you do this correctly).
Step 10: Now comes to the time to enter in your YouTube video URL, and create the ad for it (do what you feel is right here, but keep it relevant). I personally like to make this ad show up on the side bar in related searches (where it says In-feed video ad). Once this is done, click create campaign and you're set!
For any new video you wish to make a YouTube ad with and to be able to make keywords, either make a new campaign for each video, and/or select the campaign you made for your 1st video, click create adgroup and you will also be able to make it there and also select keywords for it.
And that's exactly how you target keywords on your YouTube ads:
I still don't know why YouTube ads made it so much more annoying to target keywords in your campaigns/adgroups and I missed out on many months of business due to this. In fact, I would even go as far as to say that by not using the keyword feature, you are likely going to spend a lot more on your CPV and likely get less targeted audiences.
Even though it took me months to find the keyword feature again, I'm glad I didn't make the mistake of playing by the new rules YouTube ads set because I'd lose a lot of money and likely make less profits altogether.
Either way, I have included a YouTube video where I show you every single step I listed above so you can follow along with it and make your own ads based on your needs. I promise you that if you do this correctly, that you will likely see less views on the videos you target with keywords, but they will be highly relevant and thus much cheaper and more conversion friendly.
If you have any questions about this tutorial or YouTube ads in general, let me know. And if you need training on making money online, whether with this and/or other types of make money online topics, get training from a program called Wealthy Affiliate where you can learn all of this.