This Traffic Beast review is going to share a lot of important details, most of which point to one major conclusion: That its not a special program, nor is it recommended.
I'm not kidding. I thought about buying this program because of all the hype I saw for it, but then found a YouTube review from a guy who did buy it. I'll be citing his Traffic Beast review in this post so you can see it for yourself, but what that video didn't do enough of was break down why this particular program is sub par and this is where my post comes into the picture as I'm advanced in these methods. So let's start this up:
Product info:
Name: Traffic Beast.
Owner: Glyn Kosky.
Price: $9.00 (and there are upsells).
What does it teach? Makes done for you email marketing funnels to promote affiliate products.
Scam? No, but:
Rating:

0 out of 5 stars

Recommended? No!
Here's why I don't recommend Traffic Beast (4 reasons):
Firstly, I don't like the hype on the sales page.
Second, there ARE upsells and extra costs to use this formula.
Third, the traffic strategies in this program are not something I personally endorse using at all!
Fourth, there is nothing special about the actual method to make money with this system. The hype on the sales page makes it seem so unique and special, but in reality, it's just sending mass traffic to opt in pages and promoting affiliate products and that mass traffic could cost you a lot of money! Altogether, this is an overused strategy with many holes in my experience that is tough for beginners to use.
I've listed these 4 conclusions based off the person whose video I saw that showed me an inside look into it and that I personally know affiliate marketing very well. Can this program actually work though? There's a possibility, but that's not something I'd put my recommendation behind.
Alternatives? Yes:
Let's go over what Traffic Beast is: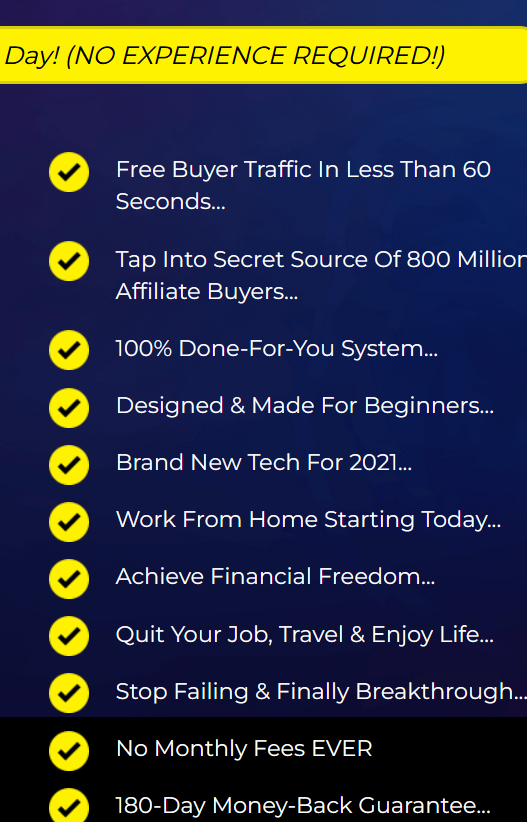 To explain this, you have to examine both the outer side of this program (how it's advertised) and what's on the inside. Based on everything I've seen, these 2 things are very far apart. In other words, the program sounds great and easy to use and make money online with on the outside but on the inside, it's very different. So let's do this:
If you look at the outside of this Traffic Beast, there's a lot of stark claims about it. To summarize:
It's easy to use.
Done for you.
Easy 1-2-3 step process.
Fast traffic coming to your promotions.
It's easy to make money online with.
Easy for beginners.
Ect…
It almost sounds like this system is the perfect one right? Well, TECHNICALLY it is easy to use, but to make money with it? That's where I'd honestly view things very differently. Let me explain:
How this system works (from the inside where many of the above claims fall apart in my opinion):
So first of all, here is the video review of Traffic Beast that I am citing for you. You're welcome to watch it and the person who made it bought the program and in my opinion saved me money (thanks man!). Even he says there's nothing special about it (paraphrasing).
But here's what happens:
First you create a simple opt in page.
That opt in page has a simple (often used) messaging typically related to making money online quickly (to get people interested and to opt in).
Once they are in, you will send them a free gift that you get as a member of Traffic Beast which is an incentive for that.
However, what you will also do once they sign up is send them to affiliate offers on the back end, whether right after they sign up and/or in the future from the emails you send them. So in short, this program helps you make online sales funnels (of the email marketing type).
2 areas where you will likely need to spend more money to use this system:
Firstly, in order to even be an email marketer and collect emails, guess what? You need to buy an autoresponder (if you don't have one already) to even connect it to this system. There is an option offered for a free trail, but if you're serious about using this system in the long run, you will have to pay for it.
Next, we have the traffic methods:
All that talk about fast and secret sources of traffic is HIGHLY inflated in my opinion. You see there are several methods of traffic generation shown to you inside this program:
1) First we have solo ads, which in my opinion is one of the worst options out there. You'll be connected to a site called Udimi (which is not bad actually), but you'll be spending a lot of money to buy traffic from third party users. That third party will send traffic to your squeeze page that you created. Maybe you'll get lucky and make money this way, but I've rarely known solo ads to work personally (I never endorse them).
2) Second, we have social media traffic, which is your typical "share your promotion" stuff. I've said this many times, but unless you're an experienced marketer with a lot of followers, this is useless for the most part.
3) Third, we have something regarding using Bitcoin, but I don't know much about that stuff so I won't comment on it.
Long story short, NONE of the traffic generation methods taught in Traffic Beast are things I personally use in my affiliate marketing efforts. I personally use blogging, pay per click ads, and I often rely on YouTube affiliate marketing (ads as well). Those in my opinion are far safer.
Conclusions on Traffic Beast:
I am not apologetic about giving this a 0 rating. There's a slight chance in my opinion that this program might work, but I've seen SO many programs like this, that typically come out of questionable affiliate networks that I rarely expect a good option to be there (it's happened before though).
In this program's case, the hype you get from it is so far apart vs what you get when you buy it, not to mention that you do have to buy extra stuff, especially if you have no followers and nothing to really rely on for traffic (this is why I stress that beginners need to be careful with this program since they'd likely have to rely on the paid methods to use this program).
Do I recommend alternatives? Absolutely. In fact, the "standard" this program sets isn't that high to begin with in my opinion and you don't need to look far to find better options in my opinion. What options are there?
Well see these recommended ones and if you just want to skip to the one I recommend most, Wealthy Affiliate is it, period.