As someone who is experienced in local marketing, I didn't expect to learn much from Jason Bell's Birthday Marketing Formula, but after diving deeper into it, I'm happy to say this is one of the few times I was wrong and this review will show you everything you need to know regarding the program.
Product info: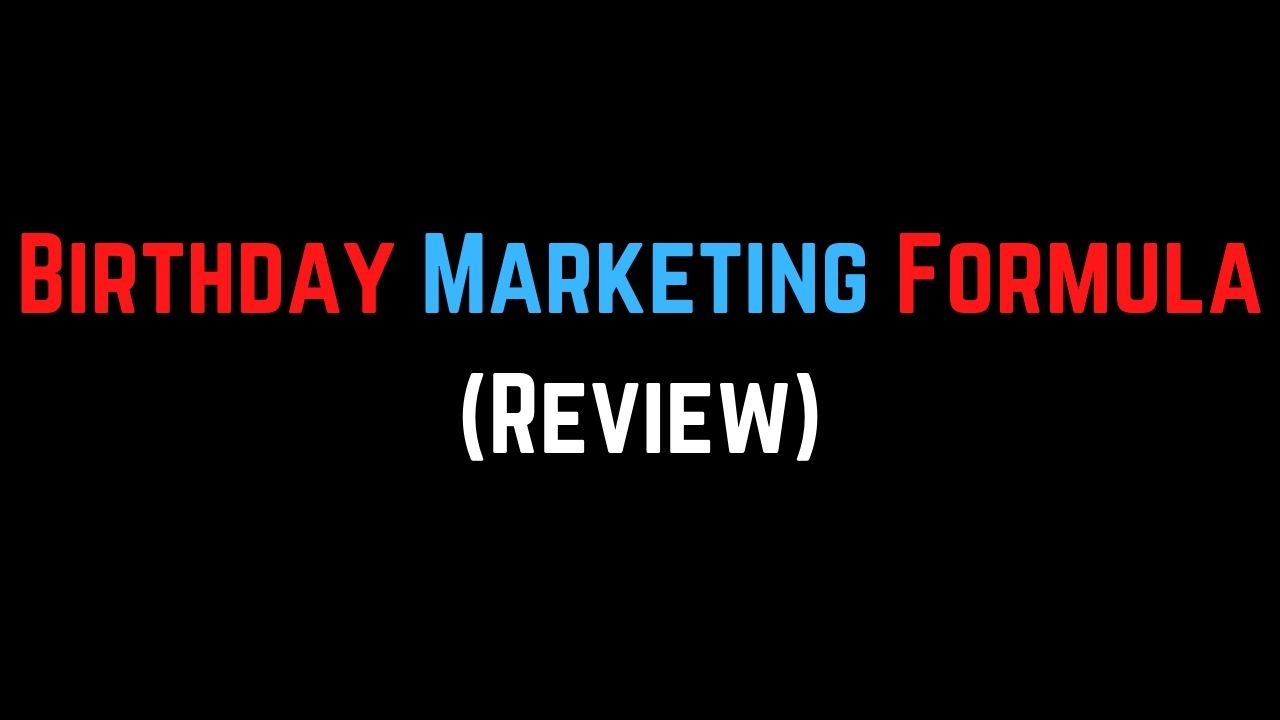 Name: Birthday Marketing Formula.
Owner: Jason Bell.
Price: $697 (possible upsells too).
What does it teach? Local marketing software and training.
My rating:

4 out of 5 stars

Do I recommend it?

Yes.

Alternatives? Yes, there's a few (mentioned below).
Before I continue this review, I just want to say that I didn't buy this program, but:
Like I said earlier, I am experienced in local marketing (I've done it before).
Much of this subject is very well known to me.
I've seen the software/training from the inside out too (sources will be provided).
All this considered, I am very confident in this Birthday Marketing Formula review so you will be getting the right/accurate info. Let's move on:
What exactly is Birthday Marketing Formula and how does it work?
So to explain this, you first need to know what local marketing is and the short summary of that is that it's an online business where you learn specific online marketing skills to help physical businesses get more clients online.
Most physical businesses (coffee shops, pizza places, any business anywhere in the world) do not know how to properly advertise themselves online (and often overpay for services that do it for them). But if you possess the right skills, you can approach these businesses (anywhere), offer them good services, and have them pay you to do that for them. Each business can become a high paying client that can build up your income.
Segue into Birthday Marketing Formula (specifics):
The Birthday Marketing Formula program takes the general concept of local marketing and adds a different "spin" on it and here's what I mean:
1) You find local businesses (potential clients) in different areas (Facebook, Google Maps, Groupon, ect…).
2) You then advertise to them to hire you to make online ads so they can get more customers (on Facebook Ads).
3) The "spin" part is that you make custom birthday cards for the client which you then put on the Facebook Ad.
4) The ad advertises to anyone in the vicinity of the business and anyone whose birthday falls under whatever day is advertised is incentivized to visit the business so they can get a discount on their meal but because it's their birthday, they are already willing to spend more.
5) Because birthdays happen every day anyway, the ad will attract people to visit the business and they'll make more money.
6) You will make money by running the ad for the business and get paid $500 a month from each one. When it comes to YOUR spending, you will spend a lot less on the actual ad so you keep the difference.
7) Part of the Birthday Marketing Formula is that you will get an email swipe to send the business owners and the more responses you get, the more leads you can generate and each one can bring in a side income. And when it's multiple people, it can lead to a full time income.
The Birthday Marketing Formula altogether is 2 parts:
First is a 5 module training program that teaches this process.
Second is a software program that helps you make birthday cards and organize your leads.
There are also bonuses offered for people like a website, a birthday selector to help them decide which one they like and similar things to help you jump start with this.
Side note: Jason Bell's Local Profits Blueprint (how it's tied to this).
So aside from Birthday Marketing Formula being Jason's main program, there is an eBook which he markets through Lurn to promote it and it's called Local Profits Blueprint.
I did have a read through it. It's 35 pages long and basically covers what Birthday Marketing covers (in the webinar). I do like that eBook though so even if you don't get Jason's program, having a quick read through the eBook (which is free) is recommended.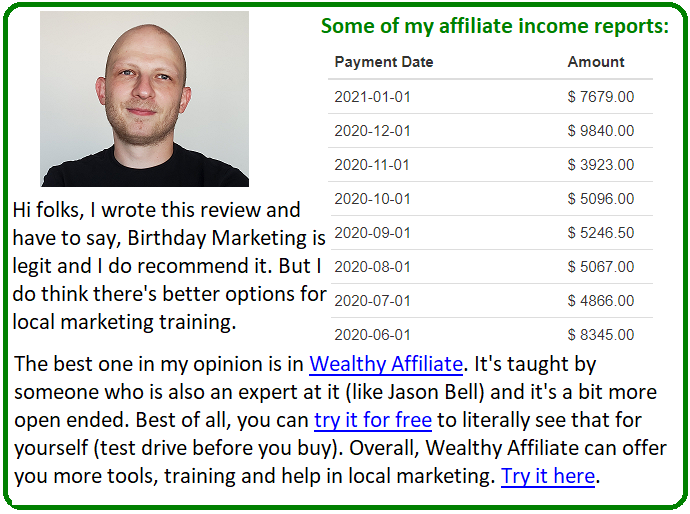 Pros:
Local marketing is a legitimate business (I personally know this).
The training in Birthday Marketing Formula is in my opinion legitimate.
I do think this is beginner friendly.
The whole birthday card angle is something very new to me (and I like that a lot).
It's part of the Lurn program and I do think most of the programs there are good.
Cons:
Local marketing comes with it's own learning curve (tough finding clients, attitudes, ect…).
Every program takes time to learn, apply and learn more (it's not a quick success).
I do think this program is slightly expensive (but decent price compared to competitors).
My conclusions on Birthday Marketing Formula:
I was very impressed by what Jason Bell offered in his webinar and based on the sources I've seen showcasing the inside area of this program, it's legitimate. Here are just some:
And since I have done local marketing (similar to this stuff), I do confidently believe this program will work for anyone who applies it. Of course, nothing is guaranteed but there are very solid teachings in this which is why I'm confident in it.
There are alternatives though to Birthday Marketing Formula (possibly better options too):
There's at least 2 programs I'd suggest viewing aside from Birthday Marketing Formula and here they are:
Lucas Lee Tyson's Growth Cave. It's a good local marketing training program but the only downside to it is that it's nearly $1,500. But the training is very similar (minus the birthday card approach).
Wealthy Affiliate (my personal preference). So this program is actually a multifaceted online business training program and local marketing is part of that and in fact there is a ton of local marketing training provided here. It's made by a person who is very knowledge on this (like Jason Bell) and his teachings are in webinar format.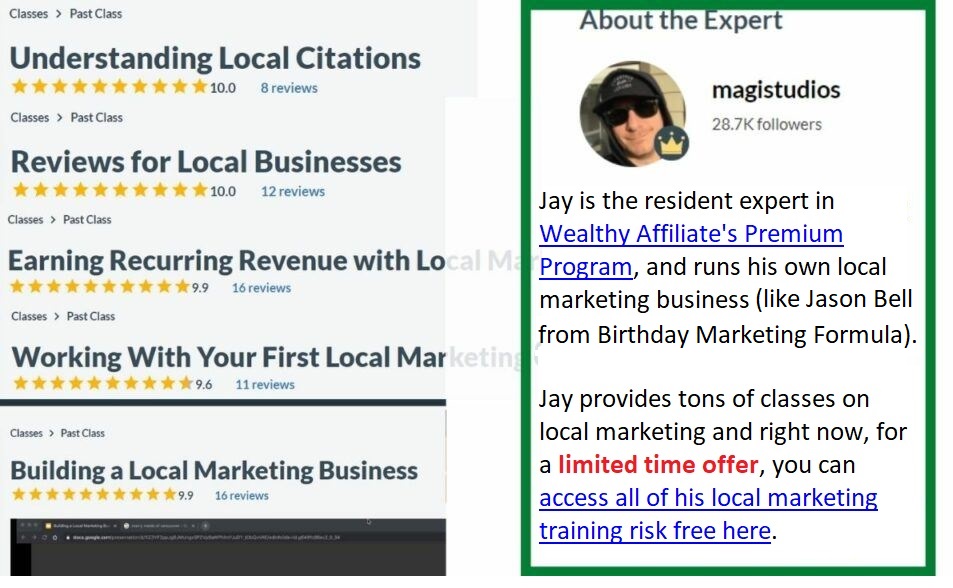 Here's some of the things I'd say that makes Wealthy Affiliate the TOP choice out of these 3 options is that:
You can get full access to the webinars in Wealthy Affiliate (on local marketing) for 14 days.
If you decide to stay, it's only $49 a month and the benefit of sticking around (vs getting the free 14 day trial and bouncing) is that you get tools included in the program to help you start and maintain a local marketing business. For example:
You get a website builder (great for getting business leads that has no website).
Website building skills (you can help businesses improve their websites).
Access to all previous training on local marketing (and future ones too).
Hosting for websites (you can get your clients to sign up with Wealthy Affiliate, get better hosting for their sites and get paid monthly for that).
And much more.
Now the birthday card angle isn't taught here, but honestly, with any good local marketing training, you can just apply that yourself anyway.
Here's a link to try Wealthy Affiliate free. You'll get access to a personal webinar I have set up to help you get the most out of this program and it's local marketing training. If you're brand new and short on money, this is honestly the best choice for local marketing in my opinion.