While browsing certain reviews for other programs I wanted to review, I came across The Home Business Academy and decided to shift my focus on that and in this post, I'll be explaining what I discovered (a lot of it is good actually).
A short summary and review of The Home Business Academy:

Who created The Home Business Academy?
Paul Hutchings and Mike Hobbs.
How much does The Home Business Academy cost?
There are several products and memberships in this program, and their prices range depending on what you get. Here they are:
Freedom Launchpad: $27
Ultimate Email and Traffic Swipe File: $37
HBA Funnel Builder: $25 a month.
HBA Premium: $1 for 7 days (trial), then $125 a month.
Financial Literacy Academy: $1,000 one time.
What does The Home Business Academy teach people?
For the most part, it's a quasi education program on building online business for people who have existing businesses, as well as those seeking to create online business in spheres like affiliate marketing through different options out there, and education on financial subjects (for which their most expensive product is designed for).
My rating for The Home Business Academy:
3.5 out of 5 stars
Do I recommend The Home Business Academy?

Yes.
There are numerous good things to point out regarding this program, and one of them is the transparency provided. It's something that is sadly rare, but appreciated in online programs these days.
Other than that, from everything I have seen researching this program, it is legitimate and recommended.
But there are certain cons in my opinion (pointed out below) and alternative programs with training on the same subject/s that I would consider better (and for less).
Alternatives:
A deeper review of The Home Business Academy:
As I mentioned earlier, this program encompasses multitudes of training, from building an online business for an existing one you have and/or creating a brand new one, to overall business education in different fields, all of which help you build that successful business that you can operate from your home.
However this encompassing is broken down into 5 different programs and while I didn't buy into the program, based on the fact that I know a ton about online business and the subject matter in the The Home Business Academy products section talks about the same subject material I personally know about, I feel quite confident in reviewing it for you (and I can tell you it works).
So what I'm going to do right now is go over each of the products in this program and give you my take on what they teach, as well as a preview of what to expect.
For about 80% or more of what this program offers, I can tell you I either know a ton about it and/or already have existing success to base my experiences off, and with that said, let's begin:
1) Freedom Launchpad ($27):
The summary of this particular offer is a bit vague and mysterious in parts, but I deduce that it'll teach you how to set up an affiliate marketing business, a branch of the online business world that I know more about than any other in my experience.
You'll likely be learning about niche markets, setting up online sales funnels, and how to drive traffic to your websites promoting products.
For example:
You can build a website in an outdoor niche topic and drive people interested in the topic to the site and sell them affiliate products like camping gear there. You don't need to own the products.
You don't need to handle the customer service or orders. A lot of it done for you.
There are certainly many benefits to this business model, such as that in many parts, a lot of the stuff is done for you (you don't need to own the product or even create it) and that there is a lot of success potential in it, but I suspect that for the $27 offer, you'll likely need to get more of the Home Business Academy's products to further build an affiliate business in this realm.
2) The Ultimate Email and Swipe File ($37):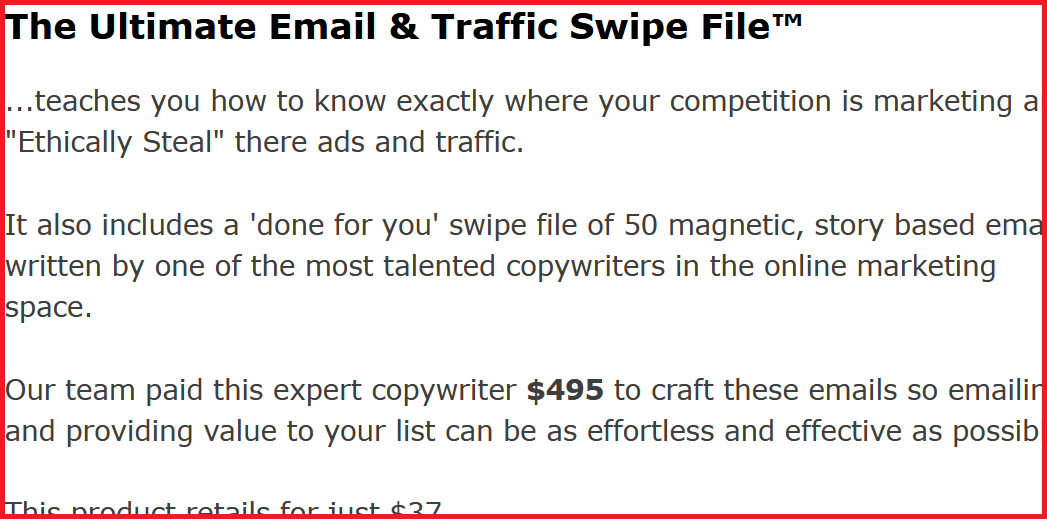 This particular product in The Home Business Academy teaches you to utilize email marketing in offers pre made email templates to use from one of their expert copywriters.
Basically you'll learn how to take existing emails that get people clicking and buying and be able to use them in your existing campaigns.
Additionally, you will also learn to seek out what other competitors are marketing and doing in the same niche you are targeting for your email campaigns and be able to piggyback off that.
Personally, I am not a big fan of this particular subject, especially if you're a beginner to email marketing. It's very often not a simple thing to do and a lot of experience and existing success first needs to be attained outside this realm before entering into it in my experience and opinion.
In this particular field, I have also come across and tested different offers. A lot of them work and have good copy writing scripts you can use, but often what I find is that making your own authentic emails in your own unique voice is the best way to go (and preferable, at least for me).
3) HBA Funnel Builder ($25 a month):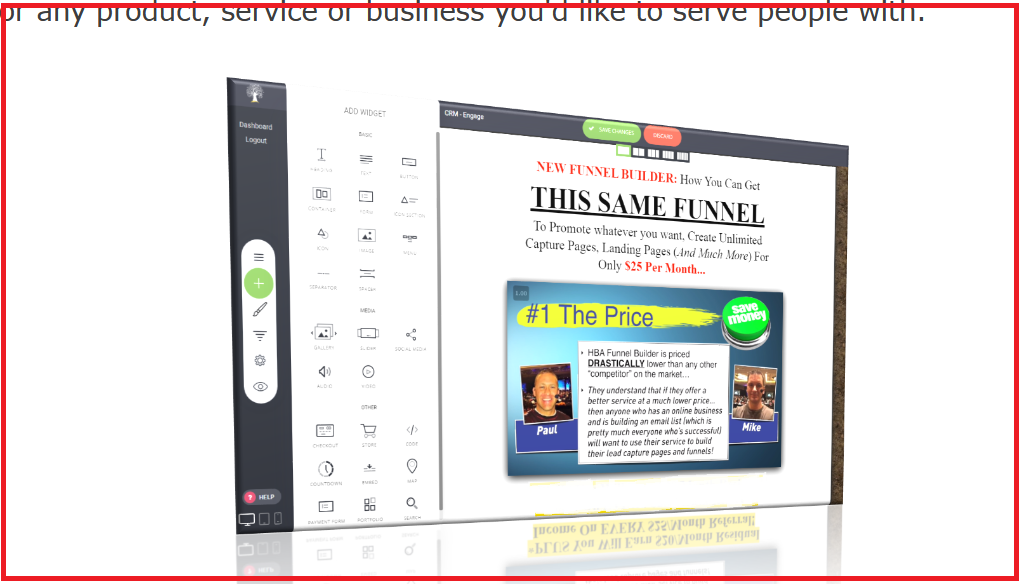 HBA is obviously Home Business Academy and the first time I stumbled onto this program, this was the offer that was being pitched to me.
It's basically a Clickfunnels type program where you can build up different landing pages for your online business. It also has functions where you can make membership pages, product pages and other types of landing pages in different online business fields.
Based on what I saw in the preview of it being used by it's creator, there are certainly good functions to this program and for $25 a month, if you're experienced, I do consider it a good deal.
But I am also someone who is not an advocate of Clickfunnels, nor programs like it, even if the deal is good because you can make landing pages for less and without having to rely on these types of programs. Often the knowledge of your niche market and knowing how to market to it is enough.
4) HBA Premium ($1 for 7 days, then $125 a month):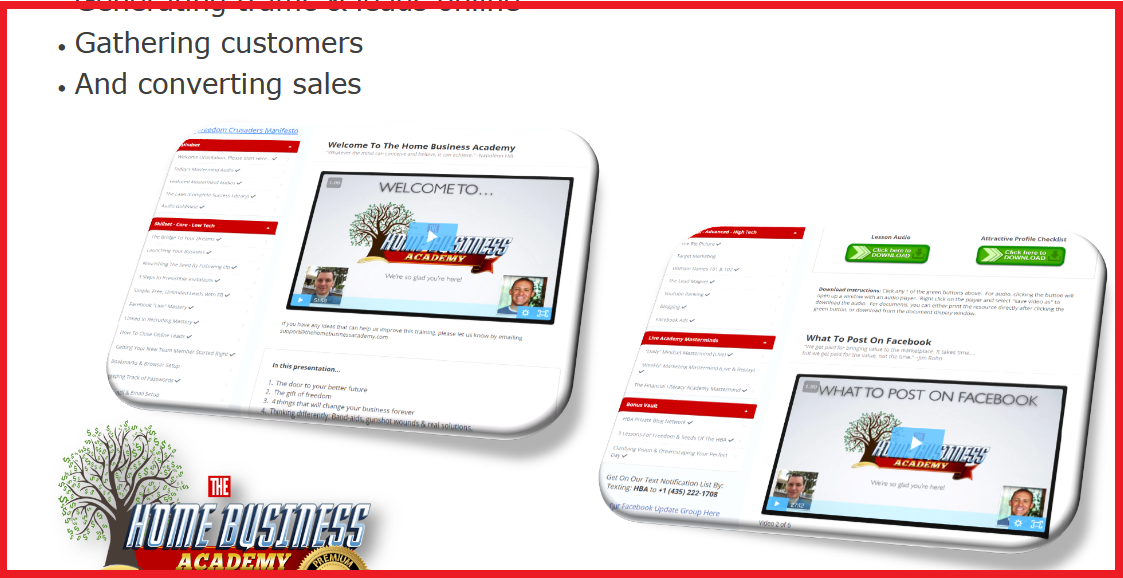 If you're a beginner to online business, I would suggest that if you consider HBA the program for you, that you consider HBA Premium as the place to start.
Every other product in this program in my opinion is better geared towards those with experience and/or existing businesses, but if you're brand new with no website or an online business, this is where you can and likely should get started.
This is basically where you'll get online business training in building a website and learning to market it through the many different options available out there (SEO which is search engine marketing, email marketing, YouTube, affiliate marketing and more).
In my personal opinion, for this very subject, Wealthy Affiliate is probably a better option to HBA Premium because it's free to try and actually costs less if you upgrade, but I'm also certain it provides more training on the same subject, tools and help included.
You can try HBA Premium for $1 and make your own decision, but WA offers a better deal in this sphere (and the upgraded option too) as it's free to try. Learn more about the Wealthy Affiliate program here.
5) Financial Literacy Academy ($1,000 one time):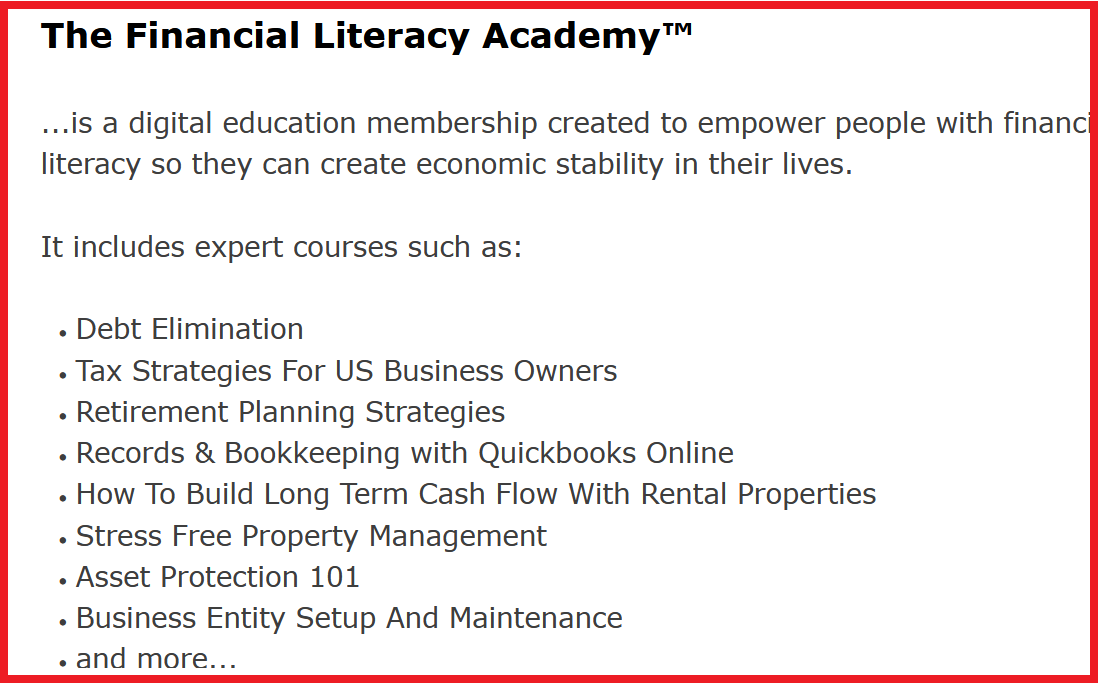 Out of all the products offered in HBA, this is the one I admit to having a bit of ignorance on and that's because it teaches people about a lot of business fields outside the online business realm, so I won't proceed to give you my thoughts on this here.
What I can tell you is a few things:
It's not cheap.
I would say it's likely better to get if you have an existing business or are experienced.
If you can afford the $1,000.
Just as well, as someone who runs an online business that makes money, I can tell you that it helped me pay for school and other things in life. I do happen to live financially free thanks to it, and because I do run my own online business, I have had to enter into necessary things in such as taxes and running a corporation. But what I'm saying here is, a successful online business gives you that education needed to do these things right in the first place.
Conclusions on The Home Business Academy:
In many respects, HBA offers a lot of valuable products, training, education and help for people to learn and/or grow their existing businesses and I am confident in many of it's offers.
And again, I have to point out that their transparency is of a huge deal here because it shows that they have nothing to hide and I am very careful with companies that do. Because this program doesn't do that, I am much more confident in recommending it to people, and also because (again) the subject matter is more than familiar to me personally.
All this being said, if you take the majority of what this program teaches, which is online business, I would argue that Wealthy Affiliate would be able to offer you more (especially if you're a beginner), for less in this same field.
And this is why I do recommend Wealthy Affiliate over The Home Business Academy in that realm. At the very least, you can try that program for free and if you want to go with HBA and are new, then I would try their Premium membership first.