There's a lot to unpack in this Super Affiliate System review folks and I want to do just that to help you understand everything you need to know if you decide to get it and if it's even worth it, because the truth is $997 isn't the "final price" of SAS either.
Product info: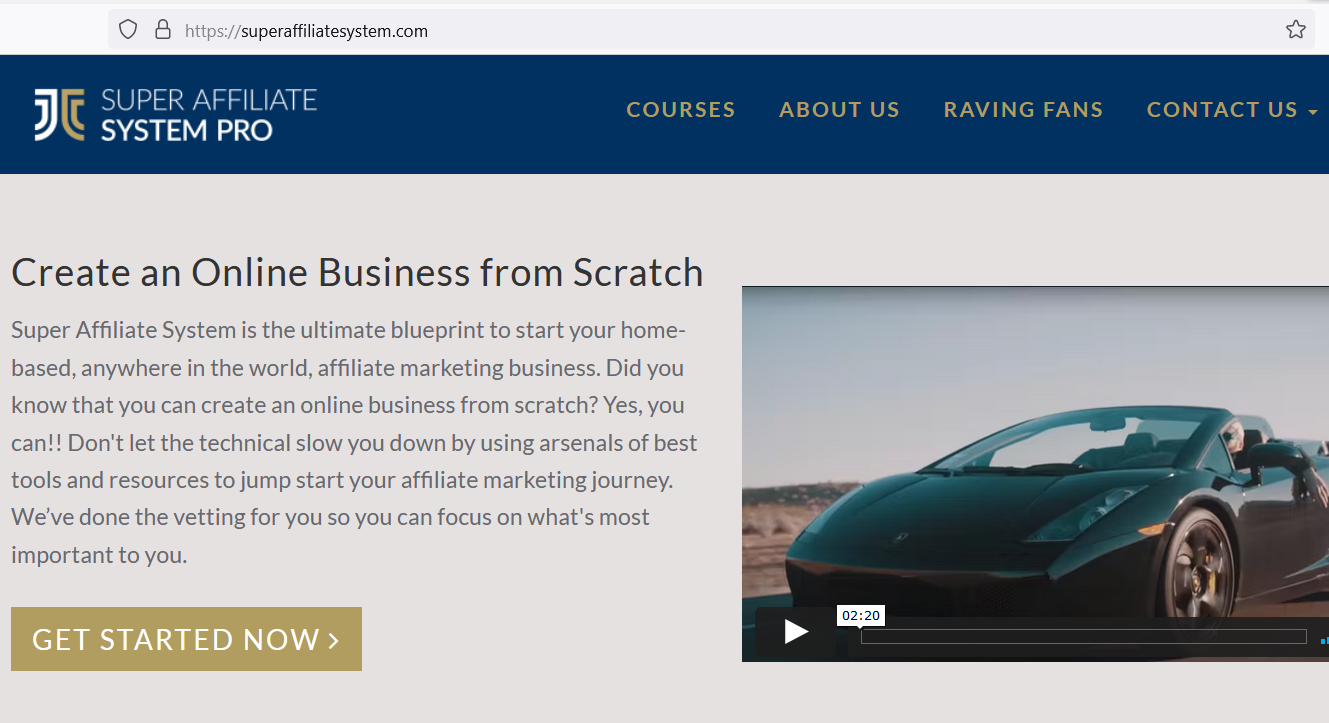 Name: Super Affiliate System.
Owner: John Crestani.
Price: $997 plus other upsells available.
What does it teach? Affiliate marketing via PPC mostly.
Scam? No, SAS is legit.
Rating: 2.5 out of 5 stars
Recommended? No.
In my opinion, were it not for the fact that this program offered such high commissions, you probably wouldn't see so many affiliates pitching it across their websites, YouTube videos and ads. But because it is present, you see a lot of diluted and biased reviews of it.
I'm going to try and give you my viewpoint on the whole program, John Crestani and more, but I want you to know I'm not providing any affiliate links in this review to Super Affiliate System. But I am also going to be promoting something else that is also an affiliate training program and frankly, I think it's way better in all regards (price, training value and for the customer overall).
Alternatives: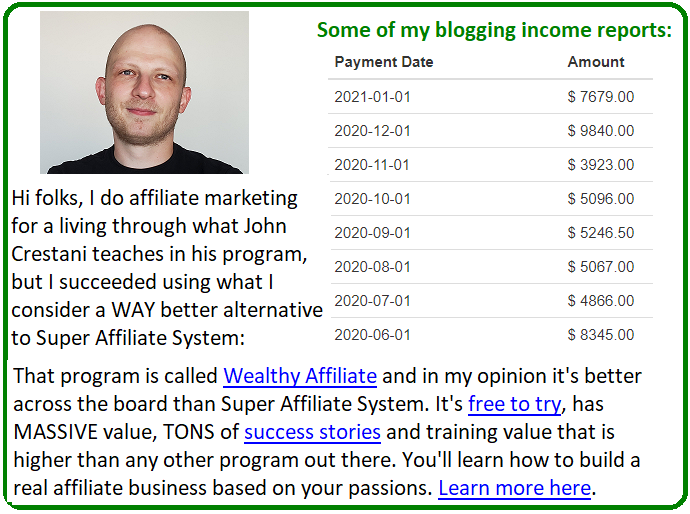 Diving into Super Affiliate System (everything you need to know):
The first thing I want to say is that Super Affiliate System has been around for years but prior to it coming to fruition, there was another, called Internet Jetset and it's important to share that because it's very relevant to this review.
Internet Jetset was a very basic and good beginner affiliate marketing training program (I did actually get it). There are many things provided in this program which I still find pretty valuable, including:
A good basic understanding of affiliate marketing.
Niche choosing (although I think that could be better).
Blogging, SEO.
YouTube marketing.
Product launch jacking (promoting make money online products early as a Clickbank, JVZoo and affiliate for similar networks).
This mix of information actually made Internet Jetset a pretty good program and for a cheap price ($1 trial, then $47 a month), it was pretty worth exploring. But that really changed a lot because John's main promotion moved from that to Super Affiliate System and that kind of ruined it for me.
Originally, Super Affiliate System was an upsell off Internet Jetset back then and today, it is the main program John pitches people that builds off what Internet Jetset teaches you.
Here's a summary of what Super Affiliate System is:
It's a 6 week course with 50 lessons on affiliate marketing, but not in the same sphere as what you learn in Internet Jetset. It's actually much more advanced than that.
For the most part, this course is about promoting affiliate products through pay per click ads, typically high ticket affiliate promotions and it's important to note that there is a lot of training in this program to promote Super Affiliate System itself (although users can elect to promote other stuff using the same training).
For the actual training, you are given videos, assignments and tasks to complete and with regards to the actual training, here are some of the topics covered:
1 page site sales funnels to promote affiliate products.
How to use Clickfunnels (may be an upsell in the program).
Other miscellaneous PPC topics like tracking, split testing and more.
Side note, here are other good reviews of Super Affiliate System:
Who is John Crestani?
I'm fairly certain you already know who John Crestani is and have seen him picture, YouTube videos, ads and more, but in case you haven't, the short answer is that he's a very popular and successful online marketer.
I happen to think he's a bit too flashy for my taste with how he advertises himself, but to each his own, but in all seriousness, I wish he would do a better job of marketing his actual program vs sticking a lot to being superficial about all the money he's showing off in his videos. To me, that diminishes the value of Super Affiliate System. I do think he has guts, especially for when he appeared on and debated Coffeezilla.
Pros:
The training on PPC in Super Affiliate System is pretty good.
30 day money back guarantee provided (it's a Clickbank product).
Super Affiliate System and Internet Jetset are overall pretty good.
Cons:
I don't think all this material is worth $997 (and more).
I think Super Affiliate System's training is a bit advanced if you're new or lack money to do PPC.
John Crestani strikes me as a good dude, but man are his marketing approaches tacky in my opinion.
More questions on Super Affiliate System:
How much is the super affiliate system?
It is $997 for the full program, but there are also strategies to employ to use the program's training that can cost much more.
Do I recommend Super Affiliate System?
Like I said above, the answer to that question is no. But why is that after all the good things I've been saying about John's program? Well there's a few answers to this:
1) Again, the $997 price (and more) is just too much. If you look at my main reviews on this website, I think you'll see that I'm pretty consistently against recommending overly high priced make money online programs and this one falls into that category.
There's GREAT affiliate marketing training programs which don't even cost half as much as Super Affiliate System out there (see my recommended programs) and out of them all, I'd say Wealthy Affiliate is the best choice (you learn pretty much the same material there as you would in Internet Jetset AND Super Affiliate System), but in larger amounts (for WAY less).
2) PPC is not good for beginner affiliates (or if you have little money). The $997 and more costs aside, you are going to be doing pay per click marketing and I consistently warn new affiliates to stay away from that. It's lucrative and attractive because you can get free traffic and make quick affiliate sales, but it's also riddled with MANY issues and obstacles that really time, money and experience will overcome, even with the BEST pay per click training out there (trust me, I know this from personal experience in PPC and having made and lost a lot of money doing it).
The only time you should enter into PPC is if you are experienced at regular affiliate marketing (SEO, blogging and regular YouTube affiliate marketing) and have money to get into this. Otherwise, you are VERY likely to end up spending tons of money on PPC with no guarantees of quick returns (if any) on TOP of the investment of buying Super Affiliate System.
Conclusions:
I've given you pretty much a 30,000 foot overview of Super Affiliate System, John Crestani and what to expect if you get his program. I'm not going to be recommending it, but if you have $997 to spend, as well as PPC test money (which might even exceed your costs to buy John's program) and you're fully intent on getting it, do it.
But if you're not confident on money and are just entering into the affiliate marketing world, I would strongly recommend better options out there, like Wealthy Affiliate to start learning this material from. I'm very successful in this realm thanks to that program and you will learn pretty much all the same things, for way less.
Just because a program costs a lot, doesn't mean it's actually worth that and there are golden jewels of affiliate marketing programs out there (like Wealthy Affiliate) where you can get $10,000's worth of value for pennies to other high ticket programs out there and that's ultimately my advice on what you should do (if you're asking me of course).