There's a couple of pros I want to share with you in this Automatic Builder review, as well as certain cons I personally think need to be mentioned to help you decide if it's right for you to join it.
A summary and short review of Automatic Builder review: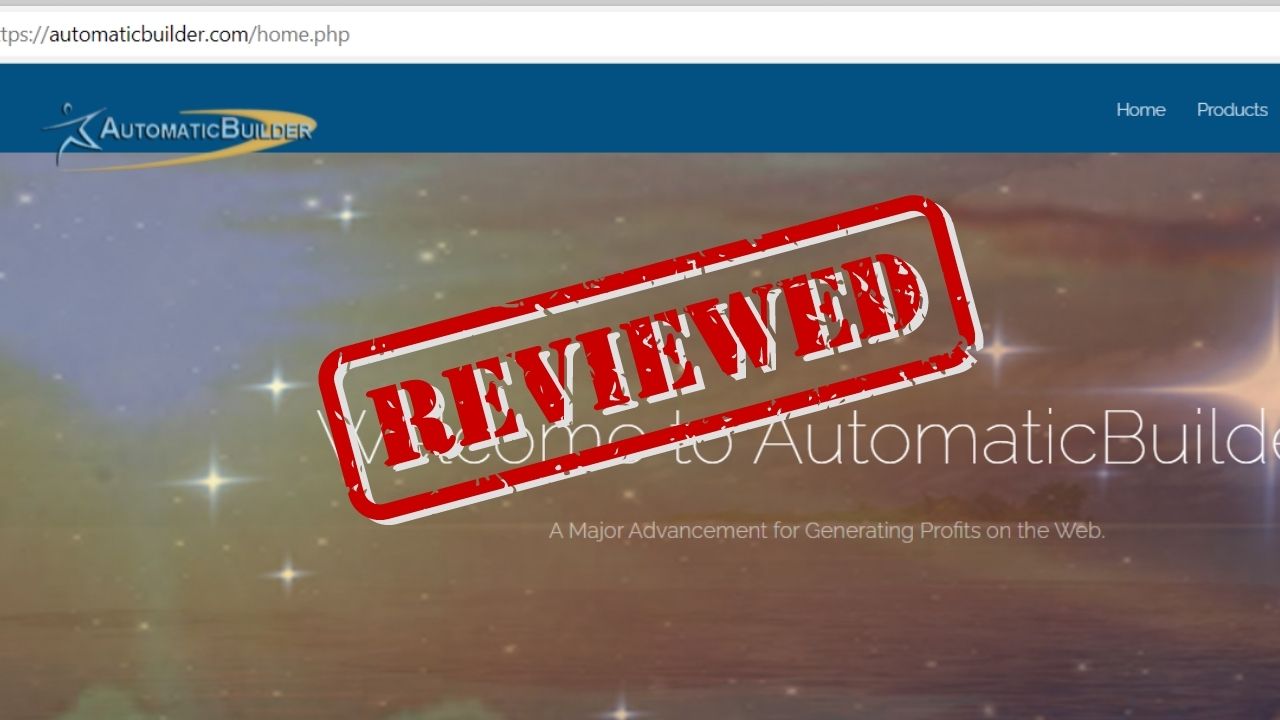 Who created Automatic Builder?
Rob Phelps and a man named Art.
How much does Automatic Builder cost?
Free trial available (the one I tried).
Automatic Builder Monthly Subscription: $7.95
Direct Pay Pack: $27 (one time).
Combo Pack: $47 (one time).
How does Automatic Builder work to help you make money online?
This is basically a quasi online business program which helps you promote any offer you want, as well as the Automatic Builder program itself. You are given tools, training, lead capture pages and recommendations for traffic generation services like solo ads to send to your site which promotes Automatic Builder.
Buying more traffic = potentially getting more leads to buy your service and/or join up with Automatic Builder too.
You are classified as a sponsor of anyone who signs up under you and earn commissions once they upgrade (keep in mind, you have to be an upgraded member yourself first to make this happen).
Overall, a lot of the tools you are given to help with all of this revolve around sending people ads, emails and convincing them to join.
My rating for Automatic Builder:

1.5 out of 5 stars
Do I recommend it? Not really.
Automatic Builder is NOT a scam, and I do believe money can be made with it.
As an online business person, much of what this program shows and teaches doesn't vibe with me. It's not that it's bad or anything, it's just outdated in my opinion in many ways and I do believe there are far better options out there to help you build an online business.
Alternatives?
The pros of Automatic Builder explained (

2

):
1) Kudos to the owners for making a free trial membership:
You can sign up to this program absolutely free without a credit card and judge for yourself if you want to stay. I may not be a fan of this program overall, but a free trial to help people see it for themselves and then make a more informed decision is something I strongly respect from any company.
2) The full membership offer is very low cost:
You can join for either $27 or get the full benefits for $47 which is quite affordable if you ask me. The $7.95 a month plan is for people who wish to use the email services of this program and depending on who you are, this might be worth it.
Now the cons of Automatic Builder explained (

3

):
1) I see no reason to promote your own company in addition to Automatic Builder:
In my opinion, if you're going to go ahead and try and make money with Automatic Builder, your best bet is to promote it the way they teach you in their program (buying leads, solo ads, safe lists and so forth). Promoting your own company just doesn't make much relevant sense to me in addition to this one. Stick to promoting one thing.
2) The website looks extremely messy and outdated.
I normally don't let the aesthetics of a website ruin what I think of the program, but in this particular case, it has to be mentioned. The website is functional and the links work, but wow, this looks like an old HTML site from the early 2,000s.
There's tons of voice recordings and very poorly made imagery and banners and all of this (in my opinion) ruins the effect and trust of this website. If you're going to sell this program to people, they are going to have to like this experience and I just can't picture many people doing that.
I certainly didn't like my experience in the members area, got lost many times and frankly, it's just very messy.
3) Their promotional methods are things I'd personally never use for online business:
Inside the members area of Automatic Builder, you are shown several ways to promote this company (or your own) and it mainly comes down to using up to 8 different services online, none of which I'd ever heard of to be honest, but they mainly deal with the following promotional methods:
Safe lists.
Companies making calls for you and sending interested leads to your page.
Ect…
In my experienced point of view, very few of these methods ever really produce serious results and very often gather very cold leads, while also costing you extra money to even use these methods.
Solo ads are typically hard to trust.
Safe lists are rarely anything but that (very often low quality stuff).
Companies making calls for you to get leads is almost equal to someone getting a spam call, hanging up on the person and blocking them. Not to say it won't work, but VERY few leads will come from this.
And keep in mind, these are all things YOU need to spend money on in hopes they'll sign up to this program (or whatever you want to promote).
This con isn't even attached to Automatic Builder whatsoever, it's really the method itself that I am totally against and I would never suggest anyone use these methods to drive leads to their online business. If anything, it'll drive leads away from it in my opinion.
Conclusions on Automatic Builder:
I'm sure the owners of this program are legitimate and have good intentions, but man, looking at it, it feels like I'm looking at a relic of an online business website.
Today's websites and online businesses have to have a certain standard, and this particular site needs serious updating. That would literally make it more likely to sell in my opinion.
But even in that scenario, the way I do online business is less involved with overly self promotional business models and instead the following approach which I find better:
Here's what I like better:
Building a MODERN day looking website promoting products you actually like, use and trust that offer serious value. This can be done through multiple ways, but my preferred method is affiliate marketing (this is what I do). Here's how it works:
Let's say I love rock climbing. This is a passion I can turn into a real online business and here's how:
I can create a website on rock climbing, share information on how people can get into it, and promote gear on the site (rock climbing gear) to people who are also interested in it.
Such a business can get 10,000's of visitors monthly from organic views (not any safe lists or solo ads) and be targeted customers that would be happy to buy from the site.
And frankly, such a model is easily replicated in many other niches out there, so no matter what you love in life, know that it can be turned into an online business. Now this model is not a get rich quick scheme, and you will have to work to get it done, but it works and it's what I've used and preached people should consider as one of the best ways to start their online business.
If you'd like to see how this looks and works, see Wealthy Affiliate, because this is the program you'll learn it from.
In fact, I'd consider Wealthy Affiliate to be the true example of what a good, high quality online business training website/program looks like.