This Affilorama review is going to share everything you need to know before joining. To start, let me say this:
I've said it before and I'll say it again: If I were to make a list of the top 10 affiliate marketing programs out there, Affilorama would easily make that list and in this review I'll explain why.
I have quite a bit of history with this program which I'll also be sharing and while I wouldn't consider it my top choice for affiliate marketing programs (I'll share which one I think is better shortly), it's still one of the best programs to date and I am very confident in it's training and guidance to help you succeed online.
Disclaimers about this Affilorama review:
1) I am currently a free member of Affilorama, but didn't get it's current paid products.
2) I have tried other products/training in Affilorama in the past (it's been out for a long time). I also promote it.
3) Much of the training in this program is very similar to my top recommendation (Wealthy Affiliate) and it's one of the reasons why I am recommending it.
4) I am a very experienced affiliate marketer myself and understand what good training looks like, and Affilorama certainly has a lot of that, including in much of it's free content.
5) I'm reviewing this program based on what I've seen in Affilorama in the past, present and also what I cross reference with my vast knowledge on this subject too.
A short review and summary of Affilorama:

Who created Affilorama?
Mark Ling.
How much does Affilorama cost?
There is a free membership with no credit card required to sign up (I do recommend that).
There are also 3 paid product upgrades available:
Pathway to Passive: $37 one time.
Affilotools: 4 plans available from free to $97 a month.
Affilojetpack (Affilorama's Premium Service): $997 one time.
What does Affilorama teach?
Basically how to build very profitable affiliate marketing websites, mainly through niche marketing. You learn about blogging, traffic generation through SEO and paid ads as well (among other stuff).
There is also a large amount of free content available to access to help introduce you to affiliate marketing, and then if you wish to go further, purchase one or more paid products in the Affilorama lineup.
My rating for Affilorama:
4.2 out of 5 stars
Do I recommend Affilorama?

Yes.
When I first saw Affilorama many years ago, I already had a high opinion of it then and since then it has improved in many areas, and so I still do recommend it. Like I said before, it's on my top 10 list (but not quite in the first spot).
Alternatives? Yes.
Affilorama review (a deep dive into the program):
Affilorama has been around for a very long time. In fact, it's one of the few and oldest affiliate marketing programs to date. But despite being "old", that's actually a compliment for a few reasons:
1) First, it's stood the test of time as many affiliate marketing programs don't last very long in this business.
2) Second, It's also been updated to help people succeed in this business in today's affiliate marketing world, using many evergreen strategies.
3) It has had and continues to gather a lot of new members due to it's long and good history.
My background with Affilorama:
My experience with Affilorama began long before I even discovered it.
To start, I was a member of the Wealthy Affiliate program many years beforehand and while my about me history can be found here, the short story is that that program helped me become a successful Clickbank affiliate promoting diet products.
In 2013 however, I switched niches and began to focus more on promoting make money online programs, including Wealthy Affiliate.
It was around that year that I discovered Affilorama and after researching it, I came to the conclusion that it was one of the few good programs I could recommend (and promote), and so I did, but I remained (and still do) of the opinion that Wealthy Affiliate is better. But I digress:
I did research a ton of Affilorama's products and services such as Traffic Travis, as well as the overall program and since that time, a lot of things have changed and now this program offers different services and training (and is still recommended).
I decided to look back at this program and add this new review on this website to help people understand what it's about before joining (and helping them decide if it's for them or not).
Analyzing Affilorama today (2021). Is it still any good?
The short answer is yes. And here's why:
1) The free membership:
For starters, a no credit card required, free membership is available to anyone and when you access it, you will be given a ton of free content, articles and videos on many of the important starting steps to creating an affiliate marketing business, including:
Tutorials on affiliate marketing itself.
Niche marketing and how to select profitable niches.
Blogging tips, including SEO optimization.
How to find products to promote as affiliate offers (such as Clickbank).
Pay per click training (I have a lot of experience with this too).
And much more.
And by the way, most of these tutorials in my experience are absolutely essential to start out with when building an affiliate business, especially the niche marketing lessons.
2) Second, the paid products carry a lot of value as well: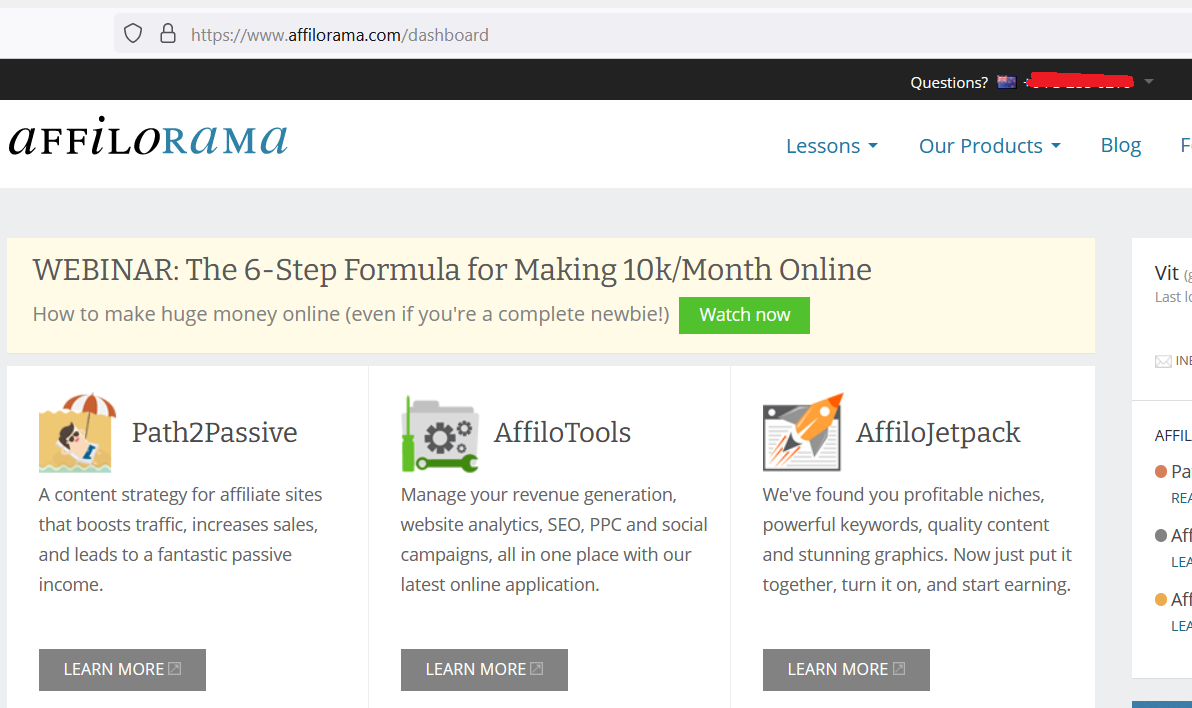 As I mentioned earlier, there are 3 paid products in Affilorama which you can purchase and here is a summary of each one:
Pathway to Passive: A guide for $37 teaching you how to create a profitable affiliate marketing business from scratch. The guide covers the subject of making affiliate blogs, backlinking and growing traffic on the site to promote the products to.
Affilotools: A service which you can connect with your website/s that helps you monitor your site's progress in SEO/traffic and other important metrics. You can connect this tool with things like Google Analytics, Ahrefs and SEMRush, all of which also monitor these stats and depending on how many sites you decide to build, you can try from the free trial of this tool to the paid ones.
Affilojetpack: This is the Premium service of Affilorama ($997) which offers people a combination of a done for you system and training on building an email marketing system to help you make sales. You get email swipes, templates, campaigns and basically all the tools to help you create profitable email marketing campaigns, from the landing pages you make, to the ads you run to get the traffic to it, to sending out the right emails to get your subscriber's trust.
3) Third, there is a community available within Affilorama to talk to:
One big thing any good program needs is support and other people to talk to and get help from. Fortunately there is such a thing in Affilorama, as you get support in a forum as well as a fan page on Facebook to connect with other members at.
One thing I did notice is that much of the communication that goes on in the forum isn't really active, and to me that's a huge deal which needs improvement on. Here's what I mean: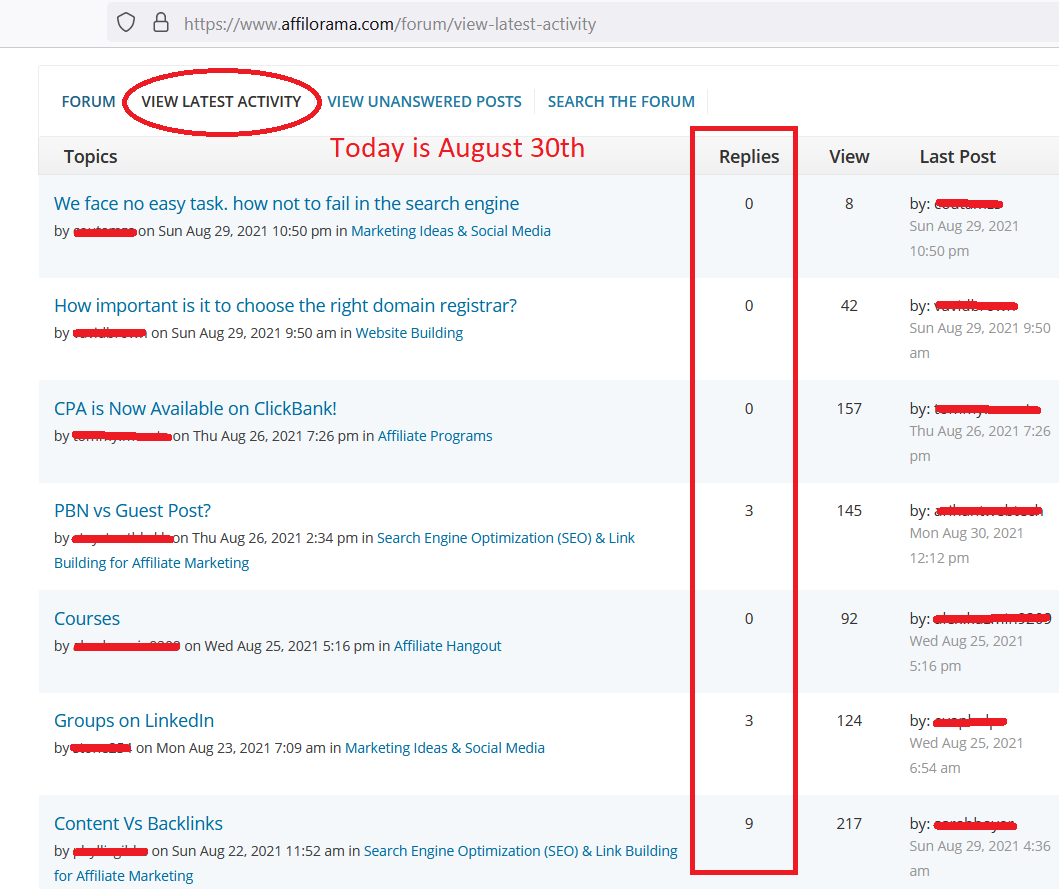 This is one of the main reasons (plural) that I suggest Wealthy Affiliate over Affilorama, as the support there is way faster in terms of getting your questions answered (often seconds) and this is major for helping people progress further and faster, vs waiting on an answer before moving forward.
More questions on Affilorama:
What is Affilorama?
Affilorama is a program that teaches people affiliate marketing through blogging, paid ads and more.
Who is Mark Ling?
Mark Ling is the creator of the Affilorama program.
Is Affilorama worth?
Affilorama is in my top 10 of affiliate marketing training programs, but not in the top 5. There are better options for it in my opinion.
Conclusions on Affilorama:
It's overall a good, solid affiliate marketing program. Certain things like their forum not being very active at times and products of theirs like Affilojetpack in my opinion are a bit expensive and might be something for more advanced users (since it's about email marketing), but other than that, Affilorama has many pros worth nothing (listed below).
Overall, if you've been on the fence about joining this program, I do recommend it. But I do recommend another one more: Wealthy Affiliate and here's why:
Wealthy Affiliate vs Affilorama. 5 reasons I like WA more:
1) WA's free membership offers more:
As good as Affilorama's free membership is, I would say WA has far more actionable training (this is huge), live help and tools. Learn more about Wealthy Affiliate's training here.
2) More savings because tools are included in the membership:
For the free membership, I would say you get way more, and there is a paid membership which offers even more stuff (hosting, more classes, security for multiple websites included, and way more) for a low cost monthly price. Compared to Affilorama (which still offers a lot mind you), Wealthy Affiliate provides more tools, for less.
3) Communication, support and help is far greater in WA than in Affilorama:
I like Affilorama's support service, but in all honesty, I think WA is way faster. better and more efficient in every regard here.
There's a live chat, forums (among other options) and you are more than likely going to get your questions answered way quicker in Wealthy Affiliate vs Affilorama. Just my opinion.
4) Wealthy Affiliate has and continues to improve at a faster rate than Affilorama:
And to be fair in this point, I'd say WA had and continues to improve far faster than any other platform. Over the many years Affilorama has been around, much of it still looks and feels the same to me as when I first saw it many years ago (even though certain changes have taken place which are positive).
However, Wealthy Affiliate has made significant improvements, and that's considering that I believed it to be better back then than Affilorama and today, it's far better. I had incredible results following their training (and so do their many success stories), but today, the potential for success has gone up significantly for WA members due to their evolution.
5) Getting expert coaching and help in Wealthy Affiliate is easily accessible. In fact:
I offer people who join Wealthy Affiliate through me 7 days of coaching (included). In Affilorama, I'd say your best bet to contact the expert/s is to reach out in the forums and hope they respond (and I'm sure in most instances they do). But in WA, I can tell you that you get responses from the experts way faster and I want you to test me on this.
Check out my Wealthy Affiliate review here, draw your own conclusions, and if you join, feel free to shoot me a message and see how long it takes for me to respond (it won't be long, I promise).
And if you have questions after that, you'll see my followup responses are quite fast too and I'm more than happy to answer your questions. If you upgrade there, its even faster, and you'll see that.
Overall, like I said in the beginning of this post, Affilorama is good and in my top 10, but Wealthy Affiliate is the at the top of that list (by far) and these 5 reasons encapsulate that.