Years ago I did a review of Affiliate Millionaire Club and honestly, I wasn't too confident about recommending it. Now recently, it popped up again and I decided to take another look and well, my opinion of it actually got worse.
What I want to share in this review with you is everything I discovered about Affiliate Millionaire Club and show you other reputable reviews that are also out there saying similar things I will.
Affiliate Millionaire Club Product info: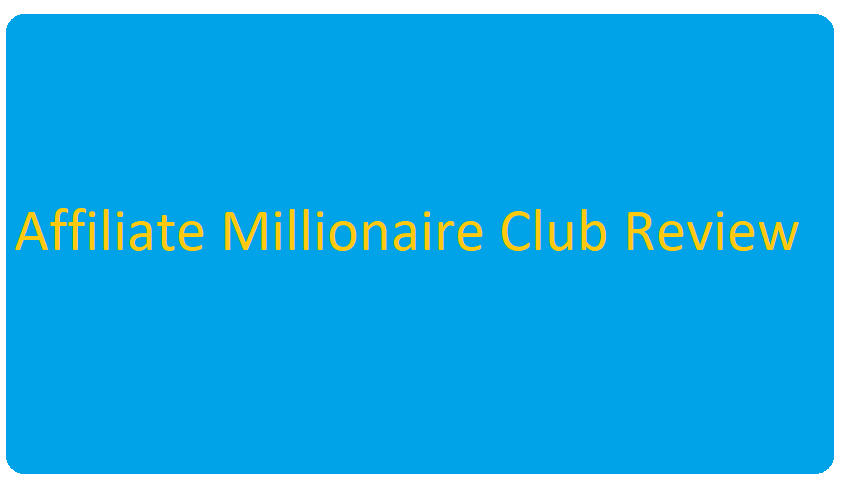 Name: Affiliate Millionaire Club.
Owner: "Mo".
Price: $47.
What does it teach? Done for you affiliate marketing sites basically.
Rating:

1 out of 5

Recommended?

No.

Alternatives? Yes, they're coming up.
Now, full disclosure: I didn't buy into Affiliate Millionaire Club and this review is based off my opinion but frankly, after discovering all the things I did, I'm kind of glad this didn't happen.
However, I'm actually an expert affiliate marketing myself and I sometimes buy programs I know are a bit suspicious and yes I do lose money on that from time to time, but in this program's case, not only did my instincts read one red flag after another, but I couldn't even buy the program even if I wanted to (I'll show you proof).
The alternatives I recommend: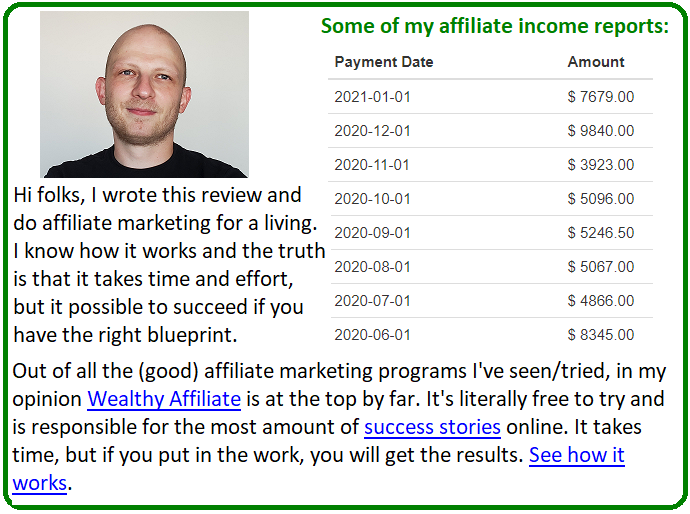 In a moment, I'll be diving into what I discovered (it bears some similarities to the older review I did on it), and explain what you need to know. But first, let's cover some pros and cons:
Pros:
I seriously had a hard time finding any (and I don't like saying that).
Cons:
"Mo" is a mystery character to me. I never saw his face on the sales page I was on.
Certain people's testimonials are people I found on Fiverr (Where you can pay for them).
I am always suspicious of get rich quick type sales pages (there's a lot of this here).
I couldn't even enter my email to sign up because I got an error message on the other end.
Be very careful with any person/program that advertises done for you affiliate marketing systems (it's usually never that easy).
Details: What exactly is Affiliate Millionaire Club?
So I said above it's a program that makes done for you affiliate sites, but what exactly does that mean? Well let's back up for a second.
In fact, let's back up a few years to when I first discovered and reviewed this program:
The year 2019. I found out about this program and wrote my initial review. Back then, I also spotted many of the same red flags I saw when I took another look (with this current review), but the 3 biggest ones were this:
1) It was (and still is in my opinion) very risky to buy done for you affiliate sites that are said to make you easy money. In this program's case, we are talking about you getting niche sites that make money. Based on the video I saw of Mo advertising his Platinum service, you get 10 sites but he does also talk about you promoting Affiliate Millionaire Club as one of it's affiliates too.
As someone who does understand all of this stuff very well (see my about me page for proof), I can tell you that if you're new, it takes a lot of work to develop a successful affiliate site, and furthermore great training from programs that do not sugarcoat this fact: See Wealthy Affiliate for real affiliate marketing training.
I have also purchased my fair share of "done for you" programs that made it sound like easy money was moments away only to be disappointed every single time. After learning about affiliate marketing and eventually doing it for a living, I know how careful you have to be out there.
2) Fiverr testimonials are a big no no to me. What are they? Well a long time ago, if you went to Fiverr.com, you could literally have purchased people's testimonials for whatever you're selling and in this case, it happened, except they are being sold as "spokesperson" services now.
How do I know? Well here's a screenshot for at least one of them:
I'm always very careful about trusting success stories and I like to look at every single one I found in ANY program with a skeptical eye. To date, there are very few programs whose testimonials I trust. For reference, I'd say Authority Hacker, and Wealthy Affiliate have the biggest amount of positive testimonials and the thing is, the ones I am citing are people who put them up by their own free will (that's a huge point).
3) And finally, I have never, ever felt comfortable buying any program when I don't even know who made the site. Yes the guy's name is Mo, but what does he look like? Does he even have a reputation?
The only thing I can really point to is his YouTube channel here, but to me, this doesn't really raise my confidence in the guy. You should draw your own conclusions.
At the end of the day, I couldn't even buy Affiliate Millionaire Club even if I wanted to:
When I stumbled onto Affiliate Millionaire Club again, I actually stumbled onto one of the next in line pages in the sales funnel where Mo was advertising his "Platinum Package" which gives you 10 websites (money making supposedly) and a lot of other stuff. Here is the "claim":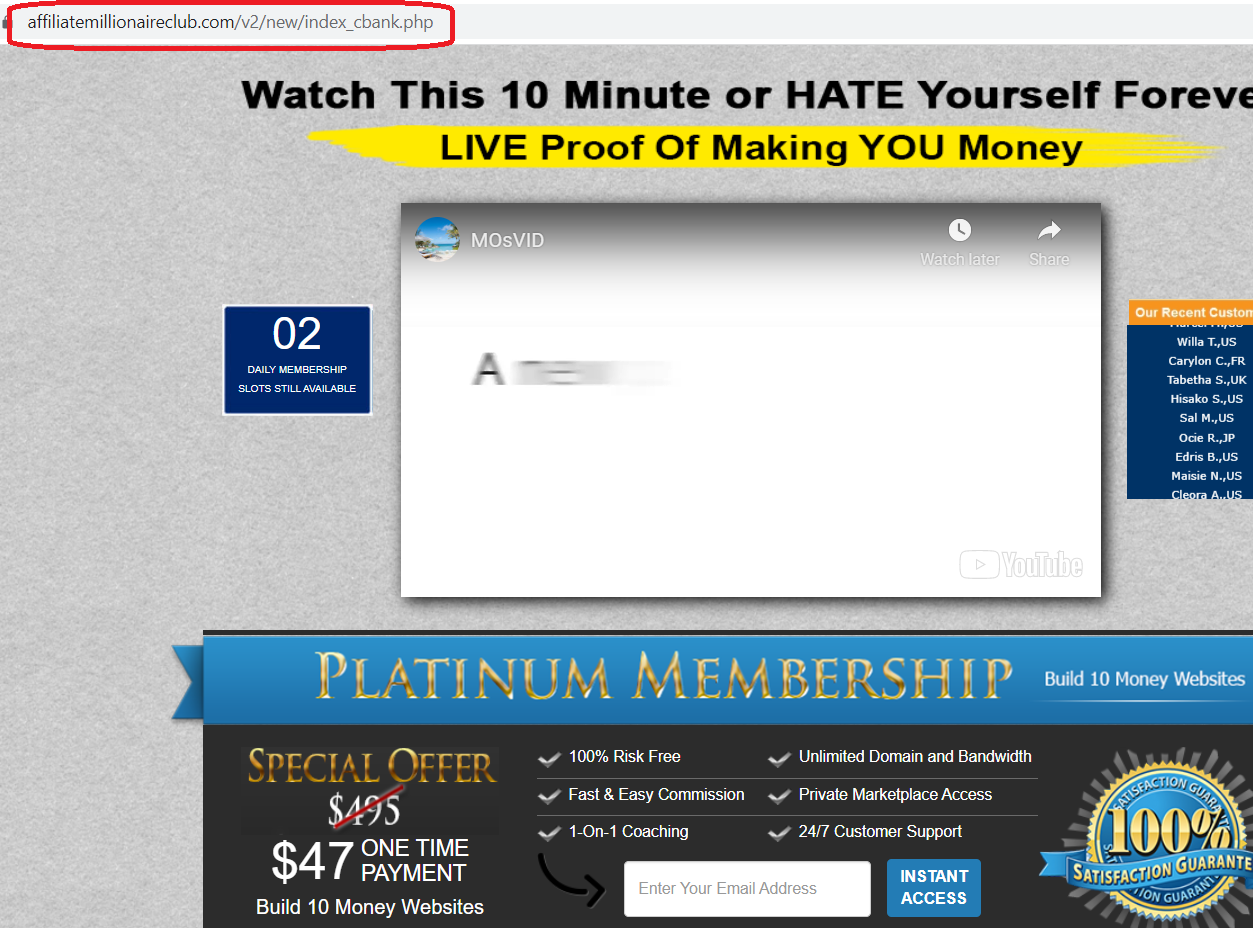 And when I clicked to see what would be next, I got an error page from Aweber (an autoresponder service). Here is proof: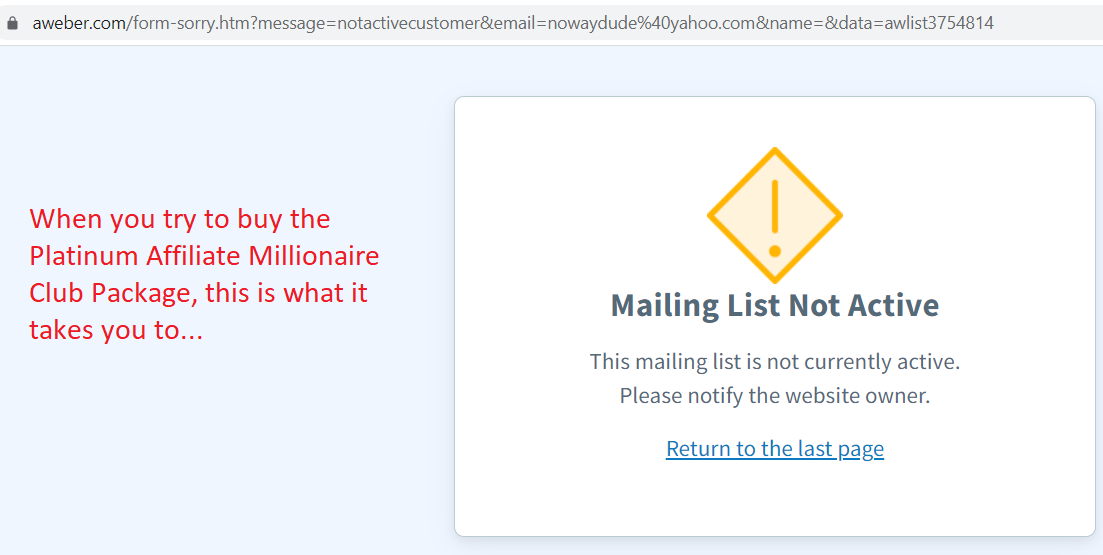 Further reviews of Affiliate Millionaire Club that tell a similar tale:
Simply Googling Affiliate Millionaire Club will bring up a ton of reviews for it and I'd even venture to say that some of these reviews are much more critical of this program than I am:
Conclusions: This program has too many red flags people!
From the mystery person (unless Mo is an acceptable proof of identity to you), to at least 1 Fiverr testimonial and general risks associated with done for you affiliate systems, at the end of the day, I couldn't even buy this program to put my worries to the test.
But the fact that I even have to say the word "worry" when buying something says a lot and it's not paranoia folks. It's years of experience that help me determine very quickly what I'm venturing into. I'm always ready to get a refund if a program is bad, but again, I couldn't even buy it and all of this combined with the other main red flags is enough for me to not recommend this program at all.
When you venture into affiliate marketing, you absolutely need to buy a system where doubt is very small, and the proof is very high.
Let's see 2 opposing examples so you see what I mean:
Affiliate Millionaire Club: Don't know who the owner is, at least 1 testimonial is bought off Fiverr and there's just too many red flags surrounding the whole "just buy my program and make easy money".
Wealthy Affiliate: The owners are publicly known, there's TONS of unpaid success stories, the program has been around for nearly 2 decades and they don't sugarcoat making money online (It takes time).
With these 2 comparisons, is it any wonder I would recommend Wealthy Affiliate over something like Affiliate Millionaire Club? And let me tell you, even if you're convinced you should join it, read my review of Wealthy Affiliate first, because I also critically look at it. I want you to be 100% on board if you decide to join (no pushy stuff).