I have an interesting perspective to share with you in this Clickcease review.
On one hand, I absolutely believe this program is legitimate and can save you from click fraud.
On the other, I want to share reasons as to why you may not need it in the first place and why the true culprit of wasted PPC money is something far worse than click fraud (that'll be revealed shortly). In fact, as a PPC advertiser myself, I don't even use Clickcease because of this point (which will be explained below).
To start this review of Clickcease, let me say 3 things:
1) I don't use Clickcease (yet), even though I think this program is highly recommended (for the right people, which I'll explain).
2) I'm an intermediate-advanced pay per click user and have made $100,000's in profits off my PPC campaigns (I do affiliate marketing with PPC) across different platforms including Google Ads, Bing Ads, YouTube Ads and so forth.
I'll also show you where I learned my skills from so you can also apply that (proper education is really the best way to save money with PPC).
3) I know how to get super targeted traffic from just about any major PPC network out there, for as little costs as possible and at the same time, not become a lighthouse in the distance for click fraudsters to come at me in the first place.
A summary and short review of Clickcease: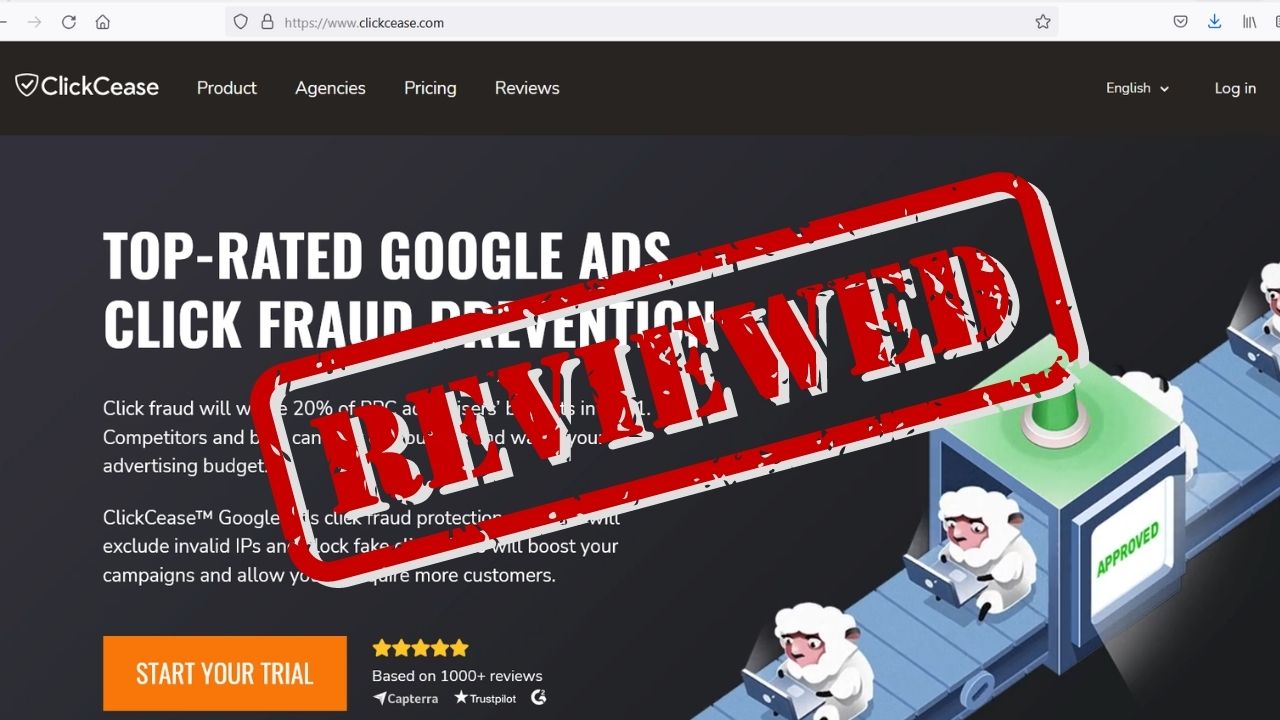 How much does Clickcease cost?
7 day free trial (claim it here).
$59 a month for only Google Ads protection.
$79 a month for Google Ads and Facebook Ads protection.
How does Clickcease work?
It's very simple. Clickcease identifies the IP addresses of clicks you get from your PPC campaigns and then marks on a green, yellow or red marker where those IP addresses are suspicious, bots or legitimate. You can then manually block whichever suspicious IP addresses click on your ad to avoid them doing that in the future.
Here's an example: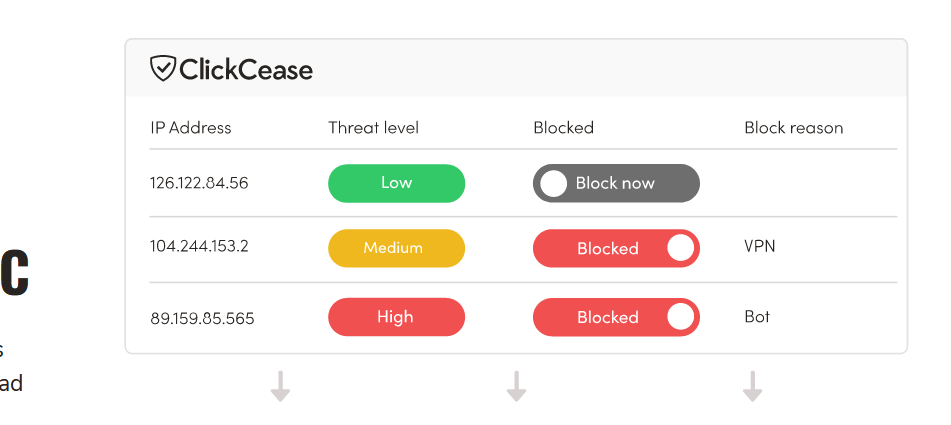 This can save you money on your PPC campaigns, which are already highly expensive anyway.
How much money can Clickcease save you off your PPC campaigns?
That really depends on what types of keywords you're targeting. The short story is that the more broader your PPC campaigns are (meaning more traffic), the more of a target you will be to PPC click fraud and the more programs like Clickcease will save you.
Their top testimonials on their homepage showcase PPC savings of 15%-20% which is certainly possible if you targeting super popular keywords in your campaigns or broader audiences like on Facebook Ads. In most cases, I'd estimate that it'll be 1%-10%.
My rating for Clickcease:

4 out of 5
Do I recommend Clickcease?

For the right people, absolutely.
Who Clickcease is recommended for: If you're someone who does PPC seriously, as an individual or agency and spend $1,000s or even $10,000's every single month on Google Ads and/or Facebook Ads, yes, get Clickcease. It's only $59 a month to $79 a month and saving up to 20% on your PPC clicks can lead to truly happier customers and you.
Who Clickcease is not recommended for: But if you're an individual PPC advertiser like myself and KNOW how to structure your PPC campaigns so you get very targeted traffic, and spend as little as possible $100s a month), then this program might not be necessary for you.
Please read this article fully so you can make the right choice on Clickcease (it will help you do that).
Here is a Clickcease video review:
More quick questions on Clickcease:
What is ClickCease?
Clickcease is a program designed to help PPC advertisers weed out bot and fraud clicks from their campaigns to save them money.
Do you need ClickCease?
If you know how to use PPC effectively, then I do not think you need Clickcease because you can save more with basic knowledge of PPC.
Why use ClickCease?
The best reason to use Clickcease is if you are running huge PPC campaigns and are worried about click fraud.
Why do bots click on ads?
There are people who run these bot programs to try and drain your PPC budget.
What are Clickcease reviews saying?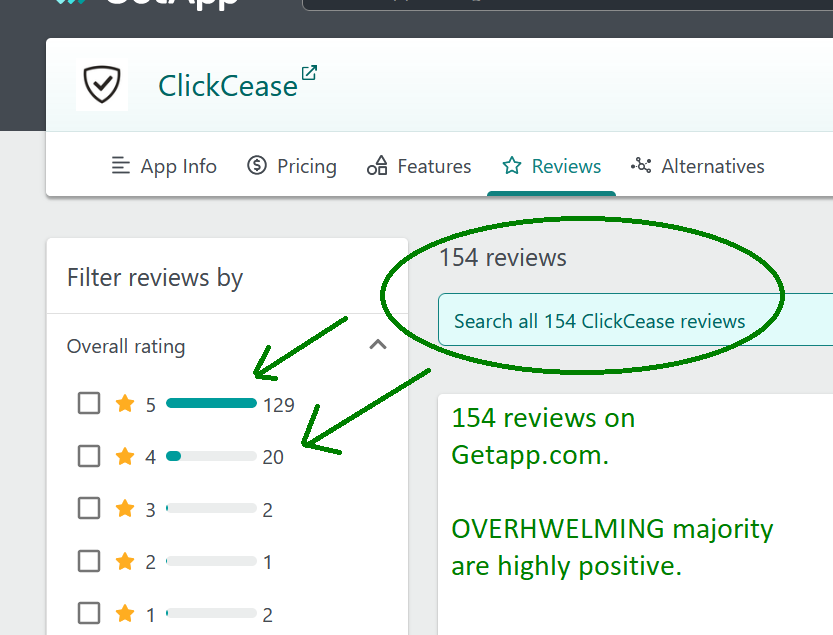 They're actually very positive across the board.
I took a look at several sites where people who use this program share their thoughts at honestly, there's not a single negative one to note.
The ONLY objectively "neutral" reviews were from people who actually understand PPC and why click fraud isn't the MAIN culprit of high PPC costs (I'll share what is in a moment).
But overall, here are screenshots of these reviews of Clickcease:
Now this is one of several sites with Clickcease reviews and it really is over 1,000 highly positive reports on it.
Want to try Clickcease free? Click here to get started.
Why knowing how to properly set up PPC campaigns can save you more than Clickcease can:
I want you to know I'm actually promoting Clickcease in this article, but that doesn't mean I'm going to give you a sugar coated review.
I'm here to be objective and help you understand if this truly is a program that can save you money and this part of the article is going to really help you understand what I mean about this program being for you (or not being for you):
Having done pay per click affiliate marketing for MANY years, I've run into tons of people, including business owners, new advertisers, new affiliate marketers and people from all other realms looking to get into this business (PPC).
And I've also constantly had to warn people about the dangers of PPC and how not having proper education on how to properly set them up will have you lose tons of money.
In fact, if I were to do an elephant in the room analogy of the dangers of PPC, not knowing how to properly structure your ads is what truly makes you lost money, and click fraud is a distance second, if not third or fourth problem to worry about.
Let me give you an example (20% savings vs 900% savings? Read on):
I once helped a local client spend 900% LESS on his clicks and get 1,000% MORE clicks at the same time on a campaign that I just had to remake for him.
He was overspending by 9 times and getting 10x less clicks trying to advertising his business, and funny enough, it was all because he was following the rules Google Ads laid out to him.
In my personal opinion, PPC ad networks are really what you have to worry about most in losing money, not so much click fraud.
Their own rules and recommendations push you to spend more money on clicks and campaigns and if you know how to properly make them, you'll often find 2 things:
You often have to do the opposite of what the ad networks suggest.
In the process, you'll get more targeted traffic, and spend a ton less than the ad network advises.
And all of these savings will honestly save you more money than Clickcease can in my opinion.
It's not an impressive 15-20% you'll be saving, it's more like 100's of percent!
So how do you do this? Well I have a few suggestions:
For starters, you're welcome to read the following tutorials:
I use the same principals across ALL the PPC networks I run ads on and here they are:
1) I always target exact and match phrase keywords (when the network allows it). This makes my targeting far more specific, which saves me on clicks.
2) If I can't use keywords, I target specific topics, to specific demographics (like on Facebook Ads). This gets me LESS reach, but far higher quality audiences to click on my ads. I may get less clicks (in fact, I will), but the value and quality of those clicks is easily 10x more. And I'll also spend $0.50 or less, vs $1's on each click (how's that for serious PPC savings?).
3) I always promote a very specific product to a VERY specific audience, that actually knows it. You have no idea how much money you'll save when you do this, it's insane. I get $0.10 clicks very often for this on places like Bing Ads, and CTR numbers in the DOUBLE digits.
People think I'm a wizard for this, but I'm not, it's just simple strategies.
4) I absolutely avoid broadening my PPC reach, keywords and audiences because that invites more spending, more PPC losses and in this particular context, more click fraud because your competitors will be much more likely to see your ads (and for this, you'll want Clickcease to protect you).
Where I learned how to do PPC properly (and where you can too):
It's from a program called Wealthy Affiliate. They actually teach people a number of things, and the main one for beginners to online marketing is actually blogging and free traffic generation techniques (which I recommend you do instead of PPC if you're really new). You can try Wealthy Affiliate free.
Their PPC training however is in their Premium membership which is $49/month. They provide training on:
Bing Ads (which I used to make successful ads there and on Google Ads).
Facebook Ads (where you see how to make specific, targeted ads on Facebook to save money).
Learn more about Wealthy Affiliate here and get more info (start free if you want).
Back to the Clickcease review: Here's when you should use it.
Now that I've gotten all this PPC stress of my chest, let me once again say this:
Clickcease is legit and highly recommended, and now that you know my positions on PPC in general and what I think truly makes you lose money, I'd say use Clickcease if:
You are a good PPC advertiser and know how to make targeted ads on Google Ads, and Facebook Ads, but:
Still spend $1,000's or more every month on your ads (or for a client).
Of if you're targeting niches and keywords that while targeted are still popular (like make money online terms, losing weight, dieting and things that typically get a lot of clicks) and invite click fraudsters to find you.
If you match these 3 categories (or at least 2 of them), then Clickcease might be a perfect program for you to use. But please do not neglect the power of PPC education and how much MORE that'll save you on TOP of the savings Clickcease will.
PPC doesn't have to be a money pit for your wallet and Clickcease will help with that problem, but to an extent. Add proper PPC knowledge and how to set up ads to get truly high quality clicks for less money, and you'll be a PPC network's worst nightmare (because you won't give them so much money), but at the same time, you'll be best friends with your wallet (and your PPC clients).