To start off this Blogging Fast Lane review, let me say this: It teaches everything I have personally seen work in my own online business and because of that, yes it is legitimate (not a scam) and yes I do recommend it.
However, there's more important information I want to share with you in this review about Blogging Fast Lane, to give you a better frame of how the program works, what to expect from it, the costs, alternatives and so forth, and with that said, let me say this:
I didn't buy the program. However I do recommend it and am basing this review off 5 important things:
Tom and Anna's free training webinar (it's pretty good).
Their own website shares exactly what their program is about.
They run their own successful travel blog (this means the program works).
My existing knowledge on blogging and affiliate marketing (it's vast and here's proof).
The fact that I also run my own travel blog that gets

500+ visits a day

and also does affiliate marketing (and it's growing).
In short, I do what Tom and Anna teach for a literal living and that's why I am more than confident in my review of their program.
A quick summary and review of Blogging Fast Lane:
Who created Blogging Fast Lane?
Tom and Anna.
How much does Blogging Fast Lane cost?
There's a free training webinar to give you some framing and basic concepts, but the full program is $697.
What does Blogging Fast Lane teach?
Well the program is specifically called Blogging Fast Lane Accelerator and it teaches how to create profitable blogs in a passion you have.
In this context, Tom and Anna give you their template of how they created a profitable travel blog and you can use the same frame work to build your own travel blog and/or a blog in any other topic you like.
For making money with the blog, you are taught about affiliate marketing.
My rating for Blogging Fast Lane:

4.3 out of 5 stars
Do I recommend Blogging Fast Lane?

Yes.
Just about everything Tom and Anna share with their audience in their webinar, combined with their travel blog and what I know on this matter points to one obvious conclusion: This works.
I have my own proof with not just my travel blog, but this one and others for which I do affiliate marketing on and I can tell you their strategies work. They aren't exactly unique in many cases, but because few programs teach blogging and affiliate marketing right, and this one is one of them, it's recommended.
Alternatives? Yes.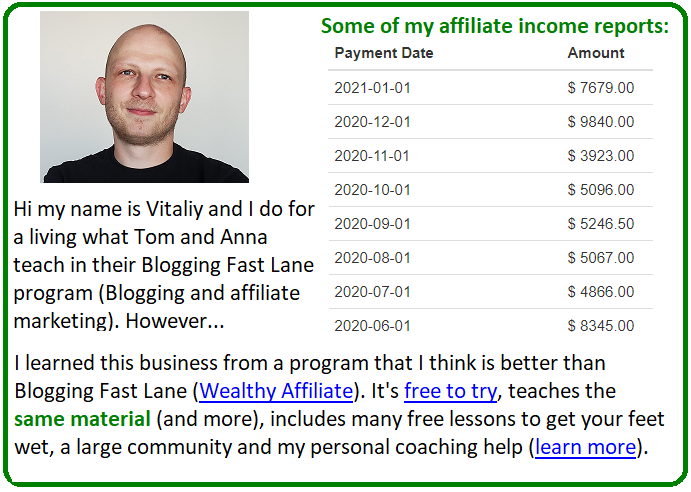 The full Blogging Fast Lane review:

1) To begin this review, we'll start with the owners: Tom and Anna.
They run a very successful travel blog known as Adventureinyou.com. The money they make off this travel blog lets them travel the world and monetize on those adventures and I can tell you from personal experience that this is possible.
Anyway, because they are good at this business, Tom and Anna created Blogging Fast Lane to teach the methods they know to work for other people seeking to become profitable bloggers, not just in travel blogging, but in any passion they have.
2) Details on the Blogging Fast Lane program:
This program is 8 weeks long and provides people with step by step training on:
Selecting their passion.
Building their blog.
Growing it on Google, Pinterest and other platforms (I believe they call this the Blogging Fast Lane Accelerator).
Monetizing the blog through affiliate marketing.
Additionally, people also get plenty of bonuses, help, support and a community alongside this training.
I've included a screenshot to the right showcasing the main things you get from Blogging Fast Lane.
My own experiences on this blogging subject explained:
Because I run several blogs that make money through affiliate marketing, including a travel blog (TheNatureSeeker.com), a lot of what Tom and Anna speak about on their site, and in their webinar is very familiar to me (to say the least).
In fact, have a look at my affiliate marketing income reports here if you want more proof.
And because I know how this all works (and that it really does), whenever I see any person/s pitching this concept and being transparent about their program in how it's all taught, I am very confident in recommending the said program (which is the case in Blogging Fast Lane).
Here are some things you can expect (based on my experiences):
1) It typically takes about 6-12 months for most blogs to succeed.
2) Pinterest is a good side place to grow your affiliate blog (especially if you're into travel). I have my own Pinterest page for my travel blog and it gets a lot clicks, visits and positive feedback.
3) Affiliate marketing is legitimate and for example on my travel blog, I'll promote things like trail running shoes, winter jackets, drones and other stuff.
The more visitors my blog gets, the more I can monetize and one of my goals with the travel blog I run is to have it run Mediavine ads for an additional passive income stream, in addition to my existing affiliate marketing campaigns (Several $1,000's extra every month).
4) Pretty much any topic through blogging can be monetized through affiliate marketing (with some exceptions).
5) A huge chunk of the work you do to grow your blog will involve creating very good content on profitable keywords (this is not an easy thing to do but it is what leads to a blogs success).
6) The business is not easy, nor fast to get results with, but it is possible to live the type of lifestyle Tom and Anna have.
Now these experiences encapsulate whether or not you decide to run a travel blog and if you don't and decide on another niche, it's still pretty much the same template.
Conclusions on Blogging Fast Lane:
I am recommending Tom and Anna's Blogging Fast Lane. Typically, I won't recommend high ticket programs, but the cost to try theirs is under $1,000 and with that, it gets a higher score.
Why I still lean on Wealthy Affiliate being better than Blogging Fast Lane:
1) You learn much of the same stuff there, but it's free to try:
There is an actual 10 lesson training course (with a website included by the way) in Wealthy Affiliate which teaches you to build a profitable blog off your passions (it can be a travel blog or something else).
2) I am literally someone who has done what Blogging Fast Lane teaches (But through Wealthy Affiliate):
Again, the material in Blogging Fast Lane is good, but in my opinion, not exclusive stuff you can't find anywhere else. Wealthy Affiliate teaches this too, for less.
3) The "Free training" in Wealthy Affiliate is much more vast than in Blogging Fast Lane:
When I first saw the words "Free training" in Blogging Fast Lane, I had hoped it would actually be lessons, not a webinar and while the webinar was pretty informative, one thing I can tell you that sets apart Wealthy Affiliate from this is that:
They actually have literal free training (lessons with action plans/tasks) to take and you can access that for free, vs watching a webinar. So overall, I'd say there's more free value in Wealthy Affiliate (and the paid plan is exceptionally valuable and inexpensive too).
4) More support and help along your way to success can be found in Wealthy Affiliate:
Yes Blogging Fast Lane provides you with help and support, but I'm going to make a prediction (because it's never been wrong so far), in that Wealthy Affiliate has the single best support/communication/help in any blogging building program there is.
You can literally get my personal help (See details).
So yes, while I like Wealthy Affiliate more, I am certainly not saying don't get Blogging Fast Lane. It's good, it works and I am confident it will work for you (if of course you actually do what it says), but for a better deal all around, Wealthy Affiliate just has all that.
Pros
Legit blogging program.
Good inside look before you get it provided.
Tom and Anna have existing success to show this works.
I know this works because I do this same stuff as well.
Cons
I wish the free training was more than just a webinar.
$697 isn't very cheap and there are less expensive options.